In this page, you will learn about what you need to register a Singapore company, as well as the procedure and timeline to do so. You will also learn about what to do after the company incorporation process is complete and how to close down a company.
Singapore Company Incorporation Guide
All companies in Singapore must be registered with the Accounting & Corporate Regulatory Authority (ACRA) and abide by the Companies Act.
What type of Singapore company registration is most common?
The most common type of business entity to be set up in Singapore is the private limited company. Hence, in this guide, we will explain how to register a private limited company in Singapore.
A private limited company is limited by shares and has a separate legal entity from its shareholders. It is recognised as a taxable entity in its own right. As a result, shareholders of a Singapore private limited company are not liable for its debts and losses beyond their amount of share capital.

---
Requirements to register a company in Singapore
At least 1 Shareholder (individual or corporate entity)
1 Resident Director
1 Company Secretary
Initial paid-up share capital of at least S$1
A physical Singapore office address
---
Registering a Private Limited Company: Key Issues to Note
Company Name
The company name must be approved by ACRA before the company can be incorporated. ACRA will reject a proposed company name for the purpose of incorporation if:
It is identical to an existing Company Name
It is undesirable
It is similar to established Names or trademarks such as Coca Cola and Temasek
Use our free company name search tool to see if your preferred company name is still available.
Shareholders
A person or a corporate entity can become a Shareholder either by subscribing for shares in the company or by purchasing the company's shares.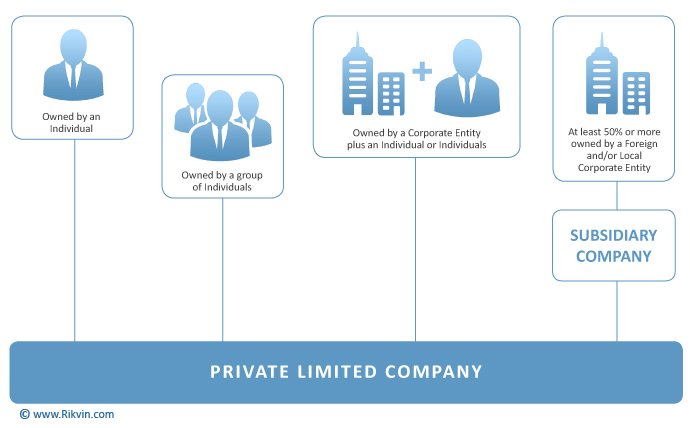 At least one corporate or individual shareholding is required. A director and shareholder can be the same or different person. 100% local or foreign shareholding is allowed.
The Companies Act allows a minimum of one and a maximum of 50 shareholders for a Singapore Private Limited Company.
Details of shareholders will appear on public records.
Resident Directors
A Singapore Private Limited Company must have at least one director who is "ordinarily" resident in Singapore i.e. Singapore citizen, a Singapore permanent resident or a person who holds an Employment Pass/EntrePass or a Dependant's Pass with a residential address in Singapore.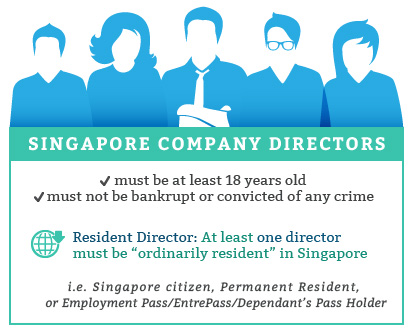 There is no limit on the number of additional local or foreign directors a Singapore Private Limited Company can appoint.
The director must be at least 18 years old, and must not be bankrupt or convicted for any criminal malpractice in the past. Information of the company directors will appear on public records.
Directors can also be shareholders or vice versa.
Company Secretary
All Singapore Companies must also appoint a competent Company Secretary Singapore whose main responsibility is to ensure regulatory compliance. The company secretary must be "ordinarily" resident in Singapore.
The Singapore Companies Act requires companies to each appoint a company secretary within six months from the date of incorporation.
Share Capital/Paid-up Capital
The minimum paid-up capital for registration of a Singapore company is S$1 or its equivalent in any currency. The minimum issued capital is one share of par value. "Bearer" shares or "No par value" shares are not permitted. The Share or paid-up capital can be increased anytime after incorporation of the company.
Registered Address
Every company in the republic is required to have a registered office address so that all official documents and letters can be sent.
The registered address must be a physical address and cannot be a P.O. Box. The use of residential address is allowed for certain types of business.

---
---
Ready to setup your own Private Limited Company in Singapore?
Email us at info@rikvin.com or call us at +65 6320 1888 to talk to our specialists.