Singapore Business and Advisory Services
At Rikvin, we offer a suite of business and advisory services that will facilitate the running of your Singapore company. Our goal is to make the process as easy and seamless as possible for you, and at affordable rates.
Singapore Corporate Secretarial Services
To help you fulfil your compliance duties to IRAS and ACRA, and in accordance with the Singapore Companies Act, we offer the following Singapore corporate secretarial services.
Administrative and Regulatory Compliance Services with ACRA and IRAS
Annual statutory and regulatory compliance in Singapore
Provision of named company secretary, nominee directors, nominee shareholders, and nominee local agents
Proper maintenance of statutory registers and records
Preparing board resolutions and shareholders' resolutions
Attending and recording minutes at board and shareholder meetings.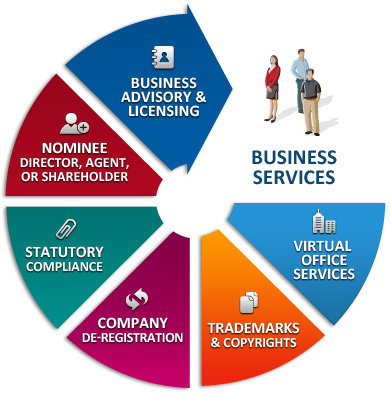 Business Advisory and Licensing Services
Having a sound understanding of Singapore's regulatory landscape will not only save you time, but help you avoid unnecessary and costly delays as well as penalties. We are happy to offer the following services to set your firm on a path to success.
Advice on legal and contractual matters such as lease agreements, Shareholder agreement, supplier contracts, etc
Advice on acquisition of appropriate business licenses in Singapore.
Singapore Registered Address and Virtual Office Services
We can provide you with a prestigious registered address in the heart of Singapore's central business district. This address can be used on your business cards, letterheads and corporate collaterals.
We also offer virtual office and hot desk services which include the following
Direct number – A dedicated personal number
Live Secretary – Answering all calls in your company's name
Convey Message – Immediate conveying of messages to you via phone, fax, sms, or email
Call Transfer – Immediate transfer of your telephone calls to you or members of your staff.
Mailing Services – you will be informed of all incoming mails by phone, email, sms, and forward to you by post.
To learn more please visit our Virtual office page.