Singapore Limited Liability Partnership Registration
A
Singapore Limited Liability Partnership (LLP)
is the perfect blend of a partnership with a private limited company setup. An LLP gives owners the flexibility of operating as a partnership while having a separate legal identity like a private limited company. This type is highly suitable for individuals engaged in professional services such as lawyers, architects, accountants and management consultants. Singapore citizens, residents, and
employment pass holders can register an LLP
.
---
Features of Limited Liability Company
It has a separate legal entity
Partners have limited liability
Can sue or be sued in its own name
Can own property
At least two partners, no maximum limit
Partners can be individuals or body corporate (company or other LLP)
---
Advantages of Limited Liability Company
It is a body corporate and has legal personality separate from its partners
It has perpetual succession. Any change in the partners of an LLP does not affect its existence, rights or liabilities
Compliance requirements are simpler as compared to private limited company
No annual returns filing required of LLPs, except for income tax
Partners not personally liable for debts and losses of LLP incurred by other partners
---
Disadvantages of Limited Liability Company
Profits taxed at partners' personal income tax rates, therefore, not eligible for tax incentives or exemptions
The partners of LLPs own the assets of the business personally, and therefore personally liable for debts and losses resulting from their own careless actions
---
Summary of Setup Requirements for an LLP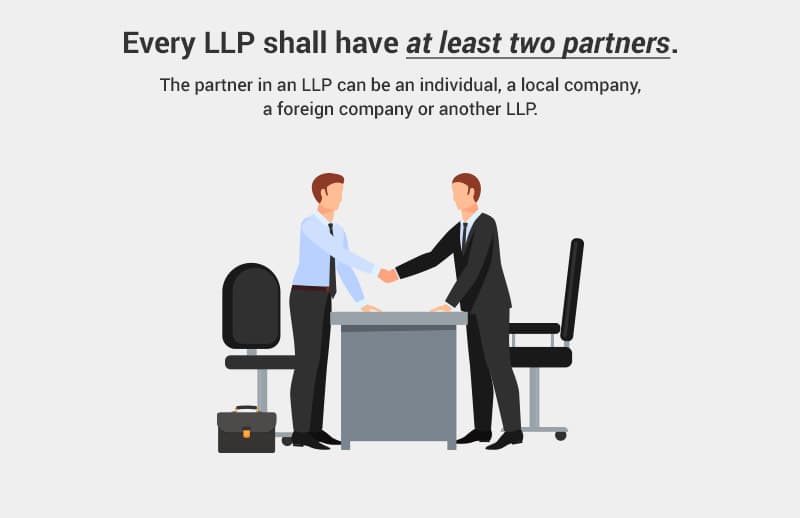 Minimum 2 Partners
Minimum one manager who must be a Singapore resident
A Singapore registered office address
---
Rikvin is Singapore's leading specialist in the registration of businesses with ACRA. We can set up your LLP in less than one hour provided you have all the required documents in order.
Contact us now
.
Upon approval of the application of your LLP, Rikvin can also assist you in the drafting of a Partnership Agreement that outlines the rights and responsibilities of the LPP and its partners.
Recommended for you: Get started with limited liability partnership »
---
Approval and Renewal Information
Rikvin can help you register an LLP with ACRA within one hour provided all required documents are in place. Once approved, ACRA sends out a confirmation of registration via email. The registration is valid for one year and subject to annual renewal.
More from us: Download our guide on Singapore Limited Liability Partnership »
---
Notes:
If you are a Singapore resident and you want to set up an LLP, you will need to do the following:
Engage Rikvin to register your LLP.
Appoint a manager who must be a Singapore resident.
---
---
Ready to start a Singapore LLP business?
As an established company registration service provider in Singapore, Rikvin has specialists who can advise you on your incorporation needs and answer any queries that you may have.