Work Permit Scheme
This guide provides an overview of the Work Permit as well as Foreign Worker Levy Payments, a mechanism to regulate the inflow of migrant workers in Singapore. You will learn how the levy rate is computed as well as other key considerations.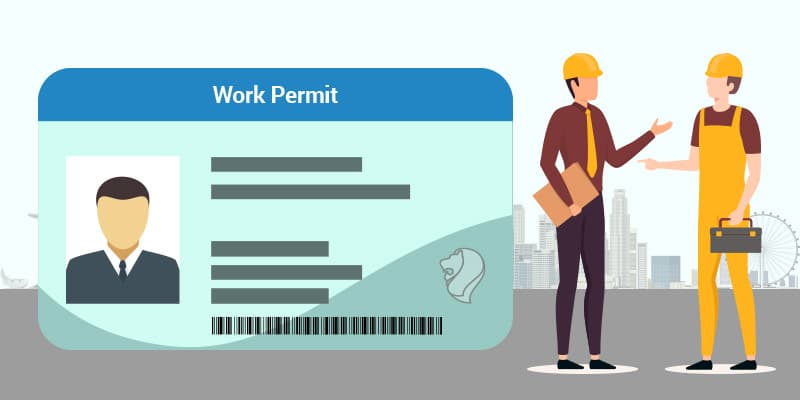 What is a Work Permit and who is it for?
Singapore's continuous restructuring has called for demand for workers in certain industries. The Work Permit (WP) is a visa issued to basic-skilled workers who want to be a part of Singapore's in-demand sectors and are from approved source countries.
---
What is the Foreign Worker Levy and Dependency Ratio Ceiling?
In order to calibrate the intake of migrant workers, the government has introduced the Foreign Worker Levy (FWL) and Dependency Ratio Ceiling (DRC).
The DRC refers to the maximum permitted ratio of foreign workers to the total workforce that a company is allowed to hire. The DRC varies across sectors.
Employers of WP holders are also required to pay a monthly foreign worker levy (FWL) to the government. The FWL is a form of checks and balances, compelling employers to give priority to the skills, qualifications, and experience of their potential employees at the time of recruitment.
Related Read: Snapshot of Singapore Work Passes, Permits, and Visas
---
Scope of the scheme
The Foreign Worker Levy scheme is applicable to WP as well as S Pass holders. There is also a separate levy scheme for foreign domestic workers (FDWs).
How the levy is calculated
The amount of levy to be paid for each worker is determined by the sector the employer/company belongs to as well as the educational qualifications and skills of the workers. Workers with relevant qualifications and skill-based test certificates will be classified as skilled workers and entitled to a concession in the worker's levy.
MOM uses the following order of priority to determine the respective tiers of foreign workers:
S Pass holders
Skilled workers – possess relevant academic or skills-based test qualifications and certificates.
Unskilled workers
For Marine, Construction & Process Sectors
The FWL is determined by the worker's qualifications and skills. The construction sector's levy is charged on the basis of higher or basic-skilled workers whereas for other sectors the workers are classified as skilled or unskilled.
For Manufacturing & Service Sectors
The worker's qualification and the DRC for the sector determine the levy amount. The levies are tiered so that employers who hire close to the maximum quota will incur a higher levy bill.
Sector
Quota
Dependency Ceiling Segmentation
Monthly Levy
in S$
Daily Levy
in S$1
Skilled
Unskilled
Skilled
Unskilled
Manufacturing Employers in this sector are entitled to skilled levy rates for their foreign workers, up to 50% of the total workforce.

60%

Basic Tier / Tier 1: Up to 25% of the total workforce

250

350

8.22

11.51

Tier 2: Above 25% to 50% of the total workforce

350

450

11.51

14.80

Tier 3: Above 50% to 60% of the total workforce

550

18.09

Services Employers in this sector are entitled to skilled levy rates for their foreign workers, up to 25% of the total workforce.

45%

Basic Tier / Tier 1: Up to 15% of the total workforce

300

400

9.87

13.16

Tier 2: Above 15% to 25% of the total workforce

400

500

13.16

16.44

Tier 3: Above 25% to 45% of the total workforce

600

19.73

Construction
on Man Year Entitlement (MYE)

300

350

8.22

11.51

MYE Exempt

500

11.51

Process
on Man Year Entitlement (MYE)

210

310

6.91

10.2

MYE Exempt

470

15.46

Marine
Basic

210

310

6.91

10.2
Understanding Man-Year Entitlement
The Man-Year Entitlement (MYE) system is a Work Permit allocation system for workers from Non-Traditional Source (NTS) countries deployed in the Construction and Process sectors. Under the system, the main contractor is allocated "man-years" based on the value of his project.
The purpose of the MYE is to provide a means for the main contractor to control and manage the foreign worker allocation for his project. The main contractor then distributes the MYEs to his sub-contractors. The MYEs will be converted into either one-year or two-year Work Permits.
MYE is waived for workers from NTS if the worker has relevant experience of a cumulative period of two or more years with any employer in Singapore.  However, the employer will have to pay a higher monthly levy rate for such a worker. A main contractor with a valid construction contract can apply for Man-Year Entitlements (MYE) from the Work Pass Division (WPD).
---
Skills Development Levy
Employers are required to contribute to the Skills Development Fund which provides grants to employers who send their staff for training. The Skills Development Levy (SDL) is applicable to all employees rendering services wholly or partly in Singapore. The SDL is set at a minimum of $2 (for an employee earning less than $800 a month) and capped at $11.25 (for an employee earning more than $4,500 a month).
Employers hiring migrant workers are required to pay the SDL in addition to the Foreign Workers Levy (FWL).
People also ask
How you get your work permit in Singapore depends on the kind of work you will be doing. In general, though, you will need to keep the following in mind:

You need to be 18 years of age or older to be a foreign worker, regardless of the visa type. For some jobs, you may need to be older than 18.
The ministry in charge of working visas in Singapore is the Ministry of Manpower (MOM).
We recommend you use a local, registered service provider when applying for your work visa in Singapore. It will help ensure you get your working visa as quickly and easily as possible without any red tape or hold-ups.
Malaysian workers must not be older than 58 years of age, while all other foreign workers must not be older than 50 years of age when they apply.
As well as your registered service provider, you will also work closely with your new Singapore employer — they will take care of most of the processes such as paying for the Foreign Worker Levy (if applicable).
You will need to have your Singapore work visa before you take up your new job there. Singaporean employers face penalties and fines if you don't.

Singapore offers a number of working visas that are tailored to your skillset. The main types of work permits in Singapore are:

The Singapore Work Permit for Foreign Workers is for semi-skilled or unskilled employees, like labourers, dock workers etc.
The Singapore Employment Pass is for foreign professionals looking to work in Singapore. It is generally for managers, executives, or other high-level workers.
The Singapore S Pass is for mid-skilled/blue collar workers e.g. technicians.
The Singapore Entrepreneur Pass is foreign entrepreneurs that already own their own business, and would like to relocate it to Singapore.
The Singapore Personalised Employment Pass (PEP) is a work visa for exceptional, top-tier executives, e.g. CEO, CFO, CTO.

If you'd like to find out more about applying for a Singapore business visa, you can see all the types of Singapore Immigration and business/work visas available.
Need help with Work Permit applications?
We are experts when it comes to Singapore's immigration laws and regulations. Our reliable guidance and high success rate comes with 20 years of experience. Secure Work Permits with us.