Singapore is consistently rated by expats as the best place in the world to live and work. The city-state provides expats with a perfect mix of career advancement, skills development, and quality of life. It is also fairly easy for spouses to advance their own careers as they have the option to either work or run a business in Singapore if they are here on a Dependant's Pass (DP) and obtain a Letter of Consent (LOC). This piece provides an overview of the Dependant's Pass and the various ways that you can work or run a business under the pass after obtaining an LOC.
---
Dependant's Pass
Family members of qualified Employment Pass and S Pass holders can come to Singapore on a Dependant's Pass. Only legally married spouses and children under the age of twenty-one are eligible to apply. Please note that employment pass and S pass holders must earn a minimum of S$5,000/month in order to qualify bringing their dependants to Singapore.
A DP holder can get a job or run a business in Singapore. Your options will be based on the employment status of your spouse. If you are the dependant of an S Pass Holder, you can apply for a Work Permit, S Pass, or Employment Pass. If you are a dependant of an Employment Pass (EP) holder, you can get a Letter of Consent (LOC) by either obtaining employment or by starting a business.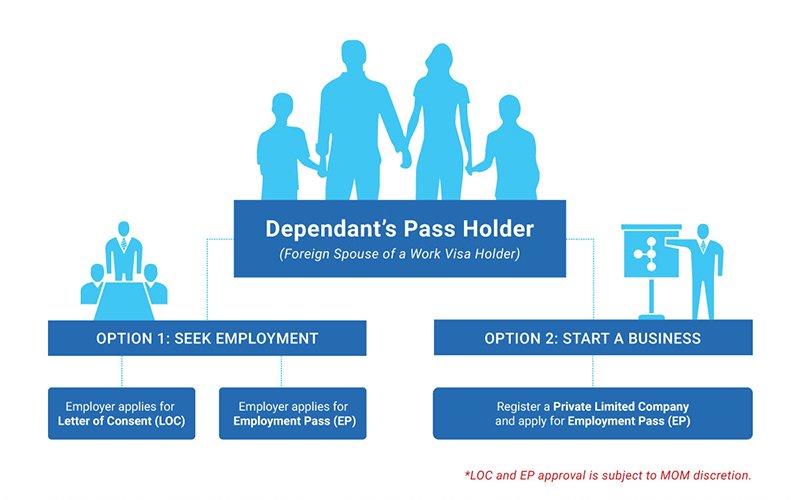 ---
Letter of Consent
DP holders can work in Singapore once their employer obtains a Letter of Consent (LOC) from the Ministry of Manpower. An LOC allows a DP holder to work or do business in Singapore. If you chose to work, your employer will apply for the LOC for you. If you chose to run a business, you will have to separately apply for an LOC via your business entity.
Eligibility for Letter of Consent
A DP holder will be eligible for an LOC if he/she can fulfill all of the following conditions:
must be a dependant of an Employment Pass holder;
must secure a job offer with an employer in Singapore;
must have a DP that is valid for at least three months.
---
Dependant's Pass vs. Employment Pass
The process of applying for an LOC is straightforward and quick. There is no education or professional eligibility requirement. Additionally, employers are not charged a foreign worker quota or levy when they hire a DP pass holder under an LOC.
However, LOC-based employment is dependant on the employment status of your spouse. If your spouse becomes unemployed, or is transferred out of Singapore, you will lose your LOC status.
The employer may be able to directly apply for an Employment pass for you. The validity of your EP will be independent of your spouse's. This means that you will not lose your right to work in Singapore if the employment situation of your spouse changes.
However, the requirements for an Employment Pass are stringent, and thorough checks will be done on your educational and professional background to ensure your application fulfills all requirements. Also, non-exempt companies can only offer positions to Employment Pass applicants once they have advertised in the Singapore Workforce Development Authority's jobs bank. This is done to ensure that Singaporeans have been fairly considered before a job can be advertised to foreigners. Therefore, the number of EP jobs available to foreigners, and especially DP holders, can be limited.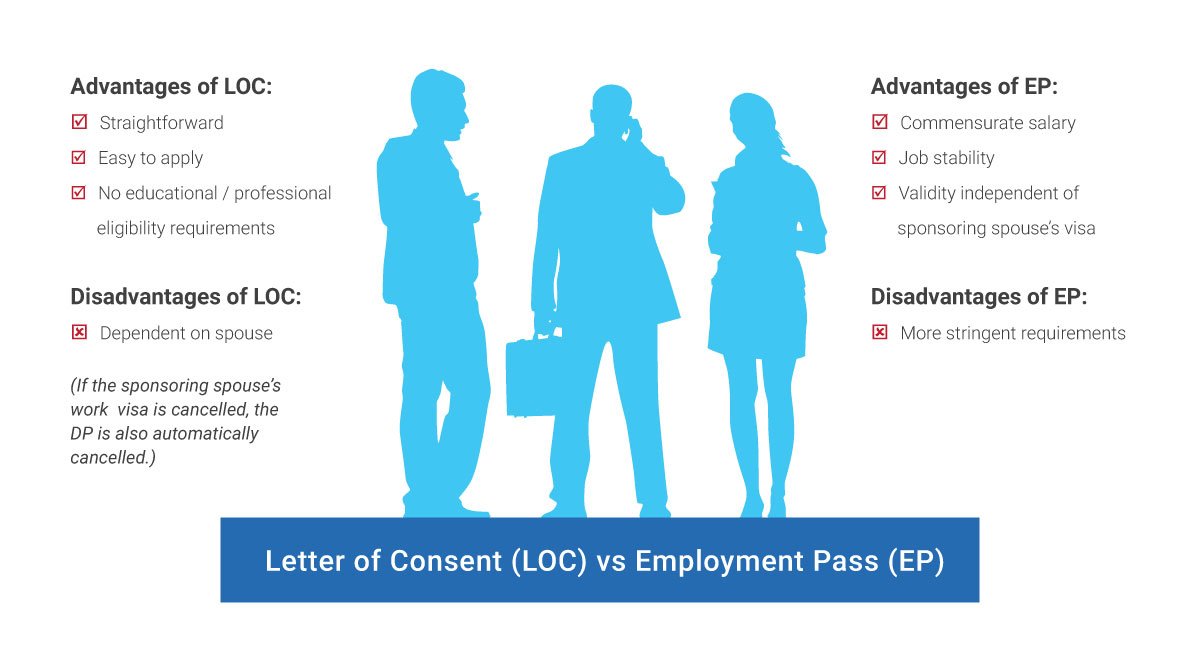 ---
The Business Route
You can obtain an LOC by starting a business, although this is ultimately subject to MOM approval. You can choose one of the following options:
register a Sole Proprietorship and apply for an LOC, or
register a Pte Ltd Company and apply for an LOC, or
register a Pte Ltd Company and apply for an EP
---
Sole Proprietorship vs. Private Limited
A sole proprietorship provides many advantages for DP holders who want to run their own Singaporean business. A sole proprietorship can be home-based. You can manage it with ease and flexibility. It can have 100% foreign ownership. It can also be easy to add owners and transfer ownership interest in a sole proprietorship. However, Sole Proprietorships can be risky because as an owner, you will have unlimited liability. Your profits will be taxed at personal income level and you will not be able to make use of tax incentives and exemptions provided by the Singapore government. Finally, it can be difficult to raise capital to finance a sole proprietorship.
You can also start working by incorporating a Pte Ltd Company. These types of companies have limited liability, and it is easier to raise capital compared to sole proprietorships. A Pte Ltd is taxed at entity level, and you will be able to benefit from tax incentives and exemptions. It can be easy to add owners and transfer ownership interest to a Pte Ltd Company. Also, Singapore allows 100% foreign ownership in these types of companies; however Pte Ltd Companies come with high compliance and maintenance costs compared to sole proprietorships.
You can also apply for an EP through a Pte Ltd Company. However, as was mentioned above, applying for an EP can be a tough process due to stringent requirements compared to an LOC.
---
Consider an employment agency
It can be a difficult process for DP holders, who are usually new arrivals, to chart Singapore's complex hiring landscape on their own. If using the employment option, DP holders must secure an offer of employment before they can obtain an LOC. While there are jobs available for DP holders, the job-hunting process can be competitive and confusing.
---
Ease your job search
Let Rikvin, a licensed employment agency, nail you that employer interview with our resume bank.
---
Dependant's Pass Holders who wish to start their own business
You will save time and effort if you use an agency such as Rikvin to incorporate your firm and apply  for an LOC through the business route. An accredited employment agency can submit your LOC paperwork online immediately after you incorporate. If you apply on your own, the application process may take longer.
---
Form a company in Singapore and apply for work visas with speed, ease and value
Rikvin's expertise is unrivaled in Singapore. With 20 years of know-how in company incorporation, immigration services and work visa applications, you can count on us to be your dedicated one-stop business solution.