Singapore Company Incorporation Options
Singapore is known for its pro-business environment. These include a superb infrastructure, political stability, transparent and relevant business policies, a skilled workforce, respect for the rule of law and strong intellectual property rights protection.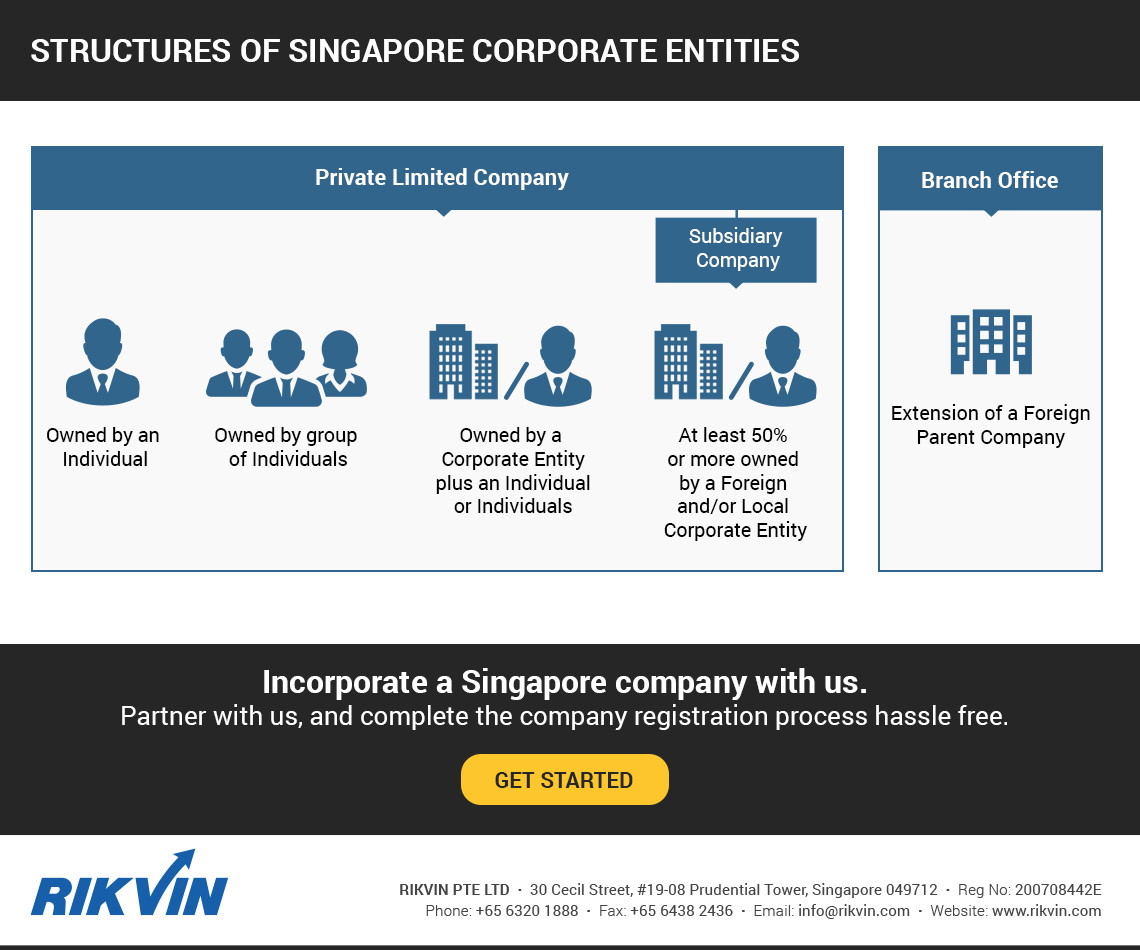 The republic's extensive network of Free Trade Agreements (FTA) and Avoidance of Double Tax Agreements (DTAs) as well as attractive tax system also benefit businesses that operate in various jurisdictions.
Furthermore, Singapore allows for 100% foreign ownership. For more information, please read on why Singapore is a preferred business location for company setup.
The Singapore company incorporation options available to local as well as foreign individuals and corporations are categorized as follows:
As a foreign entrepreneur, you may incorporate a private limited company in Singapore. 100% foreign shareholding is allowed. Foreign entrepreneurs or professionals who wish to incorporate a Singapore company can choose to set up and run its operations with or without relocating to Singapore.
Foreign companies that wish to establish a presence in Singapore can choose to register a Subsidiary Company, Branch Office or a Representative Office in Singapore. In practice, most of the foreign companies prefer to register a Subsidiary Company. An Employment Pass is required to bring on board and relocate any staff member (including directors) who is critical to the operations of the Singapore entity.
As a Singapore Resident, you may register a private limited company, sole proprietorship or LLP in Singapore. In practice, most of the entrepreneurs register a private limited company due to its limited liability protection and corporate tax exemption of the first $100,000 taxable profits for the first 3 consecutive years of assessment.
One of our services is to provide shelf companies that are incorporated in Singapore for clients with specific requests. Each of these shelf companies meets all the necessary regulatory requirements and can be purchase for immediate operation. See available Singapore shelf companies
Downloads