Select the Services You Need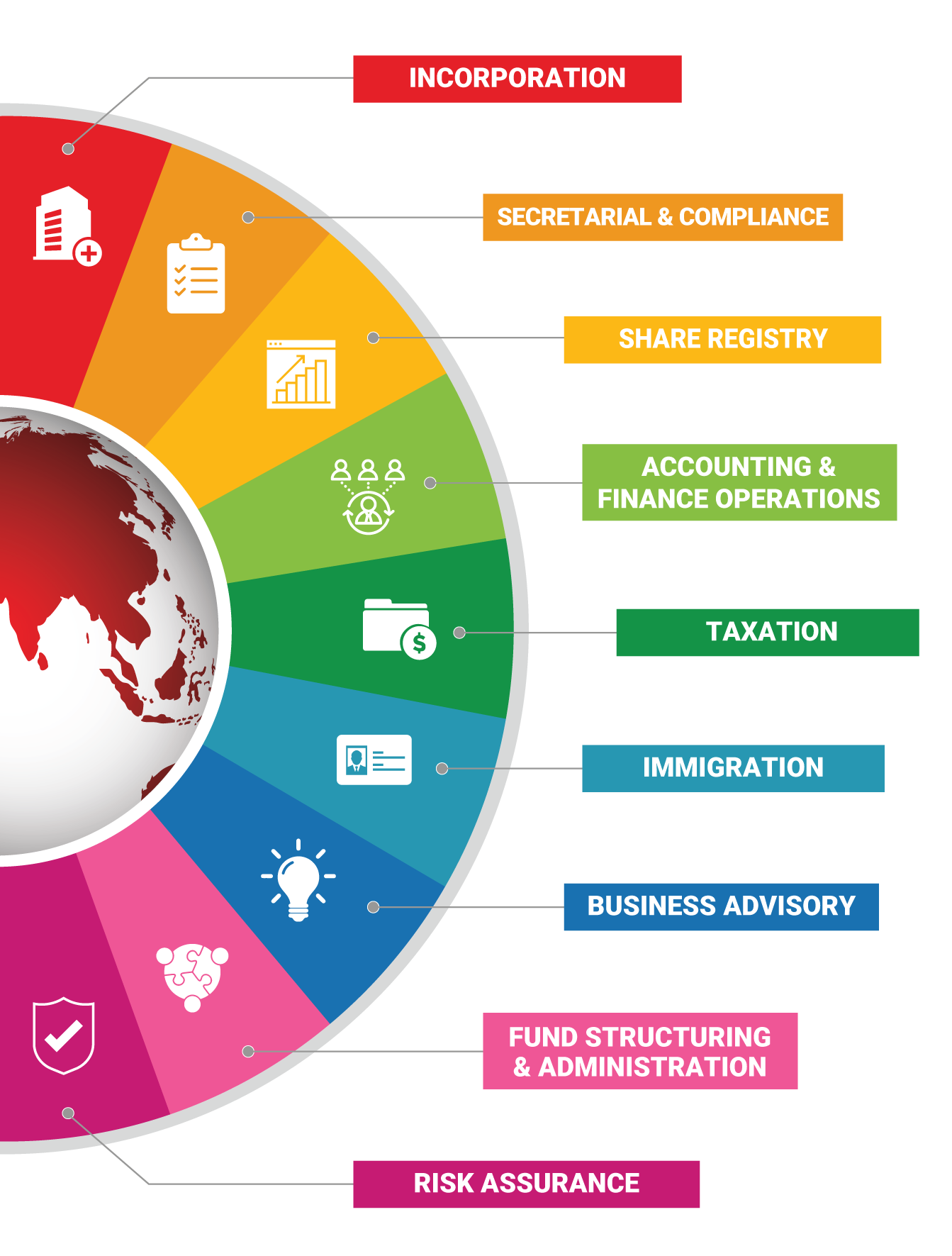 You need to save time and focus on your business. By choosing Rikvin's, you'll gain access to solutions designed for all you need for your Singapore company. Our services can scale with your unique needs.
Rikvin offers Singapore corporate services including Singapore company incorporation, offshore companies formation, tax and accounting services, immigration services, and corporate solutions to startups, small and medium-sized enterprises, and multinational companies who wanted to establish their presence in city-state.
We are a team of company secretaries, accountants, tax consultants, lawyers, immigration specialists, offshore company incorporation and Singapore company registration specialists who can help you remain compliant with authorities, as well as avoid unnecessary penalties or losses.
We are happy to assist you with any of the following services:
Looking to set up your new business or confused about which entity type is best suited for your business? Look no further, Rikvin, one of Singapore's best incorporation service provider has helped set up thousands of companies and business. Our incorporation specialists advice you on the type of entity that ideally fits your business needs and ensures the optimal tax benefits. We give you a head start!
Learn More »
Legal and Contractual Advisory Services
Compliance function looks daunting because it is complicated and resource-intensive. Non-compliance would, however, prove costlier and significantly slow your business. Entrusting your on-going business compliance function to professionals will help you focus on your productive core activities. At Rikvin, we ensure that our clients' regulatory transparency and compliance are impeccable. We empower you by making you compliant! Learn More »
Singapore Compliance Services

Corporate secretarial service and nominee service
Accounting and bookkeeping is not merely a recordkeeping function that tracks the financial transaction of business. If managed by professionals, it provides strategic insights that can contribute to business growth and profitability. At Rikvin, besides preparing annual financial statements and filing returns, we have helped clients generate reports from their financial data to formulate strategic roadmaps, risk management plans and mergers and acquisition strategy. We keep your business balanced! Learn More »
Seconding staff for the short term to assist in accounting and payroll work
Forensic accounting
Reconstructing accounts
Clearing of back-log accounts
Resolving general accounting related problems
Consolidation of Group Accounts
Preparing consolidated group financial statements and head-office reporting packages
Setting up the chart of accounts for new software installation

Recording All Accounting Transactions

Compiling monthly management financial reports and quarterly GST returns
Preparing statutory financial statements which are in compliance with Financial Reporting Standards
Re-measuring accounts to functional currency

Accounts Payable Services

Paying vendor invoices and employee expense claims
Issuing payment vouchers, preparing cheques and fund transfers
Mailing signed cheques to payees, making payment electronically or remitting funds by telegraphic transfer
Arranging audits where required
Computing gross to net salary and CPF
Providing payroll reports and payroll journals
Disbursing net salary and CPF via our client trust account, and issuing confidential pay slips (hard copy or electronic)
Preparing year-end lR8Aforms and appendices (hard copy or electronic)
Preparing IR21, GML, NS MUP, CPF refund, government statistical forms, etc
Managing and administering employees' leave – Online/Offline
In the increasingly regulated and dynamic tax environment, businesses have to do more than managing and optimizing tax obligations. At Rikvin, besides compliance-based tax services, we help clients manage tax risks and provide valuable tax insights that could drive business decisions and optimize business process and structures. We make it less taxing! Learn More »
Singapore Tax Consulting

Effective shareholding structure
Effective tax structuring/restructuring and planning for local and cross-border transactions
Tax efficient employment packages

Industry Specific Tax Incentives

General tax consultancy
IRAS advance tax Ruling application
Considering a relocation to Singapore for business or for work? Singapore offers several immigration options. We can advise you on the best viable option for you and your family. We have secured work permits, employment pass, dependent pass, entrepreneur pass and permanent resident status for applicants from all over the world. We make it easy for you! Learn More »
Work pass consultation
Licensed employment agency for Work pass, Work permit, S Pass and E pass application
Assistance in securing single or multiple business visa
Work Visa applications for individual's or corporate's for relocation to Singapore
Employment Pass Filing (E Pass Processing)
Entrepreneur Pass Filing (EntrePass Processing)
Dependent Pass (DP) Filing including application of Letter of Consent (LOC)
Family Pass Filing
Business Advisory
Regardless of the industry in which you operate or the stage of your business lifecycle, our advisory experts with diverse technical and industry experience can provide you with the best advice for your business challenges. Be it starting a new business, finding a business partner, financing your business, streamlining your business processes and functions, or whatever it may be, we offer innovative and pragmatic advice that can solve your business challenges efficiently. We keep it simple! Learn More »
Strategic Business Planning
Business Valuation
Financial Due-Diligence
Tax Due-Diligence
Analysis and Forecast
Business Restructuring
Business Transformation
Business Succession
Risk Assurance
The business environment has become increasingly volatile, uncertain, complex and ambiguous. Businesses need to anticipate risk, mitigate risk and be prepared to manage risk in order to drive business growth. Our insights and assurance help management make well-informed decisions and remain resilient in the face of risk. We make the risks worth taking! Or we help you minimize risk Learn More »
Enterprise Risk Management Advisory

Setting up Risk Management Process
Risk Management Process Review
Risk Mitigation Strategies
Internal Audit

Specific Risk Advisory

Regulatory Risks
Contractual Risks
Financial Risks
Transactional Risks
Corporate Recovery
For businesses under financial duress, we offer tailored and innovative solutions to rescue the business and help financial stakeholders recovery their value. Winding up is not the only solution; corporate reorganization, debt restructuring, formal and informal workouts are some of the means through which businesses can wade out financial troubles. We help you regenerate! Learn More »
Insolvency Advisory
Restructuring Advisory
Refinancing Advisory
Lender Advisory
Investor Advisory
Trustee
Litigation services
Switch your corporate administration, company secretarial functions, and other compliance services to Rikvin. Learn More »
Incorporating a local company in Singapore? We help you get started.
Rikvin offers professional expertise in starting company in Singapore. With 20 years of know-how in Singapore company registration, accounting, tax, payroll, and immigration services, you can count on us to be your dedicated one-stop business solution provider.