Rikvin, a licensed MOM employment agency, offers Singapore Dependant's Pass application services to spouses and children of Employment Pass or S Pass holders to join them in Singapore.
The Dependant's Pass (DP) entitles the immediate family member of a work visa holder to live in Singapore. To qualify for dependant privileges, the sponsoring work visa holder must earn a minimum monthly salary of SGD 6,000. The status of the Dependant's Pass is connected to the validity of the sponsor's Singapore work visa. Learn More
Note: From 1 February 2019, a Verification of Vaccination Requirements (VR) document issued by Health Promotion Board is required for new DP applications for children 12 years old and below. Existing DP holders and foreign children born in Singapore don't need this document.
Our Singapore Dependant's Pass Application Services include:
Pre-application information and advising on Singapore Dependant's Pass
Filing of Dependant's Pass application
Tracking Dependant's Pass application status while under processing
Liaising with Direct MOM officer in charge, if required
Responding to MOM's requests for additional information, if any
Arranging for issuance of Dependant's Pass upon in-principle approval (IPA)
Filing of unlimited appeal in case of rejection of Dependant's Pass application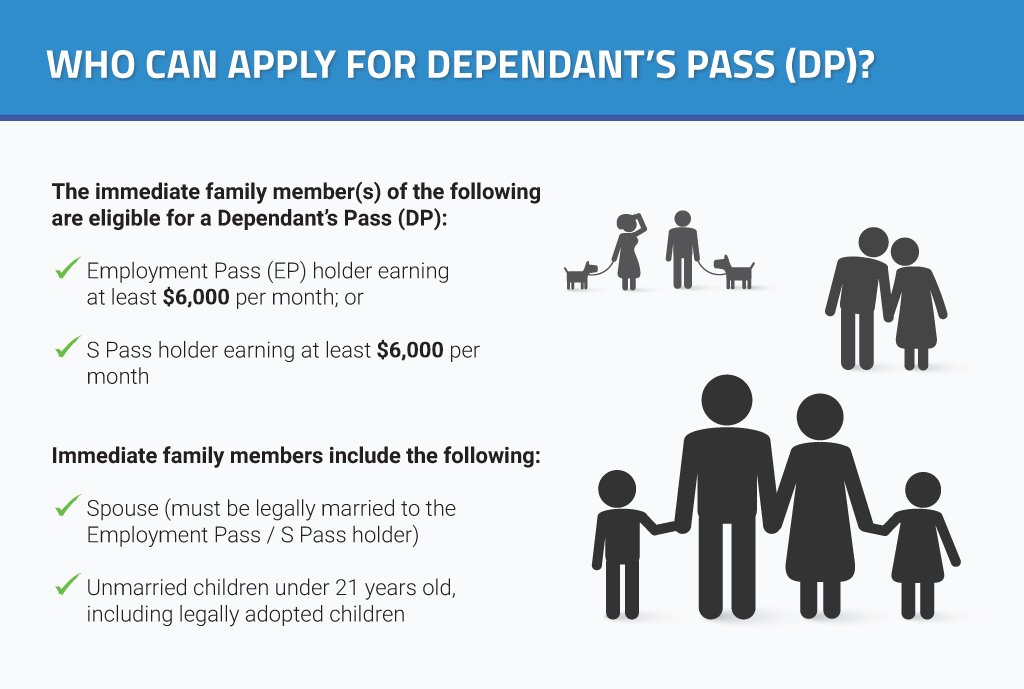 Need help with your Dependant's Pass application?
Rikvin, a Singapore Employment Licensed Agency, has immigration and work visa specialists who can help you! Call us at +65 6320 1888 or contact us now for a free consultation.