Singapore Dependant's Pass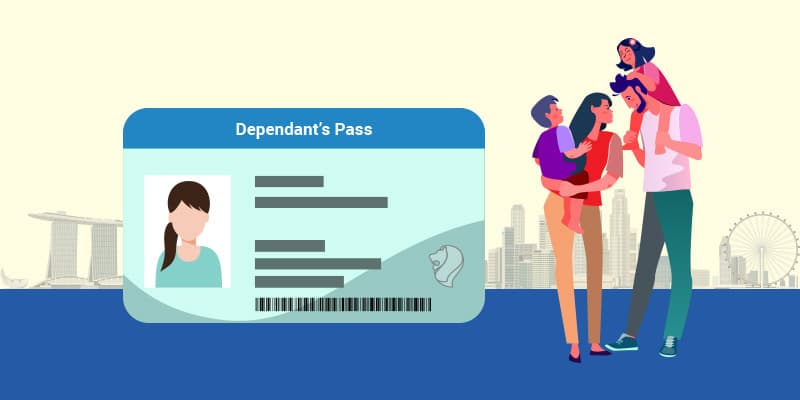 There is no doubt that Singapore is in its next phase of nation building, and the country is creating more higher-value jobs every year. This is the reason that foreign nationals who wish to relocate or set up a business in Singapore, have a few visa options available.
Other reasons that attract foreigners to work in Singapore also include the open recruitment policies, low personal tax rates and a high standard of living.
A Dependant's Pass enables the dependant to work, live and study in Singapore. Those who are eligible for it are the family/relatives of a Employment Pass / EntrePass / PEP / S Pass holder.
Before applying for a Dependant's Pass
What is a Dependant's Pass?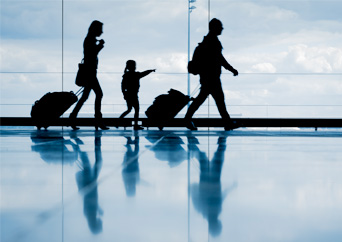 The Dependant's Pass (DP) entitles the immediate family members of a work visa (Employment Pass / EntrePass / PEP / S Pass) holder to live in Singapore. To qualify for dependant privileges, the sponsoring work visa holder must have a minimum monthly salary of SGD 6,000 (applicable for Employment Pass / PEP / S Pass). For EntrePass holders, you may only apply for dependant privileges for your immediate family members after a year of holding the EntrePass, and if you meet the requirements for total annual business spending and local employment as seen below. The validity of the Singapore Dependant's Pass is connected to the validity of the Singapore work visa.
To bring your
Your total annual business spending must be at least
You must employ at least

Spouse (common-law or legally married)
Children

$100,000
3 local FTEs* OR 1 local PME**
Parents
$200,000
6 local FTEs OR 2 local PMEs
*Full-time Employees (FTEs) refer to Singaporeans and Permanent Residents who earn a monthly salary of at least $1,100
**PMEs refer to professionals, managers and executives who are Singaporeans or Permanent Residents and earn a monthly salary of at least $3,600
Note: 1 local PME = 3 local FTEs
---
Who can apply for a Dependant's Pass?
The legally married spouse and unmarried and/or legally adopted children below 21 of an individual holding an EP, S-Pass or PEP with a monthly salary of more than SGD 6,000 can apply for a Dependant's Pass. The immediate family members of EntrePass holders can only apply for a Dependant's Pass after the EntrePass holder meets Year 2 renewal criteria (minimum annual business spending of $100,000 and employ 3 local FTE or 1 PME).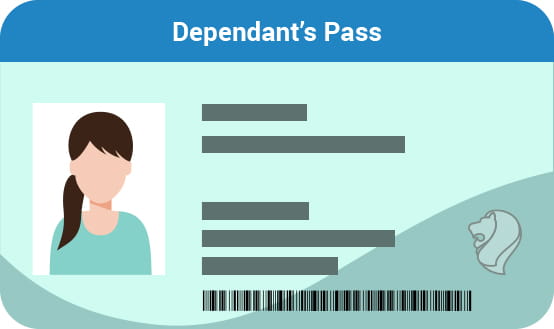 Dependant's Pass holders are allowed to live/study in Singapore. They may also be allowed to work if their family members are Employment Pass holders (EP) and if they have secured a job and the employer is willing to apply for a Letter of Consent on their behalf.
If an EP holder's baby is born in Singapore during their stay, the parents must report to the Immigration and Checkpoints Authority (ICA) with the letter issued by the hospital and obtain a short term visit pass for the baby which is 42 days. An application for Dependant's Pass can be submitted then.
Related article: Options for Dependant's Pass Holders in Singapore »
---
Documents required for a DP application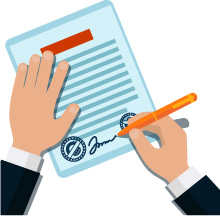 The list of documents needed to establish the relationship between the EP holder/ S-Pass holder/ EntrePass/PEP holder and the defendant is as follows:
Dependant
Requirements
Unmarried handicapped children above 21 years of age

A letter or report of assessment from a medical practitioner on the child's condition

Unmarried stepchildren under 21 years of age

A copy of the Court Order on the child's custody
A letter of no objection from the other biological parent in bringing the child to Singapore
If any of the above documents are not in English, an English translation and a copy of the original document is required.
Dependant's Pass applications can be submitted online or manually. Like the EP, the DP application also will be sponsored by the EP holder's employer.
Timeline for DP application
If the application is made online, then normally between 7-14 working days
If it's a manual application, then the processing time is around five weeks.
---
What are the benefits of a Dependant's Pass?
Work
You are allowed to work in Singapore as a DP holder. Your potential employer will apply for a Letter of Consent (LOC) on your behalf. The validity of your Dependant's Pass and LOC are tied to the validity of your spouse's or parent's work visa. You will need to renew your LOC whenever your DP is renewed.
Study
Dependant's Pass holders are also eligible to study in Singapore. No additional application for a student pass is required.
Shareholding
DP holder can hold shares of any Singapore-registered company.
---
What is a Letter of Consent (LOC)?
If a person holding a Dependant's Pass wishes to work in Singapore, they must obtain a Letter of Consent (LOC) from the Singapore Ministry of Manpower.
To learn more, please view our guide on Singapore Letter of Consent.
---
Risk Appetite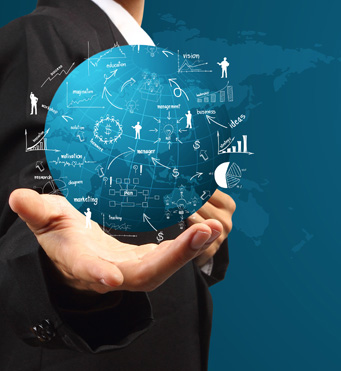 For aspiring entrepreneurs, there is no better place to start a business than right here in Singapore. According to the 2018 Business Environment Rankings (BER) by The Economist Intelligence Unit, Singapore has been ranked the best country in the world to do business in.
The introduction of a 100 per cent online business registration and filing system known as BizFile, created by ACRA, played a crucial role in helping Singapore achieve this. As an icing on the cake, the business registration process itself is simple and relatively fuss-free.
Depending on the risk appetite, one can choose to either start a business with unlimited liability or a company where the owners have limited liability.
Some prefer the freedom of a sole proprietorship whilst others feel more secure a private limited partnership. Which form of business ownership one ultimately enters into is highly dependent on the personal risk appetite.
Disclaimer:
All advice provided in the website is based on our past experience and the current regulations and are general in nature. Please note that approval of a Letter of Consent is at the sole discretion of MOM. Before acting on the advice, you should consider the appropriateness of the advice having regard to your own objectives, situation and needs. Rikvin shall not be liable for any loss or damage arising out of or in connection with any use or reliance on the information or advice on this site.
People also ask
Yes, they can, as it fulfils the one resident director requirement. In general, the minimum requirements for starting a business (incorporating a company) in Singapore are:

at least one shareholder which may be an individual or a corporate entity
one resident director (either a Singapore citizen, permanent resident, Employment Pass holder or a Dependant Pass holder)
one resident company secretary
initial paid-up share capital of at least S$1, or equivalent in any currency
a physical Singapore office address, and cannot be a PO Box.

In general, no you cannot live in Singapore without a job. The only option for living in Singapore without a job would be as the dependant of a current Singapore working visa holder. You can apply for a Dependant's Pass if your spouse has one of the following Singapore working visas:

S Pass
Personalised Employment Pass (PEP)
Employment Pass (EP)
EntrePass

You can apply for a Dependant's Pass if your spouse is an Employment Pass, S Pass, or Personalised Employment Pass holder, and earns over $6,000 per month. If your spouse has an EntrePass, you are not able to apply for a Dependant's Pass until the EntrePass holder has met their 2 year renewal criteria. This criteria includes business spending of at least $100,000 per year, and the employment of 3 local full-time employees (FTEs), or one local professional/manager/executive (PME).

The Dependant Pass is available to the spouse and unmarried children of a work pass holder. You can get a letter of consent to work in Singapore if you find a job in Singapore.
Yes. A qualified Singapore S Pass holder can apply for a Dependant's Pass for their family if they earn at least $6,000 a month. The S Pass holder also needs to be working for a Singapore registered company.
Yes. If you are residing in singapore and your wife/spouse is a foreigner, they will need to get employer apply for a Letter of Consent to be able to work in Singapore.
Need help with your Dependant's Pass application?
We are experts when it comes to Singapore's immigration laws and regulations. Our reliable guidance and high success rate come with 20 years of experience. Secure your Dependant's Pass with us.