Our Singapore immigration services and work visas services range from work permit application for domestic workers and labourers, to Employment Passes for experienced professionals with good credentials in both education and industry knowledge. Non-residents aspiring to work in Singapore require a work visa before they can legally begin employment. Companies that hire non-residents without a valid work pass will be prosecuted under the Employment of Foreign Manpower Act.
Work Pass Application Services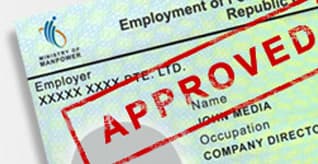 Rikvin, Singapore corporate service provider, is a licensed employment agency with Singapore's Ministry of Manpower (MOM) and offers a full spectrum of work visa processing services.
Our services include reviewing your candidacy, acting as a liaison with MOM, applying for your work pass, processing renewals, appealing and tracking your application.
---
Our Singapore Employment licensed work visa specialists can help you with any of the following:
The Singapore Employment Pass is issued to professionals, managerial personnel (managing directors, general managers, CEOs), executives or specialists who wish to work in Singapore. An employer or appointed employment agent needs to apply on behalf of the candidate. The candidate must earn at least S$3,600 to qualify (more experienced candidates need higher salaries).
Learn More
The EntrePass (also known as the Entrepreneur Pass) is designed primarily for technopreneurs as well as R&D-intensive enterprises that can inject innovation and vibrancy in Singapore. There is no stipulated minimum salary for EntrePass and has a validity of 1 year. Your proposed business needs to meet certain requirements for you to be eligible for an EntrePass.
Learn More
The PEP is a special type of Employment Pass issued to top-tier individuals based on their merits. The PEP is independent of any employer; hence its holder can switch employers without affecting the status of the pass. He/she is also entitled to stay in Singapore for up to 6 months in between jobs to evaluate opportunities. The PEP is issued for a period of 3 years and is non-renewable thereafter. The qualifying salary threshold is S$144,000 per annum.
Learn More
The S Pass is designed for mid-level skilled foreign workers employed by companies operating in Singapore. The application is assessed based on a point system with consideration for each of the following factors: salary, education qualifications, skills, job type and work experience. The number of S Pass holders employed by a company is capped according to its industry's DRC (Dependency Ratio Ceiling). The qualifying salary for this pass is above S$2,300.
Learn More
The Dependant's Pass (DP) entitles the immediate family member of a work visa holder to live in Singapore. To qualify for dependant privileges, the sponsoring work visa holder must earn a minimum monthly salary of SGD 6,000. The status of the Dependant's Pass is connected to the validity of the Singapore work visa.
Learn More
The Letter of Consent (LOC) is for eligible LTVP/LTVP+ holders married to a Singaporean or permanent resident and Dependant's Pass holders who want to work in Singapore. The employer or appointed employment agent can apply for the Letter of Consent. You can only begin working after the employer has received the LOC.
Learn More
The Work Permit (WP) is issued to basic-skilled workers who want to work in Singapore's in-demand sectors and are from approved source countries. The duration of a WP is two years, subject to the validity of the worker's passport, the Banker's/Insurance Guarantee, and the worker's employment period, whichever is shorter. The worker is only allowed to work for an employer and in the specified occupation. The qualifying salary must be S$2,000 or less.
Learn More
The Work Holiday Pass is likely to be of most interest to undergraduates and post-graduates aged between 17-30, and study in an approved university in Australia, France, Germany, Hong Kong, Japan, New Zealand, the United Kingdom, or the United States, to work and holiday in Singapore for up to 6 months.
Learn More
The multi-journey business visa facilitates the frequent entry of business executives from visa-requiring countries into Singapore. This will benefit investors or business personnel who visit Singapore frequently to attend to their business or investment needs.
Learn More
The Miscellaneous Work Pass is for eligible foreigners on short-term work assignments, such as speakers at a seminar, religious workers or journalists. You must be sponsored by a Singapore-based organisation or society. The Miscellaneous Work Pass lets you take on assignments of up to 60 days in Singapore.
Learn More
Attaining Permanent Resident status in Singapore entails numerous benefits, including access to public housing, quality education and healthcare services at subsidized rates. Singapore PRs also benefit from CPF savings, plus personal tax reliefs and rebates.
Learn More
---
Get in-depth guidance from a dedicated employment & immigration specialist.
Liaise with a dedicated specialist when you engage us for Singapore immigration, recruitment and work visa services. Our licensed specialists will attend to every step of your application thoroughly.