Snapshot of Singapore Work Passes, Permits and Visas
This guide provides an insight into the different types of
Singapore Work Pass and Visas
, including the
Employment Pass
,
EntrePass
,
Personalised Employment Pass
,
S Pass
,
ONE Pass, Tech.Pass
and
Work Permit
. In addition, you will also learn about the
Dependant's Pass
and
Long Term Visit Pass
for eligible dependants, as well as short-term work passes such as the Work Holiday Programme permit, Training Employment Pass, and Training Work Permit.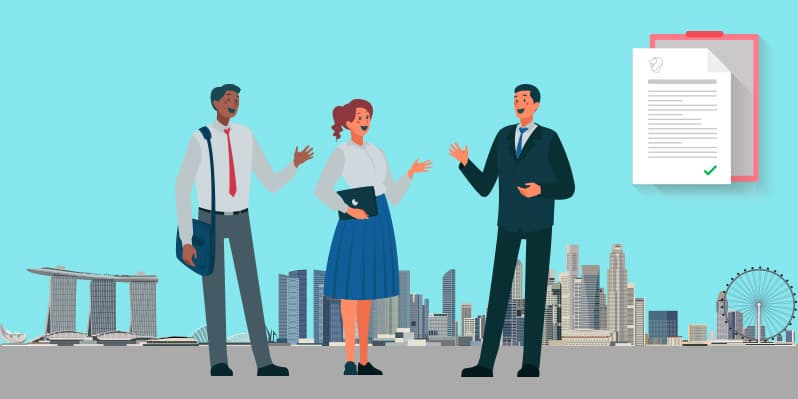 Pass, Permit or Programme
Type of Applicants
Examples of Eligibility Criteria
Employment Pass also known as EP or E-Pass
Professionals, Managers, Managing Directors, Executives or Specialists

Young graduates from good institutions could qualify if they earn at least $5,000 or at least $5,500 in the financial sector
Older applicants would have to command higher salaries to qualify, commensurate with the work experience and quality they are expected to bring
Possesses acceptable qualifications

Entrepreneur Pass (EntrePass)
Foreign entrepreneurs setting up new businesses in Singapore

Company must be registered as a Private Limited Company with the Accounting and Corporate Regulatory Authority – Singapore's national regulator of businesses and public accountants.
Company must not be registered for more than six months at the point of application.
Applicant must meet at least one of the seven following criteria:

Has funding from a government accredited VC or business angel
Holds an intellectual property
Holds significant business experience/network and promising entrepreneurial track record
Has exceptional technical/domain expertise in an area related to proposed business
Holds good track record of investing in businesses and want to grow new or existing businesses in Singapore
Has research collaboration with A*STAR or a university
Is an incubatee at a government-supported incubator

Personalised Employment Pass (PEP)
Professionals, Managers, Executives or Specialists
Overseas foreign professional whose last drawn fixed monthly salary overseas was at least $18,000 ($22,500 from 1st Sept 2023*).

The last drawn fixed monthly salary overseas should be no more than six months from the time of the application.

Current Employment Pass holders

Employment Pass holders must earn fixed salary of at least $12,000 a month ($22,500 from 1st Sept 2023*).

*If your PEP is approved after 1 September 2023, you must earn a fixed salary of at least $270,000 per calendar year.

THE FOLLOWING CANDIDATES ARE NOT ELIGIBLE for PEP:

Foreigners who are working or intending to work on a freelance basis without any direct employers in Singapore;
Foreigners who are listed as Sole Proprietors, Partners or Directors in a business/company registered with ACRA and are shareholders of that business/company.
Foreigners working as journalists, editors, sub-editors and producers.
Holders of PEP pass are not allowed to start their own company in Singapore.

S Pass
Mid-level skilled workers
(e.g. Technicians)

Fixed monthly salary – earn at least $3,150 or at least $3,650 in the financial sector (from 1st Sept 2023).
Education qualifications
Job type
Work experience

ONE Pass
The Overseas Expertise Network (ONE) Pass targets top talents from all around the world in the fields of:

Academia
Research
Sports
Arts & Culture
Business

Successful ONE Pass recipients will be granted the unique advantage of holding positions at multiple companies concurrently in Singapore, without the need for reapplication during job changes. Furthermore, their spouses can also be employed in Singapore by obtaining a Letter of Consent (LOC).

Individuals eligible for the ONE Pass can choose between two application routes. The first one would be meeting specific salary requirements, involving either of the subsequent conditions for existing work permit holders and applicants from abroad:

Earning a consistent monthly income of at least S$30,000 in the preceding year.
Demonstrating a commitment to earning an equivalent salary in their new employment situated in Singapore.

Existing work permit holders and overseas applicants are also required to showcase a minimum of 1 year of work experience in Singapore or confirm future employment with a reputable Singaporean company.

Alternatively, outstanding achievements in the aforementioned sectors can also be a pathway to qualifying for the ONE Pass.

Tech.Pass
Tech.Pass offers a two‑year visa for distinguished tech experts, entrepreneurs, and innovators.
Holders can engage in various capacities, such as:

Establishing and managing tech firms
Working in Singapore-based companies
Teaching or guiding at higher education institutions
Investing or directing in a Singaporean company

Changing roles does not require a new pass application.

To qualify for the Tech.Pass, applicants must meet any two of the subsequent criteria:

Earn a consistent monthly income of at least S$22,500 (effective from 1st September 2023) over the previous year, matching the top 10% of EP holders.
Have five years of experience in a significant role within a tech company valued at a minimum of US$500 million in market capitalisation or having received funding of at least US$30 million.
Accumulate a minimum of five years of leadership experience related to a tech product with at least 100,000 active monthly users or generating annual revenue of at least US$100 million.

Work Permit for foreign Worker
Semi-skilled or unskilled foreign workers in the construction, manufacturing, marine shipyard, process or services sector.

From an approved source country or region by MOM
Minimum age of 18 years old.

Work Permit for foreign domestic worker
Semi-skilled or unskilled foreign domestic workers (FDWs) to work in Singapore.

Females from 23 to 50 years old
From an approved source country or region by MOM
Minimum 8 years of formal education with a recognised certificate
Work Holiday Programme Foreign undergraduates or graduates between 17 and 30 years of age from universities in these countries:
Australia
France
Germany
Hong Kong
Japan
New Zealand
United Kingdom
United States
Pass, Permit or Programme
Type of Applicants
Training Employment Pass
Foreigners undergoing practical training attachments for professional, managerial, executive or specialist jobs
Training Work Permit
Semi-skilled or unskilled foreign trainees (e.g. foreign students studying in Singapore) who wish to undergo training in Singapore
Dependant's Pass (DP) and Letter of Consent (LOC)

For legally-married spouses and unmarried or legally adopted children under 21 years old.
Employment Pass and S Pass holders must earn S$6,000 a month or more.
EP DP holders are allowed to work in Singapore.
Your potential employer will apply for a Letter of Consent (LOC) on your behalf. The validity of your Dependant Pass and LOC is tied to the validity of your spouse's or parent's work visa.

Long Term Visit Pass
EP holders who earn S$6,000 may bring:

Common-law spouses
Unmarried handicapped children above 21 years old
Unmarried stepchildren under 21 years of age

EP holders who earn S$12,000 or more may bring:

Parents
Common-law spouses
Unmarried stepchildren under 21 years old
Unmarried handicapped children above 21 years old
FAQs
Work passes such as EP, S Pass and Work Permit holders in Singapore are usually valid to stay for 1-2 years and can be renewed after. If foreign workers are laid off without any notice period before the last date of employment, they will be issued a 30-day Short Term Visit Pass (STVP), which will allow them to temporarily stay in Singapore.
You need to meet the Work Permit requirements, including medical insurance, security bond, quota and levy. Foreign worker under Work Permit is meant for unskilled or semi-skilled workers in the construction, manufacturing, marine, process, or services sector. The foreign worker must come from one of the MOM's specified source countries, which vary by sector.
Yes, although there is no quota for Employment Pass, it still has strict restrictions as the Ministry of Manpower (MOM) will review each application based on several factors such as the applicant's qualifications, salary, academic qualification, years of experience in that industry, the level of skills required and company's merit. Employers are strongly encouraged to advertise all job vacancies on the Jobs Bank to reach out to as many eligible job applicants as possible.
The foreign worker quota for a company is determined based on the CPF account of the company. Employers can use the MOM calculator to plan the number of Work Permit and S Pass holders the company can hire based on their sector and workforce.
Need help with your Work Pass application?
We are experts when it comes to Singapore's immigration laws and regulations. Our reliable guidance and high success rate come with 20 years of experience. Secure your work pass and visa with us.