On this page, you will learn about the Singapore Employment Pass, a work visa for managers, executives, specialists and professionals. This guide details the eligibility requirements and approval criteria, as well as the application process and timeline.
What is a Singapore Employment Pass?
The Singapore Employment Pass (EP) is a type of work visa that is designed for managers, executives, specialists and other skilled professionals who wish to work in Singapore. The Ministry of Manpower (MOM) also allows entrepreneurs to apply for an EP after they have incorporated a company in Singapore. This enables them to relocate to Singapore in order to run company operations. There is no official quota for the EP.
---
Singapore Employment Pass can be applied if you are:
An entrepreneur, executive or managing director of a Singapore company and wish to relocate to manage your company operations;
A locally-incorporated Singapore company and need to hire an employee from overseas;
You have an employment offer from a Singapore employer. In this case, your employer will make the EP application on your behalf.
---
What do you need to have before applying for an Employment Pass (EP)?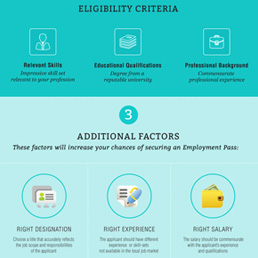 All Employment Passes application are carefully assessed by MOM and on a case by case basis. MOM takes into consideration a number of factors such as the applicant's qualifications, work experience, job scope, economic contribution, employer track record and ability to complement  Singapore's local workforce. To be considered for an Employment Pass, you must possess one or more of the following:
A recognized Diploma/Degree qualification
Professional qualifications (professional or educational)
Specialist skills
Relevant work experience
In some instances, an applicant who does not possess recognized educational qualifications may not necessarily be rejected for an EP, if there are other compensating positive factors in favour of his/her application, namely:
Good job profile, salary, work experience;
Good employer track record, high company paid-up capital and tax contribution;
Possess strategic and in-demand skills in sunrise industries.
Conversely, having recognized educational qualifications does not guarantee a successful EP application.
---
What is the eligibility for an Employment Pass?
In addition to the above, a candidate must earn at least $3,600 a month to qualify for an EP. Older applicants will have to command a higher salary that is commensurate with the work experience and quality they are expected to bring.
Related topics: Employment Pass for Foreign Professionals »
---
Application Procedure and Timeline

Employment Pass applications must be submitted to the Ministry of Manpower (MOM). Applications may be filed online or manually.
Online applications require the uploading of relevant supporting documents. Approximately 80% of applications via this route take 3 weeks or longer to process.
Manual applications are preferred by applicants whose supporting documents (eg. testimonials from previous employers, writing samples etc.) highlight other merits. The processing time for this route takes at least five weeks from the date of receipt of the application. The duration may lengthen during peak periods or when the case requires further input from various economic agencies.
Click here for ePass Status Check Online »
Who should apply for an EP online?
Applicants who received their tertiary education and graduated from reputable universities;
Applicants who have amassed significant experience or are a subject matter experts in their fields;
Have attained higher-level certification in their qualifications e.g. ACCA, ACIA, CFA, MBA etc;
Applicants who have had significant working  experience;
Applicants who are eminent in their respective industry or vocation and can contribute to Singapore's international prominence in that industry, especially if that field has been highlighted in government policy as being key for economic development.
Who should apply for an EP manually?
Young, inexperienced applicants who have had substantial co-curricular/leadership experience;
Nationals of emerging economies with unsubstantial university education but with desirable qualities;
Applicants with little to no formal education but have extensive informal vocational experience in key industries, the evidence of which can be furnished in the form of written testimonials, completed projects, portfolios etc.
---
Jobs Bank Requirement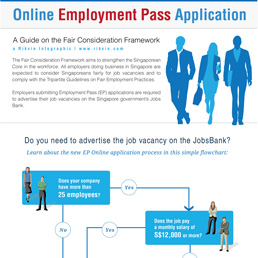 The Ministry of Manpower requires companies that wish to hire Employment Pass Holders to first advertise the relevant position in the Singapore Workforce Development Agency's Jobs Bank. However, certain exceptions apply.
The following are exempted:
Jobs in firms with less than 10 employees
Jobs that pay more than $15,000 per month
Intra-corporate transferees (i.e. candidates holding senior positions/professionals with the advanced level of expertise)
Short-term positions (less than 1 month)
---
What are the Documents Required for submission of an Employment Pass ?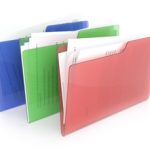 We require the following documents for submission of an Employment Pass application:
An updated resume or CV stating your educational and employment history
Copies of educational certificates and past employment testimonials
A copy of the personal particulars page of your passport
* Any documents that are not in English must be translated into English by an official translation service.
---
What is the submission and timeline for Employment Pass
Unless your case demands so, Rikvin submits all Employment Pass (EP) applications electronically to the Ministry of Manpower (MOM) so that you can learn of your application outcome sooner.
It takes MOM around 3 weeks or longer to process the application.
Upon receiving the In-principle Approval (IPA) notification, we will make arrangements for the collection of your EP.
*Note for entrepreneurs
The EP application can only be done once your company has been incorporated. It is not necessary to be physically present in Singapore while the application is being processed.
---
Approval and Collection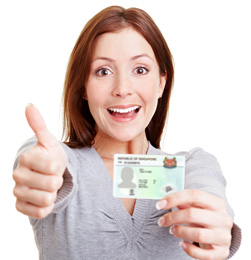 Once the application is approved, the Ministry of Manpower will issue an In-Principle Approval (IPA) letter via email. The IPA letter must be produced upon collection of the EP at the Work Pass Division at Ministry of Manpower. An IPA letter is valid for six months from the date of notification of approval.
To collect your EP you will be required to present:
A copy of the IPA letter
A recent passport-sized photograph
Original passport with the entry embarkation cards
Medical exam report* (if the In-Principle Approval states that you require one)
Any other documents that are requested in the approval letter
* You may have a medical examination done in your own country through an established clinic/hospital or in Singapore. Most clinics in Singapore provide medical examination and report within a day.
The validity of an Employment Pass
The validity of an EP varies and are as follows:
First-time applicants – up to 2 years
EP renewals – up to 3 years
---
Entry Visa into Singapore
If you are overseas and require an entry visa to Singapore, your IPA letter will include a single journey entry visa. Upon your arrival in Singapore, we will make an appointment with the Ministry of Manpower on your behalf for fingerprinting. Once the procedures have been completed, your pass will be ready in 4 working days. You may collect the pass at MOM personally or authorize Rikvin to collect it on your behalf.
---
What happens if your application is rejected?
In the event that your EP application is rejected by the authority, we will investigate why the outcome was so. Based on the reasons provided by MOM, we will then establish a firm appeal in your defense, addressing the issues raised and providing documents per request, if any.
Please note that it may take three weeks or more to process an appeal, depending on the complexity of the case. Our fees include one free appeal in the event that your initial application is unsuccessful.
---
Change of Employer
EP holders must apply for a new pass whenever they change employers. There is no need to cancel the existing pass prior to application for a new pass. MOM evaluates each application for a new pass based the applicant's qualifications, work experience, and employer credentials. A new pass will be issued once the old pass is canceled.
---
When and how to renew an Employment Pass
MOM will mail an EP Renewal Form to your employer's address two months before your EP expires. You should submit the renewal application at least four weeks prior to the expiration of your EP. Once approved, your employer will receive a letter of notification when the new pass is ready for collection at the Ministry of Manpower.
---
How do EP holders relocate with family members?
All EP holders can apply for Dependant's Pass and/or Long-Term Visit Pass for their immediate family members if they meet certain conditions. A separate Dependant's Pass application should be made for every family member. The application can be submitted together with the EP application or separately.
Dependant's Pass (DP)
Singapore EP holders earning  S$6,000 or more a month can apply for Dependant's Passes for their:
Spouse (legally married)
Unmarried children under 21 years of age, including legally adopted children
As a DP  holder, your spouse may legally work in Singapore. However, his/her prospective employer is required to apply for a Letter of Consent (LOC) with MOM before he/she commences work. (Note: Not eligible for S Pass holders)
Long-Term Visit Pass (LTVP)
Those earning S$6,000 – $12,000 a month and above may apply for Long-Term Visit Pass for their:
Common law spouse
Unmarried handicapped children above 21 years of age
Unmarried step-children under 21 years of age
Those earning  S$12,000 or more a month and above may apply for Long-Term Visit Pass for their:
Common law spouse
Unmarried handicapped children above 21 years of age
Unmarried step-children under 21 years of age
Parents
Work Visa Processing Services
Rikvin is a licensed employment agency registered with the Ministry of Manpower (MOM). The license enables us to facilitate in the placement of employees for a local employer and represent employers or employees in the official submission of work pass applications.
When you engage us for work visa services, you need only liaise with one specialist. Your specialist will help review your candidacy, act as a liaison with MOM, apply for your work pass, and process renewals as well as appeals and track your application.
---
Longer-term options after obtaining the EP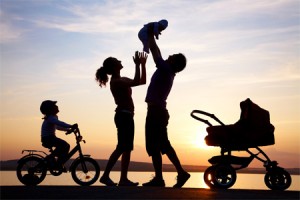 There are two options for longer-term stay in Singapore after obtaining your Employment Pass. They are as follows:
Permanent Residence
Employment pass holders are eligible to apply for Singapore Permanent Residence through the Professional, Technical & Skilled Workers (PTS) scheme. There is no designated waiting period but one of the documents required for PR application is six months of salary record. Hence, it is advisable for EP holders to wait for at least six months prior to application.
Personalised Employment Pass
Eligible EP holders and gold collar professionals may also apply for the Personalised Employment Pass (PEP). The PEP is a special type of Employment Pass issued to top-tier individuals based on their merits. It is independent of any employer; hence its holder can switch employers without affecting the status of the pass.  For more details, please refer to our Guide on the Singapore Personalised Employment Pass.
Related topic: Work Permit Application Service Package »
---
Don't leave your Employment Pass application to chance
We are a licensed employment agency registered with the Ministry of Manpower and offer a full spectrum of work pass services.