Rikvin Secures Singapore Employment Agency (EA) License

In yet another move that strengthens its position as a company registration specialist, Rikvin Singapore ("Rikvin") has been granted an Singapore Employment Agency License by the Ministry of Manpower ("MOM"). The license allows Rikvin to render further assistance to employers intending to apply work passes for their foreign staff, especially companies which are newly registered in Singapore.
Rikvin has been granted a Comprehensive License which allows the recruitment and placement of workers, local or foreign, to employments in Singapore. Rikvin is now duly licensed to place both local and foreign workers to potential and suitable employers. This thus streamlines Rikvin's capabilities as a one-stop business solutions provider, with its prior know-how in forming companies in Singapore, now coupled with the ability to source and place manpower.
A recent report of the local publication, TODAY, provides that the MOM is looking into using private sector employment agencies to assist unemployed Singaporeans in finding jobs. Rikvin is now one such employment agency in the private sector and is available to efficiently assist in this regard. A part of Deputy Prime Minister Tharman Shanmugaratnam's, Manpower and Finance Minister, recent statement revealed this new direction and was published yesterday by Chinese daily Lianhe Zaobao, "One of the things that we are now studying at MOM is what additional ways we can use both to ensure that no one stays unemployed, including matured workers, as well as to help SMEs (small and medium enterprises)."
The MOM website mandates entities and individuals that are actively involved in putting job seekers in touch with employers and vice versa on a regular basis, and/or could substantially influence the outcome of the employment terms and conditions to obtain an employment agency license if such activities are carried out in Singapore. This applies whether the potential employer or employee is based in Singapore or overseas. An employment agency in Singapore is defined as an entity that helps other companies with their recruitment and staffing needs, operating as a liaison between employers and potential employees. It could be engaged in the placement of local as well as foreign talents, from entry level positions to corporate management executives.
With its prior and leading experience in company registration in Singapore and significantly high success rate in work pass applications, Rikvin introduces foreign employment solutions to its efficient list of services offered to individuals or entities interested in maintaining their presence in Singapore.
---
Contact us today and learn more about how we can meet your organisation's HR needs or for your individual career: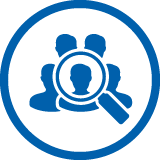 For Employers
We offer Executive Search, Permanent, Contact & Temporary Placements.