Singapore has managed to achieve an iconic economic stature among its regional counterparts by always choosing to play its game differently.  Yet again it has played a smart move, when globally the heavyweight economies are steering towards protectionism, Singapore is easing the entry of foreign entrepreneurs and enhancing funding support for start-ups. Singapore, being a resource-scarce nation, has promptly realized the significance of nurturing an innovation-driven economy to achieve higher value growth amidst intensifying competition. Therefore, it is not enough to nurture local start-ups and entrepreneurs but in order to achieve and sustain a higher-value innovation economy, the government needs to remain open to foreign entrepreneurs while promoting local start-ups. This brings us to the introduction of the Entrepass
The government clarified its policy stance when Mr. Koh Poh Koon, Minister of State for Trade and Industry, on 3 March 2017 during his ministry's Committee of Supply debate, announced a slew of changes to the schemes relating to foreign entrepreneurs and startups.  The changes announced to the Entrepass scheme sector are the key points.
Related Article: Comparison of Singapore Employment pass vs Entrepass
---
Changes to the Entrepreneurship Pass
Launched in 2003, the Entrepass is a special work pass targeted at foreign entrepreneurial talent. The pass weighs the applicant's track record and the viability of the proposed business. More importantly, the authorities evaluate the potential of the business to positively contribute to Singapore's economy. The key merit of Entrepass is that the educational and professional experience of the applicant takes a backseat, this benefited several entrepreneurs who have emerged successfully in business despite the lack of educational qualification and also innovative startups whose founders did not have formal educational background.
Subsequent to the economic restructuring efforts of the government, the criteria for Entrepass approval were tightened in September 2013. Since then, the number of foreign entrepreneurs taking the Entrepass route to set up business in Singapore has taken a hit. Although they continue to set up private limited companies and obtain employment pass to stay in Singapore to manage the business, some entrepreneurs are disadvantaged because they lack the educational qualification and professional experience that are critical to qualify for an Employment pass.
Taking cognizance of the situation, the government has announced some changes to the Entrepass criteria. The changes will relatively ease the entry of foreign entrepreneurs seeking to set up in Singapore.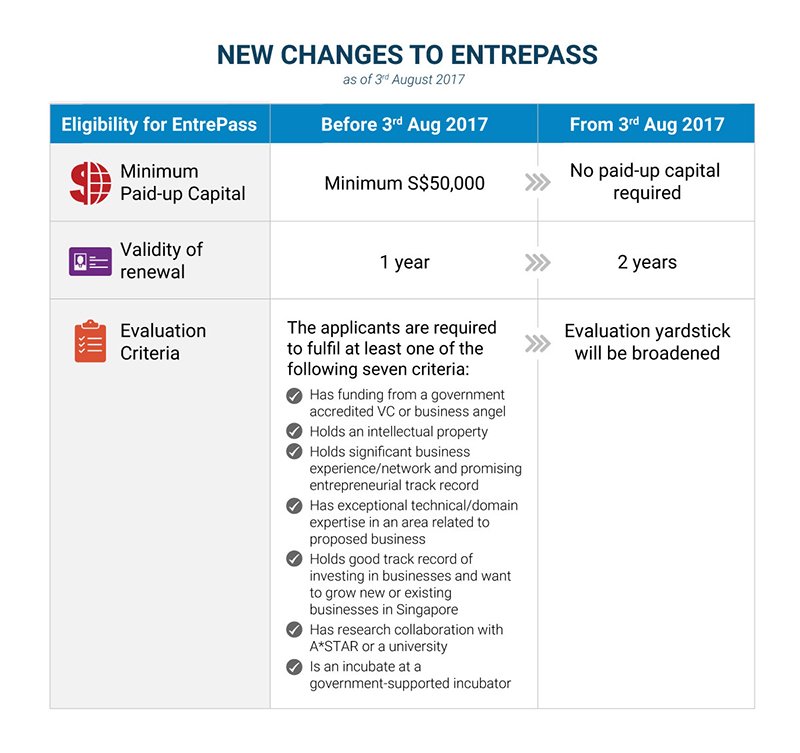 Removal of minimum paid-up capital requirement: The applicants are required to incorporate a private limited company with a minimum paid-up capital of S$50,000. The minister has announced that the minimum paid-up capital criteria will be removed.
The Validity of renewal extended: The initial validity of the entrepass is one year. The entrepass holders are required to apply for a renewal. If the applicant fulfills the renewal criteria the pass will be valid for another one year. Now, with the recent changes announced, the validity of renewals subsequent to the first renewal will be extended for a period of two years.
Evaluation criteria to be broadened: The evaluation criteria for the applicants of EntrePass remain stringent; the applicants are required to fulfill at least one of the following seven innovation criteria:
Has funding from a government accredited VC or business angel
Holds an intellectual property
Holds significant business experience/network and promising entrepreneurial track record
Has exceptional technical/domain expertise in an area related to proposed business
Holds good track record of investing in businesses and want to grow new or existing businesses in Singapore
Has research collaboration with A*STAR or a university
Is an incubatee at a government-supported incubator
The minister has confirmed that the government would continue to remain choosy in selecting the applicants and in that respect the evaluation yardstick will be broadened.
Renewal criteria amended: Renewal of EntrePass will be based on criteria such as proof of business activities, percentage of shares held in the company, as well as others shown in the following table:
| No. of years you have held an EntrePass | Total business spending** must be at least | Must employ at least |
| --- | --- | --- |
| 1 | – | – |
| 2* | $100,000 | 3 FTES** OR 1 PME*** |
| 4 | $200,000 | 6 FTEs OR 2 PMEs |
| 6 | $300,000 | 9 FTEs OR 3 PMEs |
| 8 or more | $400,000 | 12 FTEs OR 4 PMEs |
*Hold a minimum of 30% shares in the Company from Year 2
**Total Business Spending (TBS) refers to total local business spending excluding renumeration to EntrePass holder
***Full-time Employees (FTEs) refer to Singaporeans and Permanent Residents who earn a monthly salary of at least $1,100
****PMEs refer to professionals, managers and executives who are Singaporeans or Permanent Residents and earn a monthly salary of at least $3,600
Note: 1 local PME = 3 local FTEs
Related Article: Role of Business Plan in Singapore EntrePass Application

---
Passes for EntrePass Holders' Families
You can now bring your family into Singapore under Dependant's Pass and Long Term Visit Pass. However, the criterion is stringent. You cannot bring in your family at the time of application for EntrePass. Your family can only enter Singapore under Dependant's Pass and Long Term Visit Pass upon your EntrePass renewal (after 1 year) and your family would have to apply and go through DP and LTVP assessment before they can apply for either.
In addition, EntrePass holders can only bring their family in if they meet the requirements for total annual business spending and local employment:
To bring your
Your total annual business spending must be at least
You must employ at least

Spouse (common-law or legally married)
Children

$100,000
3 local FTEs OR 1 local PME
Parents
$200,000
6 local FTEs OR 2 local PMEs
To bring your family in, you need to apply for the respective pass types:
Family member
Pass type

Spouse (legally married)
Unmarried children under 21 years of age, including those legally adopted

Dependant's Pass

Common-law spouse
Unmarried handicapped children above 21 years old
Unmarried step-children under 21 years old
Parents

Long Term Visit Pass
---
Start a company in Singapore through the Entrepreneur Pass scheme
Take advantage of the relaxed eligibility criteria for EntrePass and form a company in Singapore.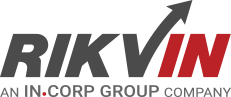 Rikvin's content team includes in-house and freelance writers across the globe who contribute informative and trending articles to guide aspiring entrepreneurs in taking their business to the next level in Asia.