Important COVID-19 Notice to our Valued Clients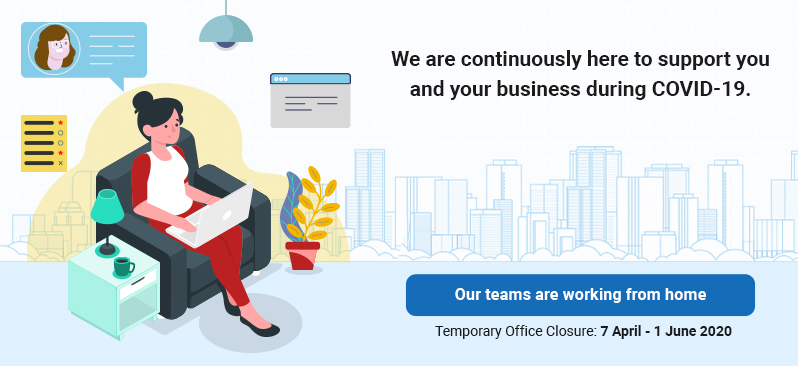 Rikvin has been closely monitoring the latest updates on COVID-19 and in light of the extended circuit breaker measures as of 21 April 2020; all of us will be working from home and our office will be closed with effect from Tuesday, 7 April 2020 to 1 June 2020.
During this critical period, please be assured that our Service Delivery Teams have adopted and adapted well during these COVID-19 measures and we will continue to be of assistance to our local and global clients.
The following FAQs have been listed for your easy reference:
1. Where should I reach my relationship team?
As we all are working from home, you may email your respective relationship manager or a call for urgent matters on the same numbers used before. Alternatively, you can continue to call our general line at +65 8699 8821.
2. How shall I send over my documents?
You can scan your documents and send over to us via the email IDs you have been using to interact with staff in charge.
3. Can you hold virtual meetings?
Yes, we can arrange a common time and meetings can take place over Zoom or WhatsApp calls.
4. How long will our office be closed?
We remain open for business, however, our physical office will be closed in accordance with the Singapore government measures from 7 April 2020 to 1 June 2020.
5. Will you be able to collect physical documents or deliver them during this period?
Please get in touch with your staff in charge for us to be able to assist.
6. Will you be able to access all the compliance related documents if we require those documents?
Yes, we will be able to.
7. Are your office phone lines working and can we reach the relevant staff through the main office line?
Yes. Our teams will be responding to your phone calls and will be able to put you in touch with the relevant staff/department in charge.
8. Will you still be able to set up companies / take over as the new Company Secretary during this period?
Yes, we are fully functional and ready to provide advisory and company incorporation services (Singapore entities setup or Offshore companies setup) as per normal. Email us at
info@rikvin.com
or reach out to our Business Development Managers that you have worked with before (emails and contact details remain the same).
9. Can I still open corporate bank accounts for my company in Singapore?
Yes, our banking partners in Singapore are helping our clients to open corporate accounts and have introduced new processes in place. Please write to us at
info@rikvin.com
and we will be able to advise from there.
10. Can I still conduct banking transactions / get access to banking services for my company in Singapore?
Yes, you will be able to perform banking transactions as per normal using internet banking or via your bank's relationship managers.
Loan applications or other bank services will continue to operate. Kindly contact your banks directly or visit their websites for additional information.
Few bank branches have announced temporary closure over the counter banking services, kindly contact your banks directly or visit their websites for additional information.
11. How will you deliver the work passes that have been issued and sent to your address?
Please get in touch with the immigration service team at
ep@rikvin.com
and they will assist you.
12. What happens to the card that has already been issued and awaiting for delivery from MOM?
Card delivery services will be suspended by MOM. Please ignore delivery notices received with effect from 7 April 2020. Our team will inform you of the new delivery dates.
13. What will happen to my card formalities appointment that has been scheduled during this period?
The Employment Pass Services Centre (EPSC) at Riverwalk and Hall C of MOM Services Centre at Bendemeer will be closed. Pass holders who are unable to proceed with card registration or collection can remain in Singapore with their Notification Letters or Card Replacement Letters.
Work pass holders who telecommute or work in essential services can start work with the letters. Once the additional safe distancing measures are lifted, our Immigration team will contact you to reschedule your appointment.
14. What will happen if my work and dependant's passes are expiring between 6 April 2020 and 5 May 2020?
Passes expiring between 6 April 2020 and 5 May 2020 will be automatically extended till 5 June 2020. This will not apply to passes that are not renewable.
15. Have you cancelled your pass and required an extension of stay?
Please contact our immigration team at
ep@rikvin.com
for assistance.
For latest COVID-19 advisories, please visit: Advisories on COVID-19
For latest advisories on workplaces, please visit: COVID-19: Advisories for Various Sectors
We remain at your service.
We are available to address any inquiries at any transaction, please feel free to contact our specialist. We would be happy to assist you.