Singapore iSPRINT Grant
Did you know that you can apply for assistance when you choose to automate and streamline your business operations with infocomm solutions? Through the Increase SME Productivity with Infocomm Adoption & Transformation (iSPRINT) scheme, now you can.
This scheme addresses SMEs' various infocomm adoption needs – from simple solutions for the improvement of your business operations to innovative use of technology for the transformation of your business or sector.
Who is Eligible to Apply for iSPRINT?

An integrated initiative, iSPRINT offers you a wider scope of support via the Pre-qualified Packaged and Integrated Customised Solutions.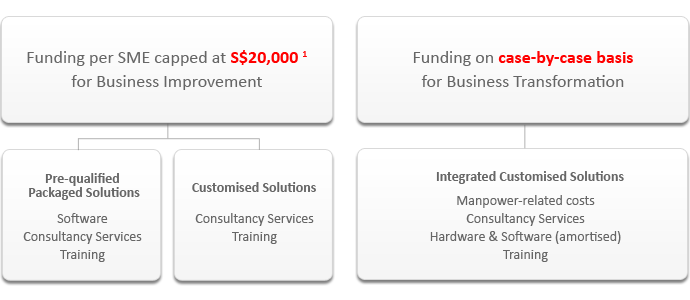 ---
Funding Application Process

---
Things to note:
Defrays up to 70% of qualifying costs2
Multiple applications allowed
Project must be carried out in Singapore
Solutions implemented has to support local operations
Project must have started development before grant approval
1 Per SME per lifetime whilst funds last. SMEs can apply more than once up to S$20,000 per SME.
2 Up to 70% support is applicable only to SMEs that have not used any IT system/software (excluding MS Word and Excel) at all for their business.