When it comes to yachting events and solutions, Maximus Events is your best bet. Kiran Sujanani, Co-Founder, is the personification of her company; outgoing, extroverted and lives for the sun.
1. Tell us about your company. What inspired you to start it?
Maximus Events is a ten-year-old company. We are based in Mumbai, London and now Singapore. Maximus has been in the events business for the longest time and has made our place here. We have over 2,000 clients – with 80% of them being corporate clients, 20% individuals – and have more than 100 employees. Our specialty in Singapore is yachting events – chartering yachts out, providing a complete solution for clients and that's where we play a different role in the market from the others.
We have another arm – the Speaker Management Bureau, and have plenty of famous names in our portfolio. We do motivational, industrial, technical and cybercrime topics, and a lot of conferences and events based around them. In addition, our Charity arm is where we do marathons for causes. Pinkathon, a marathon for women to raise awareness for breast cancer, turned out to be our most popular marathon.
We got started because India is a hotbed for business; the domestic usage itself can suffice. We went international as our business is more outbound – out of India, and hence London and Singapore.
2. Why start a company in Singapore over other markets?
We chose Singapore because of its geopolitical situation, which is a well-known fact. The stability, the ease at which you can start a business and do business, the effectiveness of the Government and the efficiency in making dreams possible – these were all reasons why we started a company here.
3. What are the challenges you faced when it came to business growth?
Honestly speaking, we have a very niche product. We do not and luckily, have not faced any challenges.
4. How did Rikvin aid you in your business journey?
We incorporated our Singapore company through Rikvin. It was by luck that we chanced upon them via a regular Google search. They have been with us in our journey since we incorporated in Singapore. It's been great because we get good advice from them. We have also been able to get the right work visas for our employees and good insight on the government policies and procedures from them. It's been a great journey with Rikvin.
5. Describe your experience with Rikvin in three words:
Can I use four? Always-at-my-service.
6. What gets you out of bed in the morning?
The sun. It gives me energy to get the most out of the day. Whether it's work or just a day out at sea, I feel energized.
7. What keeps you up at night?
Books – reading.
8. What is the one characteristic that people totally dig about you? What is the one characteristic that drives them insane?
Maximus Events is a very outgoing company; it's an outspoken, extrovert company. What we look for is personalities to match the company. That's where I come about – my personality matches my company.
As for what characteristic of mine drives people insane, I don't know and I'm better off not knowing. I'm the best at what I do, I think I'm good and if there's something about me that's driving people insane, I guess I'll just term it as jealousy.
9. What book do you think everyone on the team should read?
A good, fast, effective and very motivational read would be Who Moved My Cheese by Doctor Spencer Johnson. It's about four characters – two mice, two humans. They go on a hunt for cheese and that's where you learn a lot of life lessons. It's a great book – everybody should read it.
Join thousands of companies who trust us to get started.
Rikvin's expertise is unrivaled in Singapore. With 20 years of know-how in company incorporation, accounting, tax, payroll and immigration services, you can count on us to be your dedicated one-stop business solution.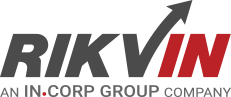 Rikvin's content team includes in-house and freelance writers across the globe who contribute informative and trending articles to guide aspiring entrepreneurs in taking their business to the next level in Asia.