Ramesh Nistala, Founder & CEO of Rappier, a digital marketing adtech solution, jumps out of bed every morning in pursuit of new opportunities and possibilities, but believes discipline is key in translating and turning those possibilities into realities.
1. Tell us about your company. What inspired you to start it?
I started Rappier in 2014. It was started with a vision to create adtech digital marketing products and solutions. I felt that there was a lot of fragmentation in the industry and there was a need for a consolidation and a product which serves this industry well. That was the basis of creating Rappier.
What inspired me to start Rappier was that I've been a technologist all my life, and I've looked at a lot of solutions in the technology space, varying from a number of corporate solutions to marketing solutions to CRM and so on. I felt that the marketing solutions out there were not apt for the Asian market as yet – they were not satisfying the need. The idea was to bring my technology experience and the market intel into a solution, into a product that serves the Asian market well.
2. Why start a company in Singapore over other markets?
First off, I'm based in Singapore, and that's why I started Rappier in Singapore. But that said, Singapore as a nation is very forward-thinking. It's a business hub in Asia. It's got a lot of pro-SME initiatives by the government so establishing oneself in Singapore as a business, it's a very good decision one should make and look at.
3.What are the challenges you faced when it came to business growth?
Being a technology company, the challenges that I faced, or rather, a technology company faces now, is the classic struggle between whether one should look at product or revenue, and what is it that one should focus on. We face a similar challenge and I think the key is in striking the right balance to this conundrum, and the companies who are able to do it well early on and steer from there are the companies which find success eventually.
4. How did In.Corp aid you in your business journey?
I started with In.Corp as a corporate secretary support firm for my company. Over time, they've grown to be a strategic partner wherein they take care of all of our statutory compliances, legal matters, trademarking and so many other things which keep me at bay, and I let them handle those activities better.
5. Describe your experience with In.Corp in three words:
The best three words to define In.Corp would be they are experienced, competent, and they are very forthcoming in their solutions.
6. What gets you out of bed in the morning?
The possibilities and opportunities of a new day are what I start my day with usually. I also end up thinking of some matter rather than why I'm asleep and when a new day starts, I usually end up thinking of the solution and what I need to do with that. So yeah, that's how I start my new day, with hope and possibilities.
7. What keeps you up at night?
I think the one thing as an entrepreneur that keeps me up at night is operations. Operations and the challenges that they pose. As a young company, we face a ton of challenges every day and it's up to me and my team to make sure that we are following the right processes, to make sure that operations are smooth and customers are happy.
8. Tell me about your company in five years. What does the end game look like to you?
In five years, Rappier would be a formidable force in the digital marketing adtech space. We plan to have a gamut of SAAS modules, services for the Asian customer in mind. And looking at the way we are growing, we also want to structure ourselves around the local needs first, and then take them global. The idea is to be an end-to-end digital marketing adtech company in five years' time.
9. What is the one characteristic that people totally dig about you? What is the one characteristic that drives them insane?
I've been told that my technology prowess is very strong. I tend to look through complex solutions with ease and be able to lay them out in clear patterns so that solutions can be derived out of them. In terms of what drives people insane around me is the fact that I'm a very detail-oriented person, so I look at things very meticulously, so I think sometimes that drives people crazy.
10. What's the one piece of advice you would offer to founders out there?
I think being disciplined is something that's very important for all entrepreneurs to follow. The reason I say that is because as much as entrepreneurship offers the freedom to explore and look at possibilities, without having discipline, it's hard to make those opportunities into realities. That's the one piece of advice.
11. What book do you think everyone on the team should read?
I'm personally inspired by Simon Sinek. There's a book he wrote called "Start With Why". I think it's very, very apt for all entrepreneurs to read and for everybody in my team I recommend them to read it as well. Reason being because he's got a very nice finesse in explaining why companies have grown the way they have grown. Take the likes of an Apple or the Wright Brothers making their first flight – I think the key thing for all entrepreneurs to look at is to ask the fundamental question as to why they are doing what they are doing, rather than the hows and whats, and that's what the book tells you about.
Join thousands of companies who trust us to get started.
Rikvin's (In.Corp Group Company) expertise is unrivaled in Singapore. With 20 years of know-how in company incorporation, accounting, tax, payroll and immigration services, you can count on us to be your dedicated one-stop business solution.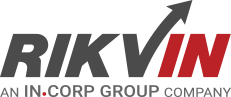 Rikvin's content team includes in-house and freelance writers across the globe who contribute informative and trending articles to guide aspiring entrepreneurs in taking their business to the next level in Asia.