The Singapore government has set aside $30 million to help incubate medical and clean technology start-ups. It will be used to select 2 accelerators who can incubate infant start-ups.
According to a Channel News Asia article titled "S$30m set aside to grow medical, clean technology start-ups", this is the second tranche of funding to follow the first $40 million dispensed in 2011, when 2 medical technology accelerators was appointed. The accelerators will identify and evaluate high potential start-ups, before financing and managing them.
The funding is managed by SPRING SEEDS Capital (SSC), a subsidiary of SPRING Singapore. It will co-invest in these start-ups on a 1:1 basis.
Edwin Chow, Executive Director of SPRING Investments, said a longer investment period and higher quantums supported by incubation is needed for higher rates of success by start-ups.
"With this second tranche of funding, we hope to expand the pool of accelerators who can fast-track the growth of Singapore start-ups in medical technology, as well as other emerging sectors such as clean technology," he said.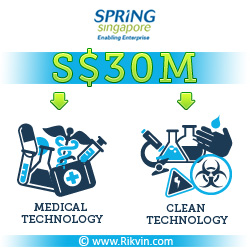 Rikvin acknowledges that this is a right move by the Singapore government in nudging the economy towards a more sustainable one which is built on long-term foresight, instead of one based on short-term investments which result in only temporary increases in economic productivity and growth.
Pushing for growth in the medical and clean technology sectors will place Singapore as one of the emerging global hubs in these two areas.
Mr Satish Bakhda, Head of Operations, Rikvin, commented: "Because the world is facing an ageing population, and people are getting chronic diseases like cancer at a younger age, this means that the medical technology sector will face increasing booms."
Mr Bakhda also said clean technology will be highly-sought after in the future as companies are compelled to work hand-in-hand with the authorities to reduce environmental degradation.
"Other than being required by stringent environmental regulations to ensure that their production processes are sustainable, big companies like multinational corporations are trying hard to be seen by consumers as trustworthy brands who are helping to protect the planet. Only then will their businesses continue to grow."
"Clean technology will undoubtedly be one of the fastest-growing industries in the future," he said.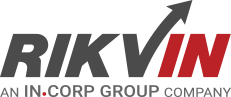 Rikvin's content team includes in-house and freelance writers across the globe who contribute informative and trending articles to guide aspiring entrepreneurs in taking their business to the next level in Asia.