More multinational companies are moving their top executives to Asia in what can be seen as a sign of confidence in the region's burgeoning growth.
According to a report compiled by law firm Baker & McKenzie and the Economist Corporate Network, these firms aim to place board members and global heads of units in Asia to keep up with the rapid market changes there. They believe that only top decision-makers who are working and living there can react quickly enough to take advantage of global market shifts.
The international survey of 500 MNCs found that more than half of them will have at least one board member in Asia by 2017. Of those who are already operating in Asia, more than 70% said they will have a board member in Asia by 2017.
Tech firm Cisco and Swiss private bank UBS are among these MNCs who have placed global heads of units in Asia. Cisco's chief globalisation officer is based in Bangalore, India, while UBS has three global business heads in Singapore.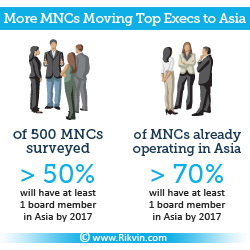 Analysis by Rikvin finds that this is a sign of Asia's increasing clout and influence in the the world economy. Not only are Asian markets already influencing future business trends, they will also gain an increasingly larger share of the world's most sought-after professionals.
According to the "Ease of Doing Business 2014" report by World Bank, Asian countries are tops among countries to do business in. Singapore is currently ranked as the best place to do business in the world, ahead of rival Hong Kong. New Zealand, the United States and Denmark made up the rest of the top 5 countries.
Mr Satish Bakhda, Head of Operations at Rikvin said Asian countries like Singapore will be among the top markets for multinational corporations and foreign investors to set up their businesses in. They are also likely to become management hubs for the Asia Pacific efforts of MNCs.
"With the increase in number of professionals who will be moving to Asia, as well as the wealth of knowledge and managerial skills they bring with them, the region will become one of the top spots for investors and firms trying to gain a foothold in Asia," he said.
The sheer number of MNCs and expatriates who are already in Singapore is also a good indication of what the future holds.
"According to MOM, there are already 7,000 multinational companies and 110,000 expatriates in Singapore. They have chosen to set up here because of Singapore's vibrant business environment and linkages to the region. We anticipate that the numbers will continue rising strongly as more and more global MNCs look to Singapore as the ideal location for locating their Asia-Pacific headquarters," Mr Bakhda said.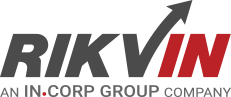 Rikvin's content team includes in-house and freelance writers across the globe who contribute informative and trending articles to guide aspiring entrepreneurs in taking their business to the next level in Asia.