Small Company Concept for Audit Exemption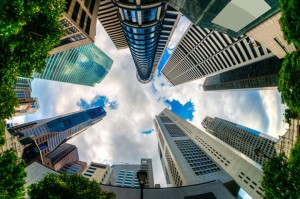 With the reform of the Companies Act, the new concept of small company has been introduced for audit exemptions.
In its bid to stay globally competitive and continue to nurture the growth of small and medium enterprises ("SMEs"), the Accounting and Corporate Regulatory Authority ("ACRA") has introduced the new concept of "small company". This change is slated to take effect from 1 July 2015.
The "Small Company" Concept
This new concept now allows for qualifying companies to reduce regulatory costs as they have fewer audit requirements to comply with, such as:
No requirement for its profit and loss accounts, or consolidated accounts and balance sheets to be audited by an approved auditor;
No requirement to provide members of the company with copies of the auditors' report;
No requirement to present copies of the auditors' report at its Annual General Meeting ("AGM").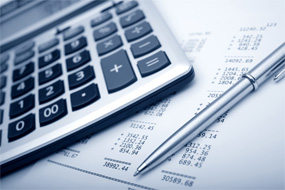 Companies that qualify for audit exemptions will still need to provide and present unaudited reports.
An "approved auditor" means an auditor who has been certified and has a license with the Institute of Singapore Chartered Accountants ("ISCA"), which is the national accountancy body of Singapore. Usually, engaging an approved auditor will mean additional operating costs for the company. In addition, the audit team will most likely have to make visits to the company's physical office, its storehouse, retail stores; and any other locations where the company carries out its business, to observe and conduct their audits. This may mean that the employees of the company may also have to sacrifice time from their routine day to day jobs to attend to the enquiries or needs of the auditors.
---
Qualifying Criteria for Audit exemption
Under the new regime, a company will need to fulfil any two of the following requirements in order to qualify as a small company in each of the immediate past two financial years ("FYs"):
Total Revenue not more than S$10 million;
Total Assets of not more than S$10 million; or
Number of employees not more than 50.
In addition, the company must be incorporated in Singapore, so foreign-incorporated companies who conduct business operations in Singapore via a Singapore branch would be unable to qualify as a small company and enjoy the concessions granted under the audit exemptions.
With regards to the company's total revenue and total assets, these should be determined in accordance with the Singapore Financial Reporting Standards ("SFRS"). The company's total number of employees is determined based on the number of full-time employees employed by the company at the end of the FY.
For companies that are part of a group, the entire group must qualify as a small group, i.e. it needs to meet at least two of these criteria on a consolidated basis for the immediate past two consecutive FYs. By "group", this means that the company could be related to other companies as a subsidiary, or because it has been formed for the purpose of a joint venture between two companies. Do note that the companies in the group need to qualify together on a consolidated basis, i.e. the combined total revenue and / or assets should not exceed S$10 million; and/or the total number of employees of all the companies within the group should not exceed 50.
There are of course, instances where the holding company of the Singapore incorporated private company, is a foreign company. In such cases, the consolidated total assets should be determined by the aggregation of the total assets of all the members of the group, and the consolidated revenue should be determined by the aggregated revenue of all the members of the group. Ideally, for more complicated cases, companies should consult a professional bookkeeping firm or audit firm on their analysis on whether the company can still fall under the small company concept, rather than run the risk of making the wrong assumptions, which could lead to penalties imposed by ACRA.
---
Ongoing Statutory Obligations
Prior to the change, the maximum threshold to qualify for audit exemptions was S$5 million. ACRA's upward adjustment will now allow for at least 25,000 SMEs to qualify for audit exemption. Notwithstanding these audit exemptions, companies will still be required to comply with the following requirements:
Prepare unaudited financial statements
Maintain proper accounting records
Empower shareholders who have at least 5% voting rights to require a company to prepare audited accounts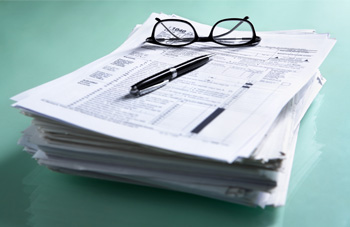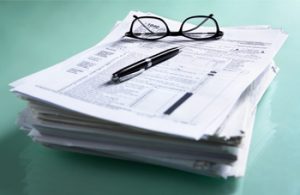 It is essential that the company ensures that proper accounting records are maintained, particularly since ACRA may conduct periodic spotchecks or an auditor may be appointed to audit the company if it unfortunately is embroiled in any legal issues. Hence, the company should ensure that its employees have the adequate knowledge and experience to ensure that the company's profit and loss accounts and balance sheets are prepared properly in accordance with the SFRS; and all related documentation e.g. bank statements, invoices etc., are kept. Alternatively, a company can choose to outsource its bookkeeping services to a bookkeeping firm, which will allow the company to leverage off a team of experienced accountants, at a fraction of the cost.
By "5% voting rights", this means that shareholders who hold at least 5% of ordinary shares in the company would fall under this category. Certain companies however, do have different classes of shares which provide for different voting rights. A company can check on the voting rights granted to its different classes of shares in the company's Memorandum and Articles of Association ("M&AA"), or consult their professional corporate services provider or company secretary.
Given that the change takes effect from 1 July 2015, private companies will need to meet the above stated criteria in the first or second FY commencing on or after 1 July 2015. Thereafter, the company may be disqualified if any of the following occurs:
It ceases to be a private company at any time during the FY
Has not met the criteria for the immediate past two consecutive FYs
For companies that are newly incorporated, they would naturally not be able to fulfil the criteria for their immediate past two consecutive FYs.
---
Financial Year End ("FYE")
For any newly incorporated company, there are several deadlines with regards to ongoing statutory obligations that it should pay attention to.
A company's FYE is the date where its accounting books for the year are closed; and is the cut-off date for the consolidation of the company's profit and loss.
Given that companies are required to hold their first Annual General Meeting ("AGM") within 6 months from its financial year-end; and the accounts need to be presented to the directors at least two weeks before the AGM is held, companies should consult their professional corporate services providers on whether their company would fall within this category. The illustration below shows the timeline for holding AGMs and Filling of Annual Returns
Timeline for Holding and Filing of Annual Returns

Rikvin also has an AGM calculator, which can assist companies to determine how when their AGMs should be held.
For companies that fall under this category, they would only need to ensure that they meet at least two out of the three criteria mentioned in the first section, in order to qualify as a "small company".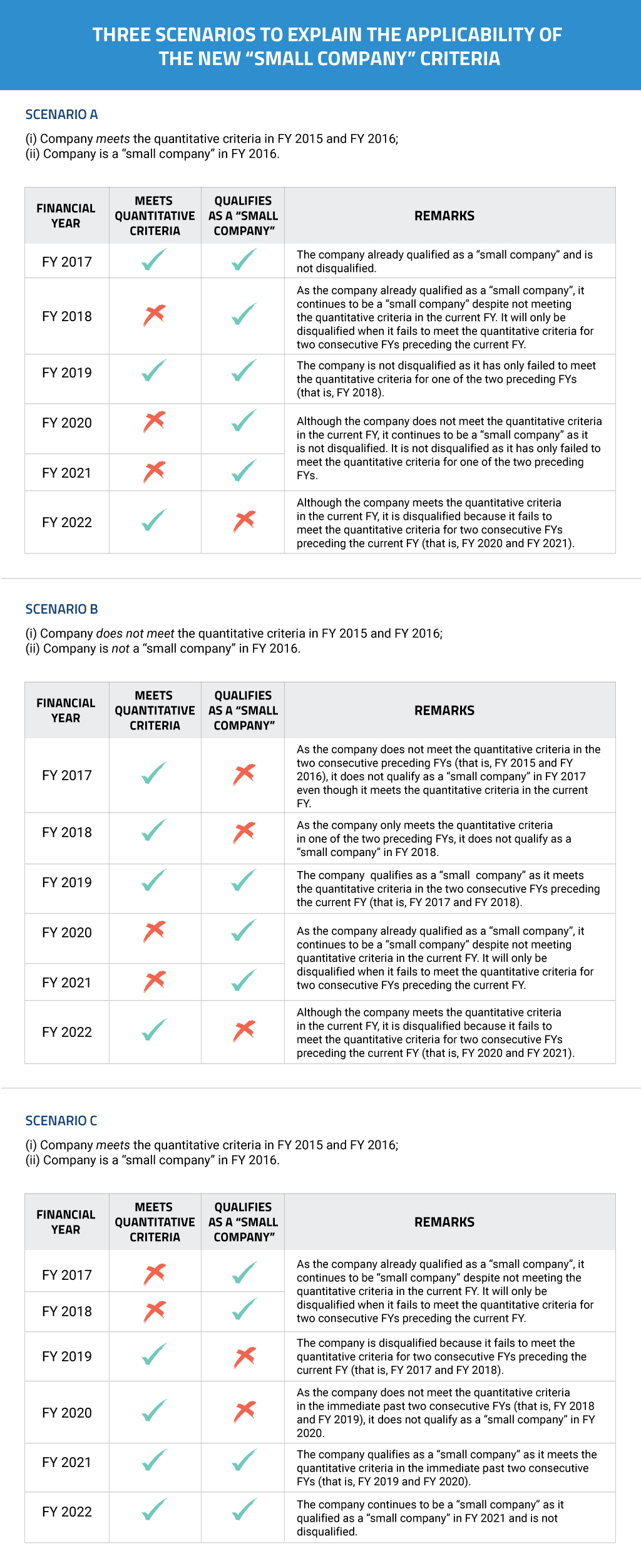 With the new small company concept, this aligns Singapore's practices with other countries such as the United Kingdom and Australia; and signifies the nation's gradual movement towards international standards. For example, ACRA has also implemented new XBRL standards across the board with effect from 3 March 2014, a business reporting standard that is widely used internationally. As Singapore moves towards making its business climate more similar to other international markets, whilst maintaining its attractive tax regime and pro-business policies, the government hopes to position Singapore as an ideal business destination for foreign investors and entrepreneurs; and drive economic growth.
FAQs
The Companies Act was amended in 2014 to update the audit exemption criteria for companies and introduced the concept of a "small company". A company that qualifies as a small company is not required to appoint an auditor and have its accounts audited. A company is considered to be a small company if it fulfils at least two out of the following three conditions:

The total annual revenue of the company must not exceed S$10 million;
The total assets of the company for the financial year end must not exceed S$10 million;
The number of full-time employees at the end of the financial year must not exceed 5

A company is exempted from having its accounts audited if it is an exempt private company with annual revenue of $10 million or less. This approach is being replaced by a new small company concept which will determine exemption from statutory audit.
Need help with your unaudited report?
We are experts when it comes to Singapore's company laws and regulations. With Rikvin, preparation of your company's unaudited report is done right and in compliance with all statutory requirements.