Opening a Corporate Bank Account in Singapore
Open a business account when you're ready to start accepting or spending money as your business. A business bank account helps you stay legally compliant and protected. It also provides benefits to your customers and employees. This page provides an insight into Singapore's banking industry, a sophisticated financial ecosystem of domestic and international banks. You will learn about the procedures for opening a corporate bank account, the documentary requirements, as well as the range of banking services available.
Singapore Corporate Banking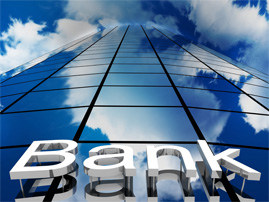 In recent years, Singapore has emerged as arguably Asia's foremost financial centre, with every major international financial institution having its presence here. As of now, there are 125 commercial banks operating in the city-state, of which five are local and the rest are foreign.
Among the 120 foreign banks, 28 are foreign full banks, 55 are wholesale banks and 37 are offshore banks. The five locally-incorporated entities are owned by the banking groups – Development Bank of Singapore (DBS), United Overseas Bank (UOB), and Oversea-Chinese Banking Corporation (OCBC). Some prominent foreign banks present include Standard Chartered Bank, HSBC, Citibank, and ABN AMRO. It is also worth noting a locally-incorporated Neobank, Aspire.
Singapore's central bank, Monetary Authority of Singapore (MAS), is the nodal agency regulating all the financial institutions of Singapore.
Some of the banks we work with:



We also work with Singapore's 1st Neobank for businesses:


Note: Opening of a corporate bank account in Singapore is easy and effortless provided the documentation requirements are appropriately met. Following is an overview of the account opening procedure and a comparison of some of the major banks. This is purely a general guide and should not be considered as professional advice. Readers are advised to directly check on the current policies and terms of service with the respective banks.
---
Documents Needed to Open a Corporate Bank Account in Singapore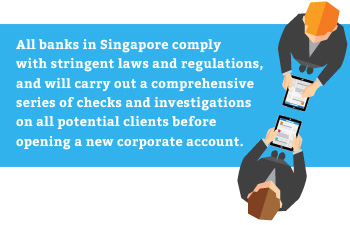 Generally, the following is needed to open a corporate bank account in Singapore:
a resolution by company's board of directors
copy of the company's certificate of incorporation
copy of the company's business profile
copy of company's Memorandum and Articles of Association (MAA)
copies of passports or Singapore national identification cards of all the company directors
proof of residential addresses of the directors and ultimate beneficial owners of the company
The copies of documents must be "Certified True" by the company secretary or one of the company directors. Moreover, the concerned bank may also request for original documents and additional documents for added verification.
Notably, some banks in Singapore require that the account signatories and directors be physically present for the signing of official documentation at the time of account opening. Other banks may accept documents that are signed in person at one of their overseas branches or in front of a notary. Whatever may be the case, all banks in Singapore comply with stringent laws and regulations and therefore will carry out a comprehensive series of checks and investigations on their potential clients before opening a new corporate account.
We Recommend: A Guide to Singapore Company Incorporation »
Registering Your Foreign Company in Singapore »
---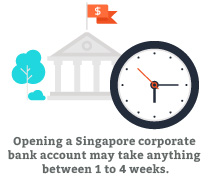 Time Taken to Open the Bank Account
Depending on the time taken for verification of the customer's bona fide, it may take anything between one to four weeks. If you are looking for a faster option, you may want to try opening a digital business account at Aspire, where sign-up take ~5 minutes and approvals can be within 3-24 hours, even for foreign directors.  
In order to avoid any unforeseen delays, the physical presence of directors at the time of the signing of documents is considered ideal. Most banks do not charge any account opening fee.
---
12 Factors to Consider Before Choosing a Corporate Bank in Singapore
1. Bank Reputation and Rating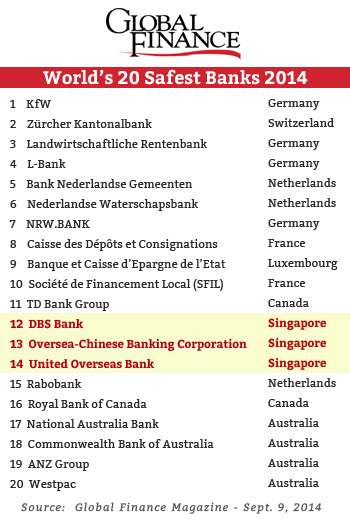 Banks with high creditworthiness and standard of confidentiality, reliability of services, known history and considerable international presence are always the safest bet. Even if the corporate account you're considering looks terrific on paper, talking to your peers in the business about their experience with a particular bank is always helpful.
2. Specialisation and Niche Expertise
Do note that the bank you choose should be experienced in the banking needs of your particular business. Every industry has different standards and different challenges. If your bank has experience in helping companies in your industry, it can offer valuable advice and guidance to you as well. You can also look for banks with specialties depending on your special circumstances. For example, you can often find bank officers who specialize in women-owned or small-scale businesses.
3. Business Focus of the Bank
If you prefer personalised service and advice on asset and wealth management, you may choose private banking. Whereas clients with commercial focus and access to services such as international trade, cash management, payment, and financing may choose an international commercial bank.
Related link: Singapore as the Go-to Banking Destination of Asia »
4. Availability of Account and Channel Services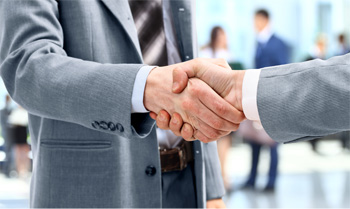 Before deciding on the bank, consider whether integrated saving and investment accounts, foreign currencies accounts and consolidated online bank statements are available. Business debit or credit cards, ATM network, branches coverage (both local and worldwide), and daily transaction limit should also be taken into account as services offered may vary widely among banks.
5. Products and Specialist Services
Also consider whether the bank provides additional services and products including foreign exchange, interest rate risk management products and asset finance; as well as wealth management services including insurance, investment, and superannuation.
6. Fully Automated Services
Nowadays, every bank has online checking facility. But not all have fully automated services to actually aid you with your day-to-day operations. Thus, before choosing a bank, ask about its online cash-management tools. Such services are often free to small businesses, and they provide an easy means to send invoices, collect payments, scan checks for online deposits, and cut payroll checks. Do also look for industry-specific tools, such as enhanced merchant services that can allow you to accelerate your cash flow or offer tips on limiting/avoiding debt entirely.
7. Ease of Access to Account Services and Online Security
Check whether the internet banking facilities are equipped with foolproof online security to protect unauthorised access. Certain banks offer a security device in addition to user ID and password for account log-in. Others require signed receipt acknowledgment of internet banking materials prior to online account registration.
8. Location and Physical Access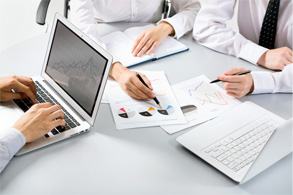 Ideally, your business banker should be located close to your business. Apart from easier access, it will also help you interact with your banker through any channel that suits you.
Most large banks in Singapore offer two types of services. If you are a volume-based company with a high turnover, the bank will assign a dedicated manager to you.
For smaller companies, the bank's call centre is normally enough as these are very efficient and customer-oriented.
9. Quality and range of Banking Support
Check whether 24 hours customer service hotline support, toll-free hotline, online view of e-statement and transaction e-advice are available.
10. Pricing, Fees and Interest
Certain banks charge for payment services such as telegraphic transfer, foreign currencies remittance and inter-bank fund transfer. These charges may differ significantly for different banks. Do also check on the account opening fees for different types of bank accounts. It is equally important to check whether preferential interest rates are offered for foreign currencies exchange and bank deposits. But do note that price shouldn't be the only criteria when determining which bank is right for you. Getting the right capital structure, business insight and superior service are also important considerations.
11. Initial Deposit and Minimum Balance
Same as pricing and fees, mandatory initial deposit and minimum balance required to maintain the account are also factors that determine the bank to choose.
12. Documents Requirement and Ease of Account Opening
The process of corporate account opening must be hassle-free. This means going for a bank that advocates less paperwork and takes pride in its ease of account opening.
  Five questions to ask before choosing a business bank
How's your bank different from others in dealing with my particular business?
Does your bank have bankers with my business-specific experience and training?
What access will I have to business bankers who'll understand me and my business?
Can you look after all of my business and personal banking needs?
What are some of the products available to make my finances quicker and easier to manage?
---
Types of Accounts
A company may open a Singapore dollar account or a foreign currency account as most banks in the city-state provide a multi-currency account. The type of account may be decided based on the company's nature of the business.
For trading companies and for companies that have large overseas transactions a foreign currency or multi-currency account is essential. Do note that depending on the bank and account type, the minimum balance amount will differ. But overall, the minimum balance requirement and bank charges are relatively higher for international banks.
---
Banking Fees, Interest, and Minimum Balance Requirements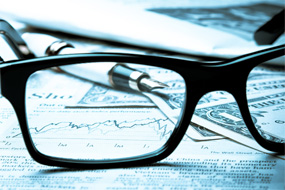 In Singapore, some banks offer an initial waiver period of bank charges, for any basic banking procedures such as depositing and withdrawing cash or checking on the status of the account.
For instance, the DBS Entrepreneur's Account for Start-Ups, which can be opened with an initial deposit of just S$ 500 and waiver of minimum average monthly balance and fall-below for six months.
But do note that the monthly rates or transaction fees may be higher for such accounts. So before choosing anything, calculate a realistic projection of the type, size, and frequency of transactions you are likely to make in the course of your business, thereby choosing a bank account that is most suited to and cost-effective for your company.
Steps involved in Switching Banks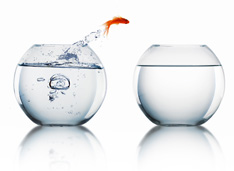 As more and more banks are increasing their fees for checking accounts, issuing credit and debit cards, and other related services; it's always prudent to find a bank that isn't boosting its fees and switch to it.
Firstly, take stock of your banking needs. Do you really need to deal with your bank manually? Will online banking suffice? Is a widespread network of bank branches that important?
Do your research diligently. Read the fine prints.
When sure, visit the selected bank with all the relevant documents such as photo identification, passport or NRIC, as well as existing bank account information and enough money to meet the minimum balance requirement.
Switch all your direct deposit and automated bill payments to the new bank account. Take precautions when doing online banking.
Cancel your old account with the previous bank and shred the cards that came with it.
Availability of Banking Facilities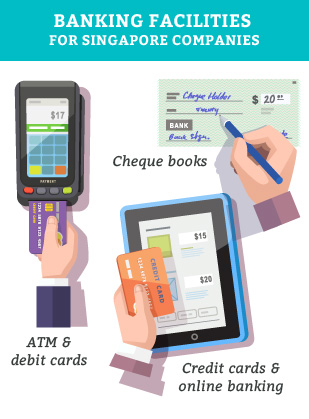 In Singapore, all banks provide cheque book facilities for Singapore dollar corporate accounts. But in the case of foreign currency accounts, cheque books are available for only certain currencies.
Similarly, as regards to ATM cards, most banks provide the facility with varying daily limits for Singapore dollar account only.
The option of a credit card facility is offered largely on a case by case basis and some banks require that the account must be held for a minimum period before availing of such a facility.
Moreover, an online banking facility is available with all banks in Singapore, but the kind of transactions allowed varies and the customers are allowed to set transaction limits in most of the major banks.
---
Allied Services Provided by Banks in Singapore
Almost all banks in Singapore provide a comprehensive suite of enterprise banking solutions such as insurance, account payable services, account receivable services, trade financing, and liquidity management services.
Loan facilities are also there but depend on the company's financial history, nature of the business, Singaporean stake in the company, management profile, headcount in the company, and customer profile.
Interested in opening a corporate bank account in Singapore?
We can certainly help you. Our team can help facilitate the opening of a corporate bank account for your Singapore and/or offshore registered entity. Call us at +65 6320 1888 or email us at info@rikvin.com for a free consultation.