Get Started NowOperating a business without sufficient business insurance is practically the same as putting one's life at risk.  Corporate insurance is more than just a legal requirement. It is about keeping your staff, supplies and customers safe from danger or potential loss.
Therefore, we have identified key Singapore corporate insurances that you should consider for your business.
Singapore Corporate Insurance for Property
1. Property Insurance & Business Interruption Insurance
This covers your key company assets such as the property, plant, and equipment (PP&E) from loss or damage. This could arise due to breakage, theft or even from natural disasters like flood or fire. By getting insurance, your business will still be able to cover lost income or those occurring expenses even when business activities are halted.
2. Commercial Auto Insurance
If your business is involved in product delivery, supply, or picking up cargo, then a commercial vehicle becomes an important aspect of your company operations. You will need to get suitable commercial auto insurance that mitigates any disruption to your business and have the flexibility of choosing workshops for accident repairs.
3. Cyber Insurance
On the other end of the spectrum, your intangible company assets cannot be overlooked. In this technological age, many companies are adopting and incorporating technology into their business operations. Therefore, it has become essential to get cyber insurance to protect your Singapore company from the rising complexity of cyber risks.
Singapore Corporate Insurance for Employees
4. Work Injury Compensation Act Policy
As an employer, you are required to get the Work Injury Compensation Act (WICA) Policy from a designated insurer. Buying work injury compensation insurance for your employees ensures they receive financial protection when they sustain injuries at the workplace.
Related Read: How can HR prepare safe offices for employees in SG »
Singapore Corporate Insurance for Legal Liabilities
Due to employees' negligence while on the job or potentially from possible errors or omissions made, there is always a possibility that your company is liable for compensation.
5. Professional Liability Insurance
This offers tailored insurance according to your profession, for example, accountants and auditors, for your professional services rendered. By having this insurance, you will be entitled to financial protection against any legal liability for compensation, costs, and expenses arising from any claims that you make.
Let's take a quick look at the infographic below that explains in detail all the 11 types of Singapore corporate insurance for your business:

---
Need help getting your company insured?
Get robust protection for both your business and staff with our comprehensive suite of corporate insurance policies.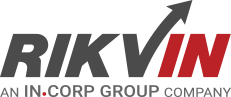 Rikvin's content team includes in-house and freelance writers across the globe who contribute informative and trending articles to guide aspiring entrepreneurs in taking their business to the next level in Asia.