The camaraderie is clearly contagious when it comes to the duo behind technology investment company Tryb. Markus Gnirck and Veiverne Yuen, Co-Founders, talk the importance of being able to laugh at oneself, why they make good partners and how it's people that get them up in the morning, but also keep them up at night.
1. Tell us about your company. What inspired you to start it?
Veiverne: Tryb is a technology company. We are based here in Singapore and we solve the problem that we founders think that there is a gap in the market for; specifically, how we deliver practical and technology solutions to financial institutions.
Every founder has their own set of motivations and story. The four co-founders – we come in from very different angles in the form where Magnus, Nels, Markus and I are from very different tribes. This is a very complicated space, but there is a huge growth market here in Singapore and ASEAN – the opportunity to bring good tech to institutions that want to modernize, own and digitize more of their own value chain and processes, as well as the big, burgeoning startup community here and in the region. There are also a lot of established companies that we bring together to develop good, practical solutions.
2. Why start a company in Singapore over other markets?
Veiverne: Singapore's position within the ASEAN economic community and within Asia in general – the ease of doing business, ease of setting up, the bilateral arrangements the country has with every major and minor business jurisdiction is pretty much chief. The financial services is cross-border, the technology is cross-border. We lay those two on top and beneath we have a really good hub. For us, this is home but this is also where it's the easiest to facilitate adoption and therefore the growth of these technology platforms.
3. What are the challenges you faced when it came to business growth?
Veiverne: Business growth challenges … I think there're a number of challenges. The biggest challenge is identifying what people mean as growth. It's easy to say you have financial numbers and you want to hit a revenue target and get profitability but I think the challenge for a lot of both mid-market and startup companies is, "How do I want to grow? What problem am I actually solving?" And for the financial technology space in particular, it gets a little bit more complex because some institutions want to compete with established financial institutions, in which case they believe they're offering something which is similar just in a more cheap way. Others are actually interested in the productivity side of things, working with the financial institution – the tech side, which is actually a little bit more what we like. A lot of that then translates into literally execution, having the right partners, and in all business I think that's very much down to the drive and hunger of the entrepreneurs and the teams that they build around them.
Markus: I would like to think we've grown a lot but we're also only one year old so we're still a startup ourselves. One example is talent acquisition in Singapore – how do we find good talent here? We put out one job description for an Associate role and we received 1,300 applications. I have to admit not many actually resonated with us – there's a lot of interest in the space to leave the bank, to leave Singapore, to be more invested, but at the same time, finding the right fit, culture, entrepreneurial spirit, execution wasn't easy. In the last six to ten months we were very busy getting the right culture and the right people on board. That was one of the key elements of growing. We've been getting the right people now so we're quite excited.
4. How did Rikvin aid you in your business journey?
Veiverne: Rikvin has helped us with a lot of that backend setting up, administration, getting the right processes in place, the finance, the tax, the audit, a large part of the ops – specifically on the workflow side of the processes, and I think there's been of that, internal flow and a part of external flow as well. Rikvin's got a really large network for our region and some of those softer introductions are also pretty useful.
5. Describe your experience with Rikvin in three words:
Straightforward. Friendly. Honest.
6. Could you share an interesting / unforgettable story about a customer using your product / service? Or a company that you invested in?
Markus: It's a good question. We're not too old as a company, we just started last year. We have done two investments so far – one investment was into a company called Chinsay – it's a Swedish-based company that provides technology in the trade and trade finance space. We had a 2.5 day workshop three weeks ago when the management team from Singapore and Sweden came here. The feedback we got afterwards was that within the 2.5 days, we were able to change the strategy and business plan, and provide so much input to them that they are ready for more growth. We feel and can see that adding value as an investor, as a shareholder; it's just a fascinating and great experience and we're looking forward to having more of that. Working with the founders and management is really rewarding.
7. What gets you out of bed in the morning?
Veiverne: Honestly, the people you work with. Everyone is here to solve a problem. But probing problems is difficult – we've all done Math, get annoyed when we can't get the equation out of the door, but we come in to school because you have classmates. It's not dissimilar; we come in because of co-founders, Management, our team. From Markus's point earlier, we have spent a lot of time defining our culture, our values and who we are. We come in because we want to be with what is essentially an extension of our own family; to build something in an environment that encourages it, or a problem that we're all down on the same page and want to solve.
Markus: Getting up every morning and knowing that every single thing you do has an impact. You get up and if you write this email or take this phone call, I can change the business; I can actually do something about it. Having this ability to build and have impact, that's just a super amazing feeling. I get up every morning and go, "Let's do this."
Veiverne: I think along those lines – you don't have to always want to change the world. That's what everybody believes. The world is the people around you – if you have a good, positive meaning and impact, you come to work with that.
Markus: To all the corporate fans out there, if you're in a corporate, sometimes you feel some time's wasted during the day. In the startup world, you know that every resource is so valuable so there's no time wasted, even though we have our fun times.
Veiverne: Yeah it's fun, it's got to be fun, it's always fun.
8. What keeps you up at night?
Markus: It's the same thing – people. Close the loop. Being founders, you've got to make sure that there's enough funding in place, that the subsidiaries invested in are doing well, that the board has managed the fund in the right way, that we have enough cashflow. I think there're a lot of these obvious, typical business questions. Is the team happy? Do we all sit in the same boat? Are we aligned with the values? Also, if you work 18 hours a day, sometimes it's just all the information in your head. You have to learn how to step back – that one email might not be sent tonight but it will be sent tomorrow. And because we're so passionate about what we're trying to do, we've just got to learn how to step back.
Veiverne: It's energy – you do want to come in to have fun and to do work, and you have to modulate that, make sure it doesn't bleed over and cause you sleepless nights because you want to be productive again tomorrow. So a lot of it is actually the drive to be productive and managing that energy.
9. Tell me about your company in five years. What does the end game look like to you?
Veiverne: In five years, I would like to think that we've finally achieved what we set out to do today as a business plan. It won't be the end game because every company is a living creature of its own; it will evolve and grow. In five years, we would like to have achieved what we've set out to do and be clear to our bankers, shareholders and partners today that we are a listed conglomerate, an MNC. We stand for a portfolio of technology, services and products that facilitate the flow of financial capital around ASEAN. We're very much integrated into the global financial system, whether it's capital markets, trade finance, asset management, corporate banking, SME banking, all of the ASEAN space. Also in the microfinance area, a lot of the data behind it – big data analytics, compliance-related technology, potentially more complicated SAAS, the backend. We would like to be seen as the one-stop shop for financial technology in Southeast Asia. I think the long-term game, to be grand, is to hopefully try to evolve and grow. We want to stand for information, for data, and be willing to solve problems for others. Be specialists we hope, and that the company should have a strong core hold and be the infrastructure for financial services and products – that would be very good.
10. What is the one characteristic that people totally dig about you? What is the one characteristic that drives them insane?
Veiverne: Ooh, insane I can think of a lot.
Markus: Tell me…
Veiverne: (Laughs) I'll start. I think people tend to think I'm cerebral, to pick a word for it. Frustration's probably a little bit too long-winded, maybe I can run off on too many intellectual tangents. I need to focus down and execute on something. That's why Markus.
Markus: People tell me that I'm fairly good at executing and just getting stuff done, I would say. What drives them insane is probably the same thing – I'm sometimes a bit too intense on executing. So, good mix here.
11. What's the one piece of advice you would offer to founders out there?
Markus: For me, its sounds very cliché I have to say, but it is perseverance mixed with the right optimism and that you connect with humility. Those are the key parts for me. We didn't have luckily any kind of bad times so far, but you wonder sometimes, "Why am I doing this, why am I building this company when I could have also another nice job?" I think just persevere and go through it and have a certain kind of happiness around. It keeps you grounded; humility is very important, so just get things done.
Veiverne: Be honest. In many different ways – very obviously, trust is probably the most important commodity in any transactional business. Being honest with all your external companies is one thing, I think more importantly, be honest with yourself. It is hard to say I want to deliver and not be able to deliver and I think a lot of people, myself included, struggle sometimes with wanting to do things, wanting to believe that you are doing something, but you fear sometimes admitting that it's not going to turn out exactly how you want to do it. Honesty helps you pivot – all businesses do, especially at the startup stage. It helps you identify where things are about to go wrong so you can manage expectations and the eventual delivery. More important than anything else, it gives you the fortitude to say, "Actually that wasn't something which we should have done, we need to pivot very quickly so that as a company, we stand for the problem we want to solve and we go about doing it again the right way because it is 99% perspiration." You have to have that honesty with yourself that you're still here for the right reasons.
12. What book do you think everyone on the team should read?
Markus: One of the books that I liked a lot recently was The 48 Laws of Power. It is a very good book.
Veiverne: I firmly believe that a lot of times you stand back and look at yourself and you need a good sense of humour, a really good sense of humour to take it in the face every day. I'd like to recommend a very intelligently funny book – I like Good Omens by Terry Prachett. It's very dry, very British, might not be everyone's cup of tea.
Markus: I think it's also very important to watch Charlie Chaplin once in a while – keeps you happy, keeps you cynical.
Veiverne: You have to laugh at yourself all the time. All the time.
Join thousands of companies who trust us to get started.
Rikvin's expertise is unrivaled in Singapore. With 20 years of know-how in company incorporation, accounting, tax, payroll and immigration services, you can count on us to be your dedicated one-stop business solution.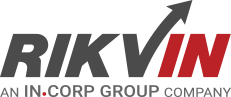 Rikvin's content team includes in-house and freelance writers across the globe who contribute informative and trending articles to guide aspiring entrepreneurs in taking their business to the next level in Asia.