Rikvin has today issued its 5-Year Singapore Permanent Resident and Citizen Trends report.
The report provides an overview of Singapore permanent resident (PR) and naturalization activity between 2008 and 2012 and is based on figures from the National Population and Talent Division (NPTD), SingStat and the Immigration and Checkpoints Authority (ICA). The report also shares a number of factors which affect a PR application and the avenues which can be pursued to achieve this status.
The main findings of the report are as follows:
As of 2012, there were 533,100 Singapore Permanent Residents (PRs) and 3.29 million citizens in Singapore.
Singapore's total population has grown from approximately 4.84 million in 2008 to 5.3 million in 2012. Altogether, Singapore's total population has grown 9.5% between 2008 and 2012.
During this period, the resident population has grown approximately 5% – from 3.64 million to 3.82 million. This expansion was contributed largely by the PR population, which grew by 10%. The citizen population, on the other hand, grew by 4% – from 3.16 million to 3.29 million during the same period.
The proportion of residents among total population has dropped slightly from 75% to 72%. In addition, the proportion of PRs to residents in Singapore has remained somewhat steady, from 13% in 2008 to 14% in 2012.
All ethnic groups saw their population expand between 2008 and 2012. However, each group experienced a weaker increase in population growth on a year-on-year basis.
Between 2008 and 2012, the number of new Singapore PRs granted has decreased significantly. While there were 79,167 PRs granted in 2008, the number dropped to 29,891 in 2012.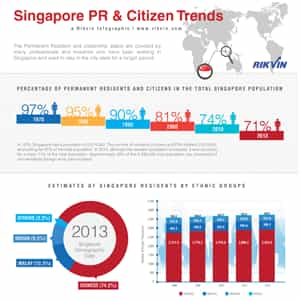 Commenting on the report, Mr. Satish Bakhda, Chief Operating Officer at Rikvin said, "The report aims to shed some light on the citizenship and PR trends over this 5-year period. This data will also help us understand why the government plans to grant PR status to 30,000 eligible candidates and 15,000 – 25,000 citizenships annually."
Having either PR or citizenship status comes with benefits including access to public housing, quality education and healthcare services at subsidized rates. PRs and citizens also benefit from CPF savings as well as a range of personal tax reliefs and rebates. However, attaining either status is dependent on a number of factors.
"Over the years, we've seen a good success rate in PR applications among our clients and have noticed certain features that make them so. As such, we've shared them in the report so that aspirants can boost their chances at becoming Singapore permanent residents," added Mr. Bakhda.
To read the full report and see the related infographic, please click here.
To learn more about Singapore permanent residency options, please click here.
---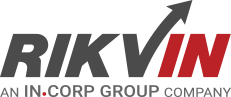 Rikvin's content team includes in-house and freelance writers across the globe who contribute informative and trending articles to guide aspiring entrepreneurs in taking their business to the next level in Asia.