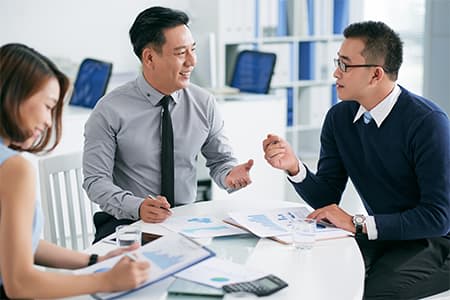 Hire staff and expand in Singapore with our PEO Service
With our Professional Employer Organisation (PEO) service, we provide Employer of Record (EOR) solutions for companies who are intending to hire employees or staff to manage the Singapore market without setting up a Singapore company first.
What is a PEO Service?
Professional Employer Organisation (PEO) refers to where service providers provide outsourcing HR services such as but not limited to Employer of Record (EOR), Recruitment, Immigration, Payroll, Insurance, HR advisory, and consultancy.
Employer of Record (EOR) refers to a service that legally offers employment to employees on behalf of the client through an agreement, taking care of the employees' HR matters such as but not limited to insurance, payroll, work visa matters. The service offers you to hire your employees in Singapore without setting up a local company where the employees are still managed by you, while we act as the employer of record in Singapore.
Who might need PEO/EOR service?
If you think that the maintenance and cost of a Singapore company is too high
If you are a foreign corporate that does not have immediate intention to set up a Singapore company but wishes to hire or relocate staff to test the local market
If you intend to place or hire staff for a temporary project/market research in Singapore or in the region
If you are a local corporate that is intending to wind down but wishes to retain the local employees
If you are a local corporate that may be facing a headcount freeze/limited quota
---
Here's why you should use our PEO and EOR service:
Companies are now expanding quickly, especially into the Asian market. We provide a quick and effective solution to enhance your business growth. Here are some advantages of PEO/EOR service:

Time Savvy
It saves time and allows quick expansion into the Singapore market through immediate hiring

No Local Entity needed
Recruit staff or contractors to build the operations on site for projects in Singapore.

Hassle Free Employee Onboarding
We do a full comprehensive recruitment and if needed we get Work Visa Application done right for you

Monthly Payroll Service
Salary & payroll processing, including CPF, tax and any other required statutory submissions.

On-Site Legal & HR Team
Contract renewal, termination procedure, annual leave management, HR support & advise.

Low Risk and Maintenance
PEO/EOR service will assist you and ensure that the manpower regulations are met.