While most people are enjoying a laid back weekends, more than 80 strangers gathered together at Singapore's first Lean Startup Machine.
The event which is co-organized by e27 and Lean Startup Machine, took place at the Hub Singapore. SingTel Innov8 came onboard as the premier sponsor for the event. Lean Startup Machine (LSM) is focused on helping startup founders learn the process and tactics to identify which ideas are worth pursuing.
The Winners of Lean Startup Machine
The winner for Lean Startup Machine Singapore was team GoWhereNext. The app gives you recommendations based on your location and time duration according to your interests. During the workshop which focused on lean startup and customer development, the team went through 5 experiments and pivots. The team started off by targeting business travellers with the assumption that they want to maximize their time of stay in Singapore. That did not turn out well as only one out of the ten people that were interviewed wanted that. The team then pivoted and finally arrived at their final iteration.
The runner up for Lean Startup Machine was team Spa Adventure. The idea falls under the premise that regular spa goers are looking for more variety and want to know where the great spa treatments are. The team started by targeting spa managers, and pivoted to targeting spa goers. Their idea was validated by all 38 respondents they spoke to, where all of them said they would love to be the beta tester of Spa Adventure.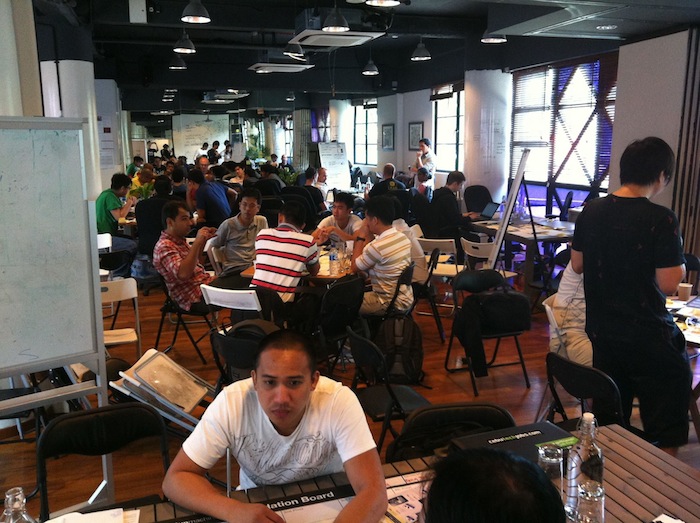 What happened during the weekend
During the weekend, the 17 LSM teams formed identified the riskiest assumptions for their startup ideas. After that, they went out of the building to the busy street of Orchard road to speak and validate their ideas with them. Most teams came back to pivot their ideas according to what their customer feedback was. After several rounds of pivot and iterations, teams then arrived with the final validated idea which the market wants. Teams then pitched their ideas to a panel of judges followed by a quick Q&A.
What the organizer, judge and participant said
Ian Tay, one of the participants of LSM enjoyed and learnt a lot from the workshop. "LSM weekend enables us to validate our assumptions and business idea over three days and create something that is truly what the market need and want. At the same time you get to know and work with friends from overseas whom were totally dynamic, passionate and focused on learning and making a product."
Fergie, another participant shared similar sentiments. "Ray and the LSM team put on a superb show. The mentors provided great advise and the spirit in the room was a privilege to be a part of. I'd recommend it to anyone in interested in startups and entrepreneurship. I never thought a weekend working could be so much fun. Learning the real meaning of 'Lean', exchanging ideas and seeing them grow was a fantastic experience. The LSM team and mentors truly helped us become better enteprneurs – and weren't short of a laugh or two along the way."
Phil Morle, the mentor and judge for LSM told us that he had an inspiring weekend at Lean Startup Machine Singapore. "We met a brand new community of entrepreneurs with a fire in their belly and an instinct that startups need to learn in order to succeed. I also learned a lot personally, both new tools from Ray and Nathan as well as new understanding around where people get stuck with this scary but powerful startup science."
Ray Wu, the coordinator from Lean Startup Machine, was also satisfied with the workshop. "The teams and mentors were extremely focused on the process of Lean Startup. It's unbelievable how much they got out of the building and how many times they pivoted. I still recall most of the participants had never spoken to customers before this weekend!"
Final thoughts
Overall, it was a fun weekend filled with lots of learning and making new friends. It was also about understanding lean methodology and real customer development. LSM also saw participants flying from Manila, Cebu, Bangkok, Ho Chi Minh City, as well as Tokyo just to participate in the workshop. There was a lot of interest from the participants to have similar workshops in their countries, so definitely stay tuned for that!
Addendum
Singapore company registration specialist Rikvin has sponsored the prize of basic Singapore company incorporation packages to the teams that have emerged as the top two winners of the workshop. Rikvin would like to congratulate GoWhereNext and Spa Adventure and look forward to being of service to them.
This post was originally published on e27.sg as Lean Startup Machine Singapore a huge success.
—
About e27
Founded in 2007, e27 is a media organization focused on the Asian technology startup industry. e27 believes in building the community of technology innovators across Asia by reporting on the latest, breaking news relevant to technology startups, technology companies as well as investors on the e27 blog while connecting with their readers on Facebook and Twitter. e27 also organizes Echelon, the annual technology startup conference that attracts attendees from all over Asia.
Helping you manage your companies, whatever their size
Liaise with a dedicated specialist when you engage us for Singapore immigration, recruitment and work visa services. Our licensed specialists will attend to every step of your application thoroughly.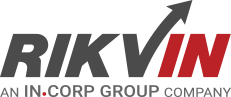 Rikvin's content team includes in-house and freelance writers across the globe who contribute informative and trending articles to guide aspiring entrepreneurs in taking their business to the next level in Asia.