Enhanced Financing for Startups in Deep-Tech Sectors
Singapore's trade support agency SPRING in partnership with seven incubating and investment companies extends financial support for startups operating in deep-tech sectors by co-investing in them. The deep-tech sectors include medical technology, clean technology, advanced manufacturing, advanced materials, process engineering, renewable energy, and internet-of-things. Taking into consideration the varying capital needs of the startups operating in different sectors and to effectively address the needs, the following changes to the scheme have been announced.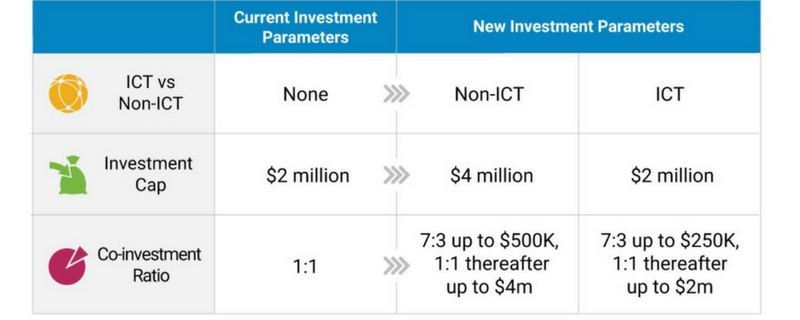 Investment cap doubled: In order to catalyze the private sector participation in providing equity support for promising startups in the deep-tech sectors such as medical, clean tech and advanced manufacturing, where the startups require higher capital outlay due to the nature, process and time involved for research and commercialization the cap on the government's co-investment portion will be doubled from S$2 million to S$4 million.
Co-investment proportion increased: The government's co-investment proportion for supported investment will be increased from 50% to 70%.
Related Article: Singapore Startup Ecosystem Ranking 2017
Unified Startup SG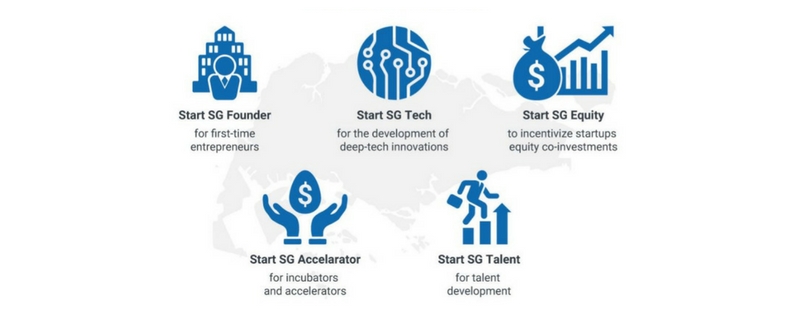 In order to facilitate easy identification and access to relevant schemes for the startup, all schemes targeted at startups will be unified under one umbrella brand called Startup SG. This step to integrate the startup initiatives is to build a startup economy and a dedicated ecosystem for the startups to thrive.  There are five initiatives grouped under the brand –
Startup SG Founder for first-time entrepreneurs
Startup SG Tech for the development of deep-tech innovations
Startup SG Equity to incentivize equity co-investments for startups
Startup SG Accelerator for incubators and accelerators
Startup SG Talent for talent development
Amidst rising protectionist sentiments, innovators and entrepreneurs are facing uncertainty. With major economies closing doors on foreign talents that are capable of disruptive innovations that bring exponential economic value, there is a demand for a stable and vibrant start-up location. Singapore aspires to be that much-desired start-up location where innovation and talent is nurtured.  The importance of innovation for economic prosperity cannot be overstressed.  The technological convergence is quickening the pace of innovation and shortening the business growth cycle. Therefore innovations must be incessant. Fostering talents and catalyzing start-ups is critical to be achieved such incessancy. Through the recent changes, Singapore government has clearly demonstrated its commitment towards fostering entrepreneurship and innovation. With policy uncertainties looming over the conventional start-up hotspots such as the Silicon Valley, Singapore with its clear and open policy could become the preferred start-up location globally.
Related Article: 16 Singapore start-up grants and schemes
---
Start your Singapore Business Journey Today!
Rikvin's team of experienced former bankers is equipped with knowledge skills to guide and help you find a potential investor, buyer or strategic partner in the world of banks, private equity firms, venture capitalists and angel investors. Feel free to contact us or call us at +65 6320 1888.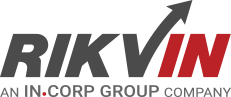 Rikvin's content team includes in-house and freelance writers across the globe who contribute informative and trending articles to guide aspiring entrepreneurs in taking their business to the next level in Asia.