In this page, you will learn about the key concepts in registering a trademark in Singapore. We will also help you understand the basic requirements, the application process, as well as the benefits of filing for trademark registration.
How to Get Trademark Protection in Singapore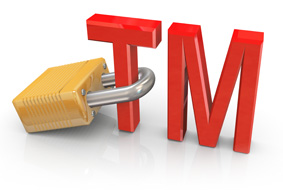 We live in a competitive world. A world where national boundaries are becoming more and more transparent by the day; with small and medium-sized businesses becoming the cornerstone of every country's economy, including in Singapore.
The city-state has small and medium-sized enterprises (SMEs) making up 99 percent of its companies, employing 70% of the total workforce and contributing 50% of the GDP. That's why it feels extraordinary when we hear that majority of SMEs in Singapore fail to register their trademarks. While some feel it isn't important to their business, others cite lack of time, resources or a proper understanding of the procedure involved.
For theirs, as well as for the benefit of foreign entrepreneurs willing to incorporate a Singapore company, we give an overview of how to get your trademark registered in what arguably is Asia's business hub.
---
What is Trademark?
Trademarks are signs used by a business or trade to distinguish their goods or services from those of other players in the market, and are important for a company to protect its ideas and develop a brand.
---
How do you identify a Trademark?
Commonly-used symbols to identify a trademark are ® and TM. The 2 symbols are different in the following ways:
®
refers to a registered and protected trade mark pursuant to trade mark laws; whereas
™
merely identifies that the mark is being used as a trademark by the owner, but the mark is not necessarily registered or protected under trademark laws.
---
Why should you register a Trademark?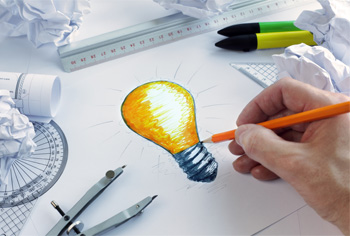 A registered trademark grants the owner of the mark, the statutory right to use and exploit the mark in the jurisdiction of its registration and certain priorities and advantages in registering the trademark in other jurisdictions.
Some of the key benefits include:
Right to exclusive usage of the mark
Barring others from copying it
Benefiting from the increasing market value of the mark
Quality assurance for your customers
Branding through mark recognition
License for commercial use by third parties thus creating a source of revenue
Up to 400% tax rebates from the Singapore Government under the Productivity and Innovation Credit Scheme to offset costs you incur for registering your Trade Mark.
---
IP and its Different Types
The concept of trademarks is derived from the wider topic of intellectual property (IP), which refers to creations of human mind over which exclusive rights of the creator are recognised.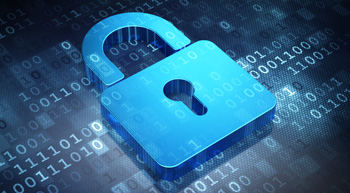 The Intellectual Property Office of Singapore (IPOS) – a statutory board under the country's ministry of law and the agency responsible for its IP eco-system – explains IP as "an intangible asset" of the creator.
"For example," IPOS adds, "Business owners are granted exclusive rights on the use of their trademarks and geographical indications which were established by them; creative artistes are granted copyrights on musical, literary, dramatic and artistic works for their creations; while innovators are granted protection for their patents, industrial designs, trade secrets, confidential information, and layout-designs of integrated circuits for their innovations."
Schemes/assistance in Singapore for IP Registration
In a bid to make Singapore the IP hub of Asia, the Government has initiated a plethora of schemes for businesses who wish to file their IP and enhance their IP management strategies.
IP Management (IPM) for SMEs
Jointly managed by SPRING Singapore and IPOS, the scheme gives grants to SMEs so as to help them increase their business competitiveness under the guidance of IP consultants. With this, the SMEs can manage the life cycle of their IPs, including its creation, ownership, protection and commercial exploitation.
IP Financing Scheme
Singapore companies can use this scheme to access loan facilities by using their granted patents as collateral, with the Singapore government partially underwriting the loans granted by participating financial institutions including DBS Bank, OCBC Bank and UOB Bank.
Global Company Partnership
Initiated by IE Singapore, Singapore companies can benefit from the grant support under the scheme's capacity building programme to develop IP management strategies as and when they think about expanding overseas.
"It's not easy to break into new markets, but it can be easier with the right business capabilities. Depending on your level of readiness, we will recommend the right clinics, seminars or third-party consultants to shore up the relevant capabilities, and co-fund up to 50 percent of eligible third party costs," states IE Singapore while introducing the scheme.
Productivity and Innovation Credit Scheme
Companies registered in Singapore can enjoy up to 400 percent tax deductions/ allowances and/or 60 percent cash payouts for investment in innovation and productivity improvements in any of the six qualifying activities – two of which are acquisition and in-licensing of IP rights; and registration of patents, trademarks, designs and plant varieties.
---
When should we register the Trademark?
While there is no time limit for registering your trademark in Singapore, a suit for infringement is only possible if the trademark is registered. And registration takes effect from the date you file your trademark application.
According to the IPOS, the city-state "follows a priority claim procedure for applicants who have filed an earlier claim for the same mark in another Paris Convention country or a World Trade Organisation member country (other than Singapore)" and that the "Singapore application must be filed within six months from the date of the first filing".
---
Procedure for Trademark Registration in Singapore
Step 1: Ensure that Your Trademark is Unique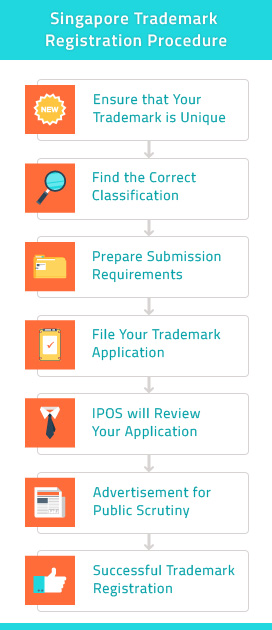 Firstly, even before applying to get a trademark registered, do a Similar Mark Search via IPOS' e-services portal, IP2SG. This is to ensure that there are no existing trademarks similar to the one being applied for. Because, if there is, IPOS will raise an objection to your application.
Step 2: Find the Correct Classification
After this, determine the goods and services classification with respect to your trademark application in accordance with the Nice Classification (NCL). The NCL, established by the Nice Agreement of 1957, is an international classification of goods and services applied for the registration of marks. The Agreement was revised at Stockholm in 1967 and then in Geneva in 1977. Later, it was amended in 1979. All countries party to the Nice Agreement, which includes Singapore, have adopted and apply the Nice Classification for the purposes of the registration of marks.
Step 3: Prepare Submission Requirements
Then you can move on to the application procedure. Singapore permits filing of several classes of goods and/or services within the same application, and the applicant, if wishes, can also designate Singapore through the Madrid Protocol of which it is a member country.
Madrid Protocol is an international registration system of marks administered by the International Bureau of the World Intellectual Property Organization (WIPO).
Be ready with the following:
duly filled Form TM4
a statement requesting trademark registration
your name and address
a clear graphical representation of your trademark
Nice Classification of your goods or services
a declaration of the proposed use of the trademark
Step 4: File Your Trademark Application
Submit these via IP2SG or post to IPOS and get an official filing date. A trademark number is sent via the acknowledgement letter if the minimum filing requirements are met. If not, IPOS sends a Deficiency Letter to the applicant for remedial action to be taken within two months from the date of the Letter. Do note that these two months are not extendible.
Step 5: IPOS Review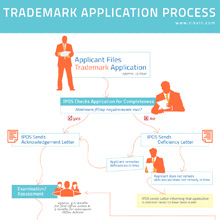 IPOS says that applications are normally examined "in about four to six months from the filing date" and the applicant is informed in writing "if your application is in order for acceptance and publication, or if there are objections affecting your application".
Step 6: (Upon approval) Advertisement for public scrutiny
If the application is successful, it is published and made available to the public through e-Journal. Any interested party may oppose the registration of the mark within two months of the publication period. If the application is unsuccessful, the examiner issues a letter [Office Action] stating the refusals/requirements. The applicant has to respond within four months either through a letter clarifying the matter or through Form TM27.
Step 7: Successful Trademark Registration
If there's no opposition to the trademark registration after it is published in the e-Journal within two months, a Certificate of Registration would be issued and the trademark would be granted protection for 10 years. By the 10th year, you can renew your trademark through Form TM19.
---
Perils of Applying for Trademark on Your Own
While the process may seem simple and easy to execute, there are some hidden pitfalls which, if not addressed properly, will not give you the intended protection and monetization benefit from a registration of your trademark.
Improper Classification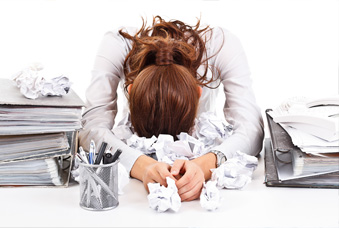 While you might think that you have covered all the areas in which your goods and/or services fall, there might be some other areas which you might have missed.
Say for example you are the owner of a famous restaurant and bar and want to register the trademark. Naturally, you will look at Class 43 which covers restaurants.
But your restaurant is also famous for an alcoholic drink which you have created and which is becoming famous in Singapore. Due to the popularity, you wish to bottle and market the drink across the world. In that case you will need to register the mark in Class 33.
As part of your business, through your restaurant, you are also starting to do event management. As the name of your restaurant is so easily recognizable, you intend to use the same name. In that case you should also look at Class 41.
Failure to do a comprehensive registration will only give you a partial benefit.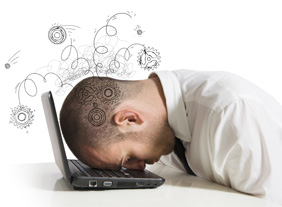 A proper representation of the mark
While it seems like registering a mark in colour is the smart thing to do; it might actually restrict you from using other colours in future. Similarly, a professional can guide you in tweaking the mark if it appears too plain or too similar to some other mark.
Failure to differentiate and distinguish the product
This is a common ground on which many applications get rejected.
---
Protect your identity and register a trademark in Singapore
Claim up to 40% cash back or enjoy 400% tax deduction through the Productivity and Innovation Credit (PIC) scheme if you are a Singapore-incorporated company registering for a trademark - let our intellectual property consultants walk you through the process.