Get Started NowThinking of expanding your business into the Philippines? Before that, you must know the process on how to register a company in the Philippines. 
Both local and foreign firms must register with several Philippine government authorities to legitimate your business operations and dealings. Therefore, we have outlined 5 key steps on how you can register a company in the Philippines.
Related Read: Expanding Your Business in the Philippines in the New Normal »
1. Register Philippines Company Name with SEC
The Securities and Exchange Commission (SEC) of the Philippines has an online company registration system, where you can create an account to reserve and register your company name in the Philippines. Alternatively, you can also do so via SEC's Name Verification Unit in their office in Mandaluyong.
2. Prepare Documents For Submission To SEC
Articles of Incorporation (AOI) and By-Laws
AOI is an agreement that contains the company name, its purpose, office place, the number of incorporators, and the amount and share of capital stock.
The By-Laws outlines the rules of conducting a corporation. Meetings, board of directors and officers' elections, and other duties of officials are included as well.
Treasurer's Affidavit
This is signed by the chosen treasurer stating that he or she is the authorized individual to function in that capacity.
3. Obtain Business Permits Form Local Government Units (LGUs)
Another key step to register your company in the Philippines is to seek the approval of the local Barangay, which is the district in your chosen region.
You should also request and secure a Mayor's permit from the Mayor's Office and a business permit from the Business Permit and Licensing Office (BPLO).
4. Register With Bureau of Internal Revenue (BIR)
You will need to register your new company in the Philippines with the BIR as part of your tax requirements by submitting the relevant application documents.
5. Register Employees With Relevant Government Agencies
Lastly, you must register your employees and yourself as an employer with the following government agencies for personal income taxing, social security, health insurance and housing benefits.
Bureau of Internal Revenue (BIR)
Social Security System (SSS)
Philippine Health Insurance Corporation (PhilHealth)
Home Development Mutual Fund (Pag-IBIG Fund)
Related Read: Read this Blog Before You Expand Your Singapore Business Abroad »
Let's take a quick look at the infographic below that provides a quick overview on how you can register a company in the Philippines: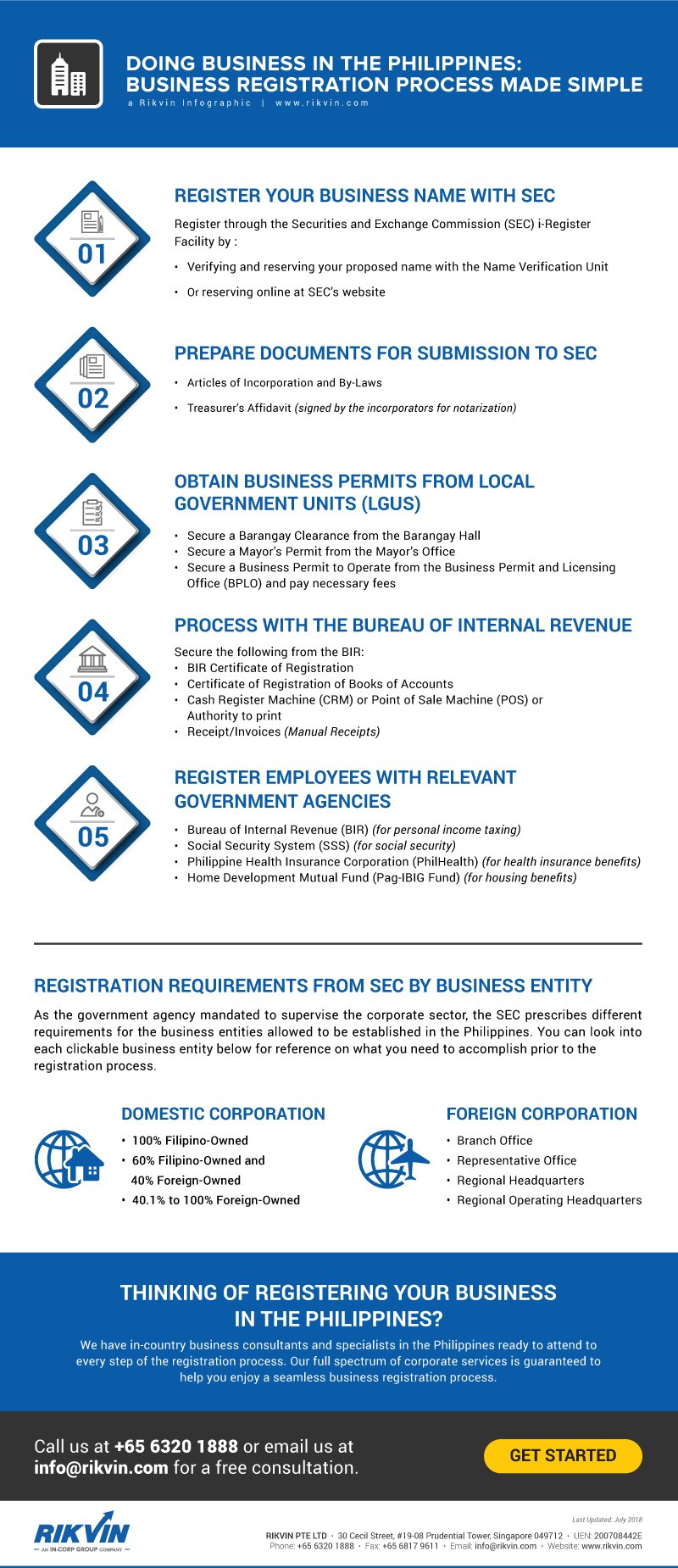 To learn more, please read the Information about our Branch Office in the Philippines »
---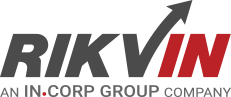 Rikvin's content team includes in-house and freelance writers across the globe who contribute informative and trending articles to guide aspiring entrepreneurs in taking their business to the next level in Asia.