Overview of Singapore Work Visas / Work Pass Options  
Non-residents aspiring to work in Singapore require a work visa before they can legally begin employment. Companies that hire non-residents without a valid visa will be prosecuted under the EFMA (Employment of Foreign Manpower Act).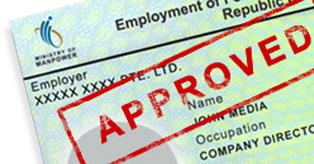 Rikvin is a licensed employment agency with Singapore's Ministry of Manpower (MOM) and offers a full spectrum of work visa processing services.
This includes reviewing your candidacy, acting as a liaison with MOM, applying for your work pass, processing renewals, appealing and tracking your application.
Types of Singapore Work Passes
Work visas in Singapore range from work permits for domestic workers and labourers, to P-category Employment Passes for experienced professionals with good credentials in both education and industry knowledge.
Kindly read the following to get a better understanding of the various work visas available in Singapore and which is most suitable for you.
Our Services
Calculate Your Taxes