Singapore has become one of the most sought-after cities in the world to work and live in, but before an aspirant can do so, he/she will need to secure the appropriate work pass in order to work in Singapore.
The Employment Pass (EP) is a work pass for foreign professionals working in managerial, executive or specialised jobs and is sponsored by the Employer.
The Ministry of Manpower (MOM) has tightened its EP criteria, making it even more important that the applicant demonstrates that he/she will be complementing and not competing with the local market.
Here are some tips we have learnt over the past years that can help ensure a successful EP application.
Salary
The applicant's salary should be commensurate to his/her experience and value he/she will be expected to bring to the company. The salary should not be below the minimum guidelines and should be comparable, and definitely not lower, than local salaries for similar positions. Also, try to avoid a decrease in salary from the applicant's previous position. The higher the salary, the higher the chances of approval are.
Salary Guidelines
Employment Pass – Fixed monthly salary = $3,600  (more experienced candidates need higher salaries).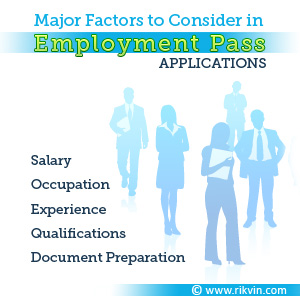 Occupation & Job Description
Select the most appropriate job title to accurately reflect the applicant's role and position within the company. Careful consideration should be taken to list the applicant's key duties and responsibilities.
Experience
The applicant should have relevant and demonstrated experience in his/her occupation. As the applicant should not be seen as taking local jobs, he/she should have skills and experience that cannot easily be sourced from local candidates.
Qualifications
Newly qualified applicants should have good degrees from reputable institutions. Applicants who don't have degrees should emphasize their experience and demonstrated skills as well as any industry specific qualifications that they may have.
Document Preparation
Preparing and submitting the correct documentation is key to a successful application. All non-English documents should be translated into English by a certified translator, notary public or High Commision/Embassy. Supporting documentation is particularly important. According to MOM, diploma and degree qualifications from India and China must be authenticated by approved independent verification channels.
Appeals
Unfortunately, it is not uncommon for applications to rejected on the first attempt. In such cases, an appeal should be filed which suitably addresses all of MOM's initial concerns.
Our Migration team has filed thousands of applications and appeals over the years and this experience has resulted in a very high success rate. Whether you require our assistance with filing the application or an appeal, please feel free to contact us.
Have more questions?
Learn everything that you need to know about a Singapore Employment Pass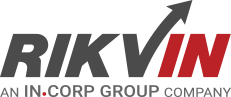 Rikvin's content team includes in-house and freelance writers across the globe who contribute informative and trending articles to guide aspiring entrepreneurs in taking their business to the next level in Asia.