When thinking about becoming an entrepreneur, you look to the success of veteran or celebrity entrepreneurs, wondering what allowed them to gain their success. These are the people who are making millions, possibly billions of dollars, and you want to experience the same results.
If you were to examine successful entrepreneurs, you will notice that they share characteristics that enable their ability to live a lifestyle that the majority of people will never experience. This is because they understand what they want out of life and design the habits and strategy that allows them to accomplish their goals. Success is not about luck. Success is when hard work and preparation meets opportunity.
Successful entrepreneurs are highly aware of their actions and how those actions influence the results produced in their life. Therefore, they will only operate within the behaviors that help elevate them in life.
If your goal is to become a successful entrepreneur, the 5 following traits will help guide your path towards success:
Be an Early Riser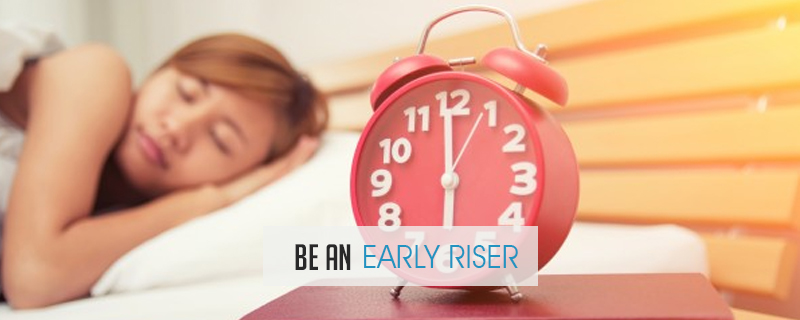 You are only granted 24 hours in a day. Most people spend the majority of their given 24 hours asleep or being unproductive. You cannot get up at 12:00pm and expect to get much done – the majority of your day is gone, unless you work best during the night. For the rest, sleeping in late is just a waste of time and your life.
Successful entrepreneurs wake up early to get their day started before the average person does. Everything is about competition and positioning for those entrepreneurs who are successful. Waking up early allows one to get more done in the early hours than the average person does in their entire day.
Most successful entrepreneurs wake up between 4-6am. Since most people are not up at this time, they have the ability to focus on their most important tasks, without having to deal with numerous distractions.
Waking up early will be extremely beneficial with regards to your success as an entrepreneur. More hours of productivity means that you can accomplish a tremendous amount of work, making both your short-term and long-term goals more attainable. By waking up early, you enhance your efficiency and effectiveness, both which are qualities that play a major role in the success that entrepreneurs experience.
Waking up early is all about maximizing your productivity. Therefore, you should be focused on getting the most out of your time, not just waking up early. Develop your schedule of activities the night before, so you can be focused on those initiatives that lead you towards producing the desired results. You definitely don't want to get up early to not make a big impact on your day. Get up early and get to work!
Your plan of action:
List out your task from most important to least important the night before
Wake up as early as you possibly can and get energized: eat or exercise
Do your most important task first and then work down your list
Now you have time to handle regular business dealings because your required task have been handled earlier in the day
Related Article: 6 Habits of Successful People
Have the Ability to See Opportunities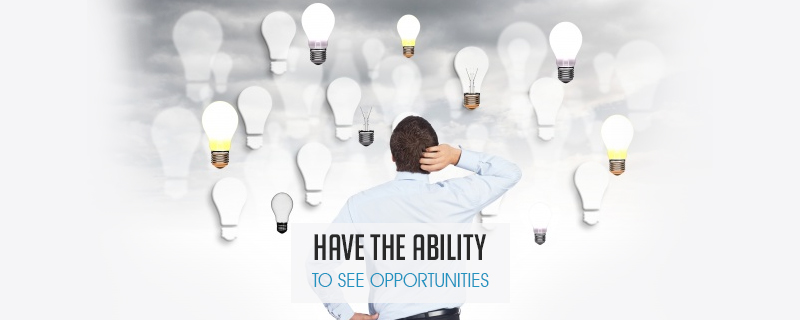 The difference between the average person and a successful entrepreneur is that the first will only think in terms of being an entrepreneur, while the latter thinks about how they can be a producer. Successful entrepreneurs are always looking for an opportunity to exploit and gain from. Whether it be an existing market that has products and services that are lacking, or the opportunity to be the first to innovate, these people look to capitalize on anything that is open for new entry.
Most people think in terms of "everything has already been done". This type of mindset is why only a small percentage of people attain wealth. They do not think with a defeated mindset that holds their ambitions back. There is always a way to build and be rewarded for their hard work.
You must always think in terms of a producer – what is something that you can provide that people will be willing to pay for on a consistent basis or for a premium price. This means that you have to constantly study the marketplace to understand the needs and wants of consumers. Entrepreneurship is all about having the ability to perceive what is wanted and bring it to the market.
Before going all in on your idea, test your product or service amongst a small group of users so that you can produce the best offering possible. Business is all about getting a high ROI for your efforts, so you must decrease the risk you take on as much as possible.
Your plan of action:
Study the interactions and discussions of consumers in a given industry or marketplace
Determine what they desire and start to develop a plan of action that will allow you to be their preferred provider
Develop your product or service and test it so that you can eliminate any deficiencies
If you have a viable product or service, invest in it and place it into the marketplace
Make marketing and sales your primary focus of activities – everything else can be developed as you gain customers
Related Article: What defines Great Leadership
Make Execution a Priority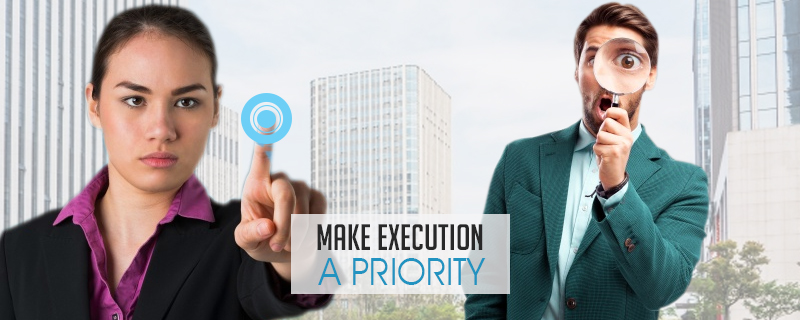 The key difference between successful entrepreneurs and average people is that just talking is seen as a complete waste of time to the former. Constantly talking about what you are going to do without actually making the move to do it is what dreamers and time wasters do. There are enough people talking about their wishes, which is why they remain wishes. Successful entrepreneurs understand that as they waste their time away, their competition is choosing to work hard to strengthen their position in the marketplace.
There are very intelligent and talented people wasting their lives away because they are more focused on expressing their dreams, rather than chasing them. Hope produces nothing but angst and frustration – wanting what you cannot have because you refuse to make an effort to go after it.
As an entrepreneur, too much planning and contemplation will hold your business back from experiencing growth. If you make a plan, it must be followed up with actions that lead to execution. There is nothing worse than making plans as an entrepreneur that are never accomplished. For all your big talk and aspirations, they must be followed up with hard work that is guided by an effective strategy.
Your plan of action:
If you are a visionary, surround yourself with those who can take ideas and make them a reality
Make plans that are supported by actions which work towards bringing those plans to fruition
Continuously analyze the progression being made – you must be aware of what is working and what is not working in case a change is required
Never become content – yesterday's success cannot provide you with immunity forever
Related Article: Five Essential Tips for the Savvy Entrepreneur
Don't be Afraid of Challenge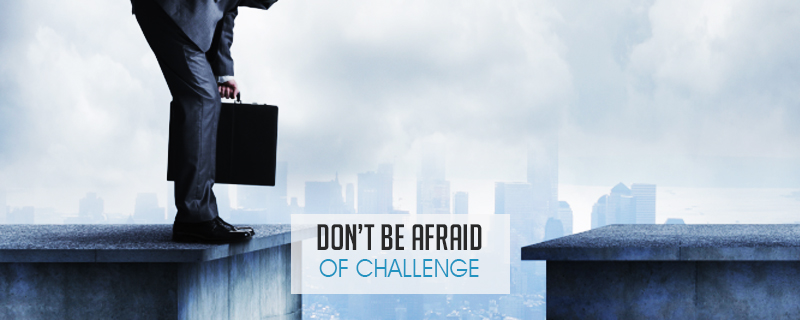 The life of an entrepreneur is all about stepping up to challenges and overcoming them. Entrepreneurs choose to challenge the status quo although people may say that something cannot be accomplished or that a certain path must be followed to be successful. It is as if normal is an insult to their intelligence and capabilities.
Successful entrepreneurs seem to have a chip on their shoulder. They operate not to prove themselves to people but to prove to themselves that they are right about what they believe. It fuels them to work hard to build something into a success that was originally doubted from the beginning. Turning doubters into believers and ultimately customers is the ultimate satisfaction. It proves that all the challenges and frustrations they went through were well worth the journey towards success.
You cannot be easily intimidated as an entrepreneur. You will be faced with so many challenges that will push you to either give up or become the ultimate competitor. Success requires you to bring the best of your abilities out of you. Nothing less will suffice – either you want it or you do not. Steve Jobs and countless others navigated through the turmoil brought on by entrepreneurial ambitions to create powerful companies. You must posses the ability to do the same when faced with adversity along your entrepreneurial journey.
Your plan of action:
Become mentally and emotionally tough
Constantly place yourself in uncomfortable situations so you can become comfortable with being uncomfortable
Think with a long-term view when you are experiencing difficulties in the short-term
Related Article: How To Go From Business Idea To Business Launch
They're money-minded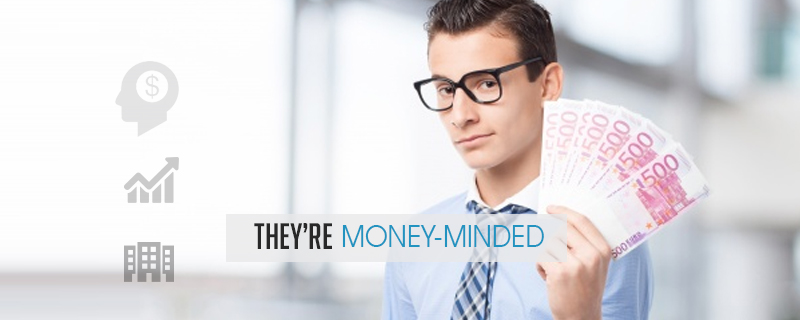 Successful entrepreneurs understand that creating a great product or service means nothing if you are not profiting from it. There are many great inventors who do not understand business; all they know how to do is create. Successful entrepreneurs are all about reaping the rewards for their efforts, so making money is their ultimate priority.
Sales is what successful entrepreneurs think about every single day. How many customers they have, how much money is being made, are forecasted goals being met – these are the thoughts that push successful entrepreneurs to work extremely hard. And when money is made, they want to keep as much money as possible, so finances are a very important factor also.
As stated previously, your main priority is producing consistent sales. Gain as much knowledge about selling as possible and build up a team of quality salespeople. You want your business to generate money so that it can be recognized as an actual business. As you grow, invest in a CPA to ensure that your money is being managed properly and used to increase further growth.
Your plan of action:
Focus on consistent selling
Keep an eye on the money coming in and going out
Develop a budget that is strictly followed
Implement these traits into your behavior and you will position yourself to become a successful entrepreneur. Remember, success is a process of actions combined together to produce results.
To learn more, please visit our Information about skills that can help your Business »
---
Interested in starting your successful entrepreneur journey?
Rikvin has helped thousands of companies to incorporate the business in Singapore. Contact now for a free consultation.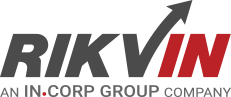 Rikvin's content team includes in-house and freelance writers across the globe who contribute informative and trending articles to guide aspiring entrepreneurs in taking their business to the next level in Asia.