The Action Community for Entrepreneurship (ACE) has officially appointed In.Corp Group as a Partner under its Corporate Services category.
In.Corp Group, with Rikvin as its key subsidiary, is Singapore's leading corporate solutions company, with presences in multiple countries and serving thousands of clients around the world.
This appointment recognises and demonstrates In.Corp Group's expertise in company incorporation, accounting, tax, payroll, immigration and corporate secretarial services. Since 1998, its subsidiary company Rikvin has helped thousands of companies get started and grow at every stage of their business.
The partnership comes alongside ACE's upcoming ACE International Centre (ACEIC), a 4,000 square feet international co-working and event space for local startups looking to access overseas markets, and foreign companies to expand their business into Singapore. Slated to launch in Q3 this year, ACEIC will be located at Singapore's very own Silicon Valley, aka JTC Launchpad @ one-north.
In.Corp will hold a corporate desk space in ACEIC and maintain close proximity to resident startups and the community in Launchpad. In addition, clinic sessions that provide corporate services advisory will be conducted by In.Corp on the grounds of ACEIC.
CEO of In.Corp Group, Atin Bhutani, will also be speaking at the ACEIC launch ceremony, scheduled to take place in Q3 this year.
---
Get started with Rikvin, official corporate services partner of ACE
Rikvin's expertise is unrivaled in Singapore. With 20 years of know-how in company incorporation, accounting, tax, payroll and immigration services, you can count on us to be your dedicated one-stop business solution.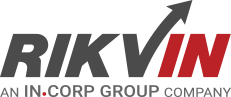 Rikvin's content team includes in-house and freelance writers across the globe who contribute informative and trending articles to guide aspiring entrepreneurs in taking their business to the next level in Asia.