Singapore's inflation has contracted from 4.0% in October to 3.6% year-on-year (y-o-y) in November 2012, according to the latest Consumer Price Index (CPI) data released by the Ministry of Trade and Industry and the Monetary Authority of Singapore (MAS).
Lower than the 3.8% median estimate forecasted by Bloomberg News economists, the city-state's November inflation rate is attributed mainly to slower price increases in housing and private road transportation.
Per MAS' CPI data, private road transport was the biggest contributor to last month's lower inflation, having dropped 6.7% in November compared to 8.3% in October, as the rise in COE premiums eased.
In addition, private and public housing costs dropped to 6.6%, down from 6.8% in the preceding month, due mostly to lower rent increases this year compared to 2011.
Meanwhile, inflation in service costs dropped from 3.1% in October to 2.9% in November, owing to lower surges in holiday travel and medical expenditures. Oil-related items likewise increased at a slower pace. Food inflation, however, remained constant at 1.7%.
The core inflation rate for November, excluding accommodation and transport costs, dropped to 2.0% from 2.2% in the preceding month.
With the prolonged weakness of global markets, imported inflation will be generally mild. Congruently, the current tightness of the labor market on the domestic front will drive wage increases in the coming year.
Analysis by Singapore company registration specialist Rikvin highlights the fact that although the Consumer Price Index has increased across the board, it is increasing at a more controlled pace vis-a-vis the rate of inflation in 2011.
"This is excellent news," commented Mr. Satish Bakhda, Head of Operations at Rikvin. "In a broader context, inflation is anticipated as our economy attempts to adapt to domestic and global pressures. A foremost issue is not whether inflation is rising, but whether it is rising more rapidly than the anticipated pace. In the case of Singapore, in spite of rising costs year-on-year, consumer spending power remains high due to higher wage increments and the strength of the Singapore dollar."
"Given a number of macroeconomic pressures, such as the country's current restructuring as we transition into a productivity-based economy, inflation is indeed a natural response, and is in fact indicative of economic growth. At this point, domestic firms and investors who intend to start a company in Singapore may experience a slightly lower growth in the short term but expect a more sustainable growth in the long haul," he concluded.
Meanwhile, Singapore's Ministry of Trade and Industry projects a GDP growth of 1.5% this year, and between 1-3% in the coming year.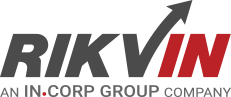 Rikvin's content team includes in-house and freelance writers across the globe who contribute informative and trending articles to guide aspiring entrepreneurs in taking their business to the next level in Asia.