What makes a good resident director?
With more complex regulations and increasing liabilities faced by local companies, it is important that resident directors retained by local companies are of the highest calibre.
Under the Companies Act, all companies must have at least one director who is ordinarily resident in Singapore (i.e. the director's usual place of residence is in Singapore). This resident director must be appointed from the date of incorporation and the position of a resident director should never be left vacant, i.e. a second local resident director should be appointed before the first local resident director can resign.
Requirements for Singapore Resident Directors
As shown below, the requirements to be a resident director are deceptively simple:
Basic Requirements for Resident Directors of Singapore Companies
Residential address in Singapore
Above 18 years of age
Below 70 years of age
Education qualifications
None required
Not an undischarged Bankrupt
Not an unfit director of insolvent companies
Not a convicted person or person disqualified by a court order
Not persistently in default of the requirements of the Act
Given that the criteria to be a director isn't very strict in the first place, it should come as no surprise that there are many local residents offering to undertake the role. However, ignorance and lack of awareness on the part of these resident directors often result in companies and their directors paying expensive penalties, additional paperwork and poor compliance ratings for the company, which are publicly available and can impact investor's confidence. In short, that impulse decision to go for the cheapest resident director available could very well end up as a huge liability for your company.
Why You Should Engage an Experienced Singapore Resident Director
"With proper filing and knowledge of directors' responsibilities, you are making a good investment for your company's future," said a local resident director at the Directors' Proficiency Programme, hosted by the Accounting and Corporate Regulatory Authority ("ACRA"), the government body that oversees all business entities and public accountants in Singapore.
It should be noted that the law does not distinguish between an "active" and "sleeping" director. Hence, even though a resident director may not be involved in the day-to-day operations, the resident director is obliged to ensure that the company fulfils its statutory obligations on a timely basis.
Examples of such statutory obligations include the filing of Annual Returns to the ACRA, submission of tax returns to the Inland Revenue Authority of Singapore ("IRAS") and payment of local employees' Central Provident Fund ("CPF").

In its mission to champion best practices of good corporate governance for companies in Singapore, ACRA has expanded its enforcement efforts against companies and directors who are persistently non-compliant with the statutory requirements. Increasingly, ACRA has recommended higher composition fines for errant companies and their directors, particularly for repeat offenders.
The troubling fact is, once a company is non-compliant for an annual routine matter such as the holding of its annual general meeting and the approval of its audited accounts, it is often difficult to "catch up" in the year after, as auditors, the company secretary, the company's internal finance department and its directors have to coordinate together in order to resolve all issues, while keeping in mind the new deadline for the next calendar year, to avoid repeating the same offense again.
How do I find a good and experienced resident director?
Given that the company secretary and resident director have to work hand-in-hand on various matters pertaining to the company, it would be wise to ask for referrals from your company secretary or auditor for experienced resident directors with whom they work closely with. This would also mean that the auditor or company secretary can get in touch with the resident director easily and assist to obtain the resident director's signature on documents, such as directors' resolutions in writing, agreements, certified extracts and any other official documents, which are required for the opening of bank accounts or the change of authorized bank signatories. The company secretary or auditor can also easily contact the resident director, to ensure that important documents such as audited accounts are signed and executed in a timely manner.
In addition, as there is no minimum cap on the number of directorships than any resident director can hold, the responsiveness of a resident director may be compromised. Hence, having a resident director who has a great existing working relationship with your company secretary or auditor may be extremely beneficial and practical.
What powers will a resident director have?
The powers of a director are governed by the company's Memorandum and Articles of Association ("M&AA"), which can be modified to suit a company's specific needs. Examples of specific powers that a director may have include the borrowing of money, mortgaging of company's assets or granting the power of attorney to a corporation, firm or person, on behalf of the company.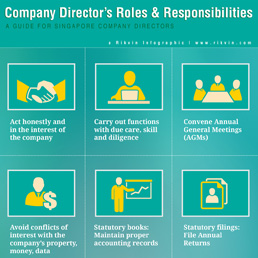 When exercising such powers a director should be given authority by the board of director by way of a directors' resolution in writing or board meeting. The M&AA would also dictate the terms and conditions for a directors' resolution in writing to be passed and how a meeting should be convened. For example, most M&AAs would require a majority of directors if not all directors to sign the resolution before it is deemed passed and therefore, valid.
Generally, however, the director is viewed as an officer of the company and can represent the company. The additional benefit of having a resident director is that the resident director can apply for a Singpass (or most likely already has one, if he or she is a Singapore Citizen or a Permanent Resident). This Singpass, which is unique to each individual, grants access to electronic services of various government entities and is particularly useful if the resident director has to apply for certain government services on behalf of the company.
For example, when applying for an employment pass or dependent pass, the company can choose to do so through paper application or online through the Ministry of Manpower ("MOM") e-service portal. Comparatively, the paper application route takes approximately three to four weeks to process, while the processing time required for the e-service portal is only two weeks. A great resident director would be one who not only advises but goes the extra mile to provide the company with complementary services which are both time and cost efficient for the company.
Should I hire an independent resident director or go with a professional firm?
Understandably, in situations where a resident director who is unknown to the company is appointed, the company is potentially at risk of a breach of trust. A recent example of this was an instance where a resident director who was also professionally qualified as a lawyer and company secretary used his position as a director to take out multiple loans amounting to US$158,000 (S$201,000) without the knowledge of his client, who was the beneficial owner of the company. Such instances can occur if the resident director decides to have free reign over the company's resources. However, when engaging a resident nominee director from a professional corporate secretarial firm or professional-managerial firm, there would be a very clear agreement between the resident nominee director and the company. Such an agreement would typically state the restrictions on the powers of the nominee director, who has the ultimate authority to make decisions and with whom the nominee director should liaise with to obtain instructions from.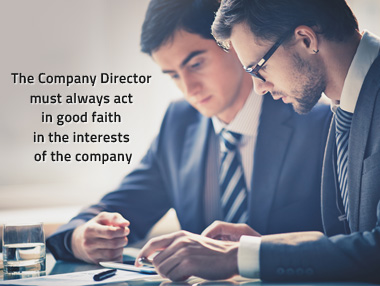 Moreover, by engaging a nominee director from a professional corporate secretarial firm or professional-managerial firm, the company can be assured that even if the nominee director resigns, the company can be assured that the professional corporate secretarial firm or professional-managerial firm will be obliged to ensure that a replacement director is appointed in a timely manner and the company will remain compliant under the Companies Act.
A director is primarily entrusted with the duty of acting honestly and exercising reasonable care, skill and diligence in the discharge of his or her duties. Directors have to act in good faith in the interests of the company, avoid conflicts of interests and should not make improper use of any information by virtue of his or her position as a director of the company.
With this in mind, it is important now more than ever that local companies place greater emphasis on selecting resident directors of the highest calibre, years of experience and with the top qualifications.
---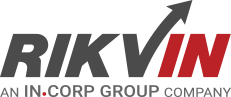 Rikvin's content team includes in-house and freelance writers across the globe who contribute informative and trending articles to guide aspiring entrepreneurs in taking their business to the next level in Asia.