More companies are feeling an employment crunch from stricter hiring rules and have raised manpower constraint as the top challenge.
According to a Straits Times article titled "Manpower constraints still top challenge, SME Workgroup finds," business owners of small and medium enterprises want more help in making do with fewer workers.
For example, they want the eligibility criteria for government assistance schemes to be relaxed further so that they can take advantage of them without being restricted by requirements like the minimum number of workers.
However, is the shortage of manpower the real problem for firms? Analysis by Rikvin finds that while restructuring may be painful or tedious at first, it is only natural for firms to want to continually improve their productivity while adhering to new labour regulations which come their way. Failure to do so may result in them losing their competitive edge and suffering from reduced profit margins and smaller market shares.
To address the problem of the shortage of manpower, the authorities and business associations have recently intervened proactively through legislation and administrative monitoring. They also have a number of schemes to help beleaguered firms and retrenched workers.
For example, the Ministry of Manpower implemented new rules in September that forces firms to consider Singaporeans fairly when hiring. The 'Fair Consideration Framework' is designed to ensure that there are ample job opportunities for Singaporeans by requiring firms to advertise on a national jobs bank, as well as additional checks on their hiring processes. They may also have their work pass privileges curtailed if they are found guilty of discriminatory practices.
There are also plans for the Ministry of Manpower to work with private jobs portals even as it sets up a national job bank. This will allow a wider range of jobs and as much visibility of job openings for job seekers as possible.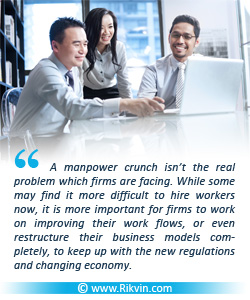 Another plan in motion is that older executives or managers who wish to dispute their re-employment contracts may also soon be able to turn to unions for help, if statutory changes recently recommended by a group of MOM, NTUC and SNEF officials are enacted.
Workers who have been in the workforce for a long time must also take it upon themselves to upgrade their education and skills continually to keep up with the fluid economy. Rather than taking up training just for practical short-term gains, they should instead focus on personal development and actively seek out and make use of the opportunities available to them.
This will also let workers prove that they are well-skilled and competitive enough to take on higher jobs which they aspire to.
Similarly, firms must be willing to send workers for training or give them time off for training purposes. Managers and business owners should not limit opportunities for workers' education and training if they wish to get more out of their workers.
Mr. Satish Bakhda, Head of Operations at Rikvin, said what firms need to do is to innovate their work processes in face of the more stringent hiring requirements.
"A shortage of manpower isn't the real problem which firms are facing. While some firms may find it more difficult to hire workers now, it is more important now that firms work on improving their work flows, or even restructure their business models completely, to keep up with the new regulations and changing economy."
"Businesses can make use of technology to automate their work processes, for example, firms in the accounting, payroll or human resource industries," he said.
Mr Bakhda also said foreign workers are still necessary for industries which are frowned upon by Singaporeans.
"There are still many labour-intensive industries which very few Singaporeans are willing to work in. For example, not many locals would want to work in the construction or cleaning industries as they are considered less than desirable," he said.
Rikvin's content team includes in-house and freelance writers across the globe who contribute informative and trending articles to guide aspiring entrepreneurs in taking their business to the next level in Asia.