How to Know What Type of Work Visa You Need
Working in Singapore is well known to be both exciting and lucrative. In this Singapore visa guide, you'll quickly find out exactly what type of work visa you'll need to work and operate in Singapore.
So you've heard the buzz about working in Singapore, and you need a visa guide so you know how to be part of the action.
It's little wonder Singapore is such an attractive destination to work, given its global reputation as a world leader in business freedom and innovation. And that success is largely due to the fact that nearly 40% of its workforce is made up of foreign workers and students.
To entice the best and brightest foreign workers, Singapore's work visas are generally allocated purely by your salary, making it a lot easier to apply compared to other countries. Despite this relative simplicity, when we had a look at the other Singapore visa guides on the internet, we felt that they weren't exactly straightforward or clear.
So here we're aiming to make it as simple, and quick as possible for you to find the information you need.
We should note, that while Singapore is renowned as a financial and ICT giant, it's not just high-level professionals that can qualify for a Singapore work visa. That means as long as you can help contribute to Singapore's continued growth and prosperity, everybody from CEOs to construction workers are welcome.
In this Singapore visa guide, we'll go over:
General notes for all Singapore Work Permit visas
Singapore Work Permit visas for professionals
Singapore Work Permit visas for skilled and semi-skilled workers
In total there are eight work visa types for Singapore, and we'll go through all of them to see which one is right for you.
Let's get started!
General Notes for All Singapore Work Permit Visas
The ministry in charge of all Singapore working visas is the Ministry of Manpower (MOM).
You need to be at least 18 years of age to qualify as a foreign worker, regardless of the visa type. For some roles, you may need to be older still.
Malaysian workers must be no older that 58 years of age, while all other foreign workers must be no older than 50 years of age when they apply.
You will work closely with your new Singapore employer — they will take care of most of the administration such as paying for the Foreign Worker Levy.
You need to sort out your Singapore visa of choice before you take up your new role there. Employers face large penalties and fines if you don't.
---
Singapore Work Permit Visa Guide for Professionals
1. Singapore Employment Pass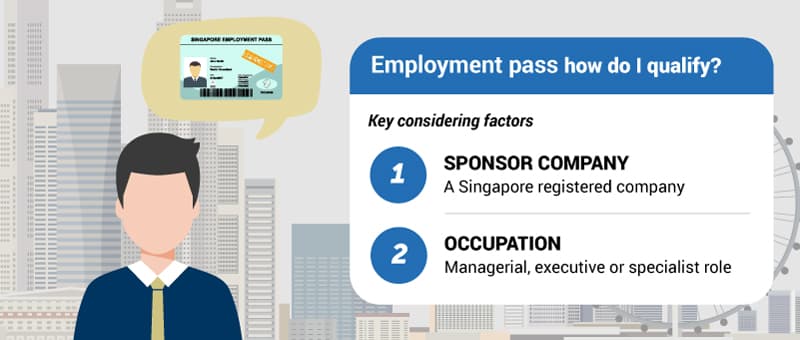 The Singapore Employment Pass is for foreign professionals looking to work in Singapore. Generally, you'd be a manager, executive, or other high-level workers in your industry. This is a two-year visa, renewable for up to three years. Singapore's Employment Pass prefers younger applicants who have graduated from reputable institutions. Older applicants can of course apply, you would just need to have a higher salary and position.
To qualify, you'll need:
To have a job offer from an approved employer in Singapore.
To be in a managerial, executive or specialised role.
You'll need to show that you have relevant qualifications, but the most important thing is that you can prove that you earn at least $3,600 per month.
---
2. Singapore Entrepreneur Pass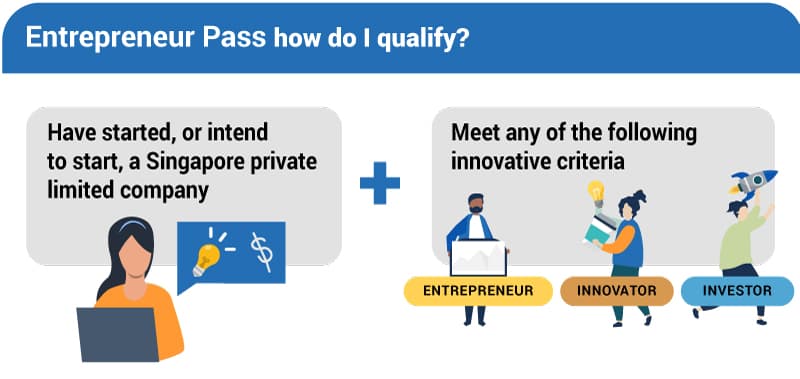 If you already own your own business and would like to relocate it to Singapore, the Singapore Entrepreneur Pass (also known as the EntrePass) is the visa you need. This is a one year visa, renewable up to two years.
To qualify, you'll need to:
Be registered with Singapore's Accounting and Corporate Regulatory Authority.
Be registered (as above) for less than six months as of your application.
Meet at least one of the following criteria:

Be part of a government supported incubator.
A collaborator with A*STAR or university.
Have a proven track record of growth.
Exceptional expertise in your domain.
Significant experience, networks, and entrepreneurial record.
Owner of recognised intellectual property.
Has acquired funding from a business angel or government accredited venture capital fund.
You'll also need to show you have at least $50,000 in the capital.
---
3. Singapore Personalised Employment Pass (PEP)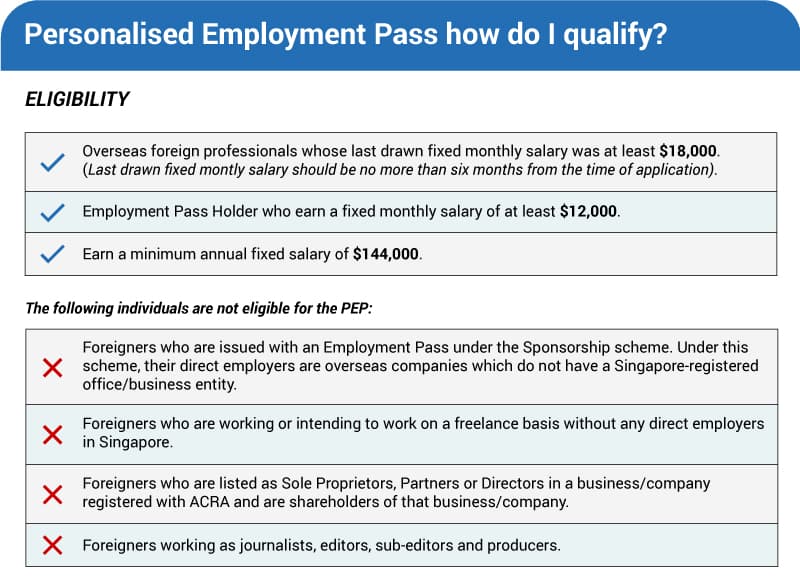 The Personalised Employment Pass (PEP) is a three year visa for exceptional, top-tier executives. This is truly the ultimate visa to live and work in Singapore. The PEP has the unique benefit of allowing you to switch jobs as many times as you please, as long as you are being employed by a Singapore registered company. You can essentially hold a job in any sector, but if you work in areas like dentistry, medicine, law etc, you'll need to be registered to practice in Singapore for your chosen field. It is only issued once, and once your term is up, cannot be renewed. You'll need to show that your last fixed monthly salary is at least $18,000. If you already hold an Employment Pass, you only need to show that your earn $12,000 a month.
You won't be eligible if:
You are a journalist, editor, sub-editor or producer.
You already have an Employment Pass under Singapore's sponsorship scheme.
You intend to work on a freelance basis.
You are a sole proprietor, partner or where a director is also a shareholder in an ACRA-registered company.
Because the PEP is such a sought-after visa, there are a few requirements to make sure you keep your pass:
Show that you are earning at least $144,000 per calendar year. The number of months you actually work in that year are not important.
You can't be unemployed for more than six months in Singapore.
Notify the MOM if you change jobs, or contact details.
---
Singapore Work Permit Visa Guide for Skilled and Semi-Skilled Workers
4. S Pass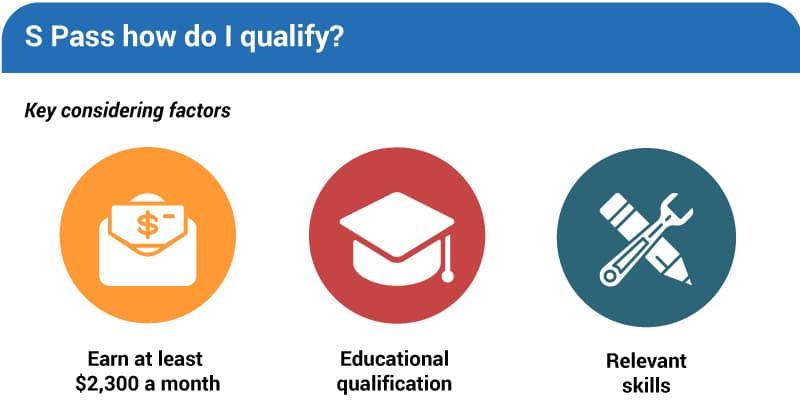 The S Pass is far more accessible to most people and is targeted towards mid-skilled foreign employees, such as technicians. While Singapore is built on the tech industry, workers of all types are needed to help in its prosperity.
This is a 2-year visa, you must have an employer or employment agent apply for you. You will need a degree or diploma, but they will also consider technical certificates on a case by case basis. To qualify for the S Pass, you'll need to earn at least $2,300 per month.
If you'd like to find out more about applying for this visa, check out our detailed Singapore S Pass visa guide.
---
5. Work Permit for Foreign Worker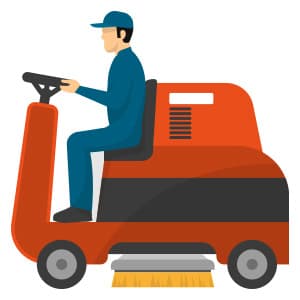 The Work Permit for Foreign Worker visa is suited for semi-skilled, or unskilled employees that work in areas like construction, shipyards, or services and process sectors. While Singapore is built on the tech industry, foreign workers make up 80% of the construction industry and up to 50% of the service industry. It's a 2 year, renewable visa, and you'll need to be coming from an approved country, but you don't need to earn any minimum amount of money to qualify.
---
6. Work Permit for Foreign Domestic Worker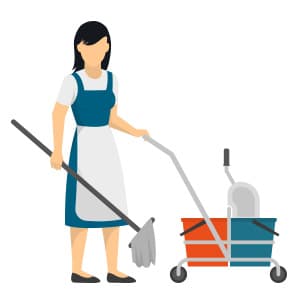 This visa is for semi-skilled or unskilled foreign domestic workers (FDWS), who work within a family's household for domestic duties, such as a maid or cleaner. You'll need to be a female aged 23-50 years old, and come from an approved country. You'll also need to show at least 8 years of formal education. It is a 2 year, renewable visa, for which you will need no minimum salary to qualify.
---
7. Work Permit for Confinement Nanny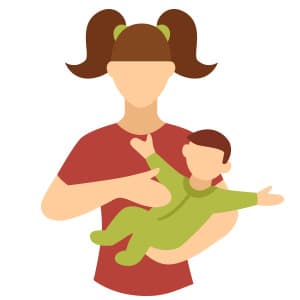 This is a special, 16 week, non-renewable visa for Malaysian females between 23-70 years old. The role is to help a family with their newborn baby's first 16 weeks of life. There is no minimum qualifying income required.
---
8. Work Permit for Performing Artiste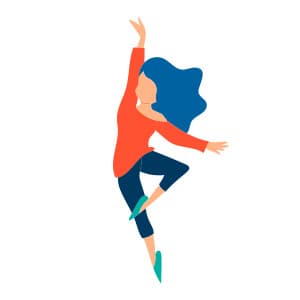 This is a non-renewable, six-month visa for entertainers, such as singers and dancers. Your application must be completed by an eligible public entertainment outlet who wishes to employ you. There is no qualifying minimum salary.
---
Singapore Working Visa Guide – Conclusion
So which Singapore work visa appeals to you the most?
Singapore is one of the most dynamic, modern, and exciting places in the world to live and work. And thankfully, at least compared to some other countries, Singapore has made it reasonably easy to find and apply for the right working visa. However, as with anything in dealing with governments and immigration, there are still hurdles to jump. So while we've tried to simplify our Singapore working visa guide as much as possible, it can still be a complex process to navigate.
Questions about your preferred Singapore work visa?
We've been doing this for a long time, Secure your Work Pass with us.