Singapore is the world's best place to do business, and it's a title that the city-state has maintained for 15 consecutive years.
As a result, companies worldwide are increasingly warming up to the idea of expanding operations here and obtaining Singapore Employment Pass (EP) work visas for their employees.
Once an applicant has fulfilled the application requirements, the terms of the contract between them and the prospective company will determine their length of stay.
A typical Singapore Employment Pass is valid for 2 years, and pass holders also have the chance to renew their work pass for another 3 years to lengthen their stay.
Find out what it takes to be a Singapore EP holder.
Use Free Tool: Singapore Personalised Employment Pass Online Assessment
---
What is a Singapore Employment Pass?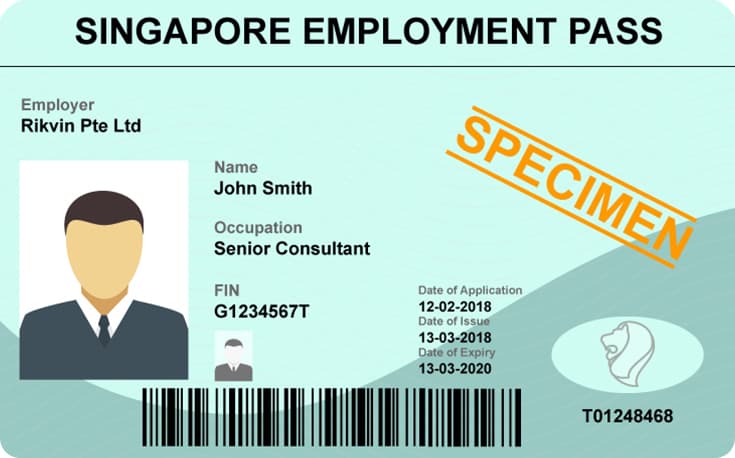 The Singapore Employment Pass is a work pass that allows foreigners to hold specialist, managerial or executive positions in Singapore's business sector.
Applications must first be approved by Singapore's Ministry of Manpower (MOM) before they can officially move to Singapore to start working for your Singapore company.
Related Read: Tips and Tricks to Secure an Employment Pass in Singapore
---
What Are the Benefits of a Singapore EP Holder?
A Singapore Employment Pass holder can open a savings or current account, rent property, and purchase local medical insurance.
Applicants need not cancel their current passes to apply for a new application. The initial pass is valid for 2 years and renewed for an additional 3 years.
With this visa, applicants can travel outside Singapore without reapplying for an entry visa. They can also apply for Singapore Permanent Residence (SPR) after working in Singapore for one year.
---
What Are the Requirements for a Singapore Employment Pass?
Before applying for an EP, it is necessary to consider eligibility requirements. Verify whether the documents required for applying match eligibility standards.
Under the Fair Consideration Framework (FCF), only qualified candidates get to work and live in Singapore. The guidelines are summarised below:
People from all ethnic groups can apply for an EP. There are no restrictions on the nationality of the candidates for the work visa because it readily admits new and competent talents anywhere across the globe
An EP candidate must receive a job offer before applying for a work pass
The candidate must prove that they are qualified to fill managerial, executive, or specialist positions
International professionals with undergraduate testimonials must present proof of a fixed monthly salary of not less than S$5,000 per month or S$5,500 per month in the financial sector.  The minimum salary threshold depends on the candidate's credentials. More experienced candidates should prove that they earned higher salaries than their counterparts
Candidates must prove their competence through satisfactory results from a reputable diploma or undergraduate institution
They may also be required to present professional qualifications, specialist skills, and niche-related experience
Parents of qualified candidates can also apply for the Long Term Visit Pass as long as the EP holder draws not less than S$12,000 from their salaries
Meeting all the qualifications above does not guarantee the work pass. MOM reserves the right to review and either approve or reject an application based on skills, work experience, job market, company's contribution towards the Singapore economy, and reputation
Other Eligibility Criteria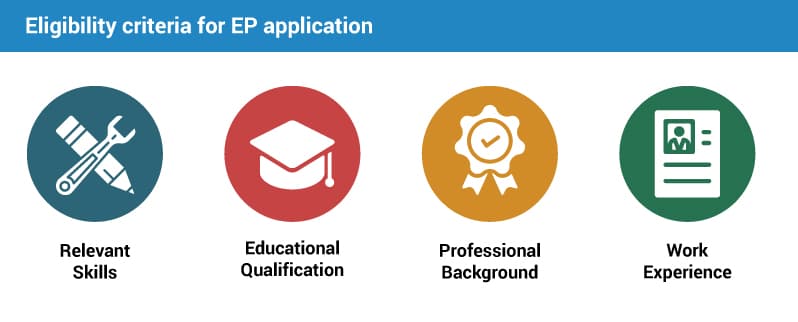 MOM plays an instrumental role in ensuring all employment pass applicants are evaluated based on their merit.
They may also consider the salary and age of the applicant. Your tasks and responsibilities in the company will also be reviewed. The company will also be evaluated based on its financial standing and credibility.
Applicants must also be fully vaccinated against COVID-19 with EUL vaccines from the World Health Organisation (WHO), including boosters, if eligible, to be issued an EP pass.
New Complementarity Assessment Framework (COMPASS)
From September 2023, EP applicants must also pass the upcoming COMPASS eligibility framework.
This points-based framework is designed to help you choose high-quality foreign professionals with greater clarity and certainty for manpower planning.
EP applications are reviewed based on a well-rounded set of firm and individual-related characteristics. Apart from the 4 foundational criteria, applicants are also scored based on 2 bonus criteria, where applicable.
---
How Do I Apply for an EP Visa?
As an employer, before applying for an EP visa, you must ensure that your applicants meet the necessary requirements.
After that, you can submit applications to MOM online. Ensure you have uploaded all testimonials along with the application letter.
Once they have been submitted, they will be processed or updated within 10 business days. Overseas businesses that do not have a Singapore-registered company require 8 weeks to be processed.
You may be expected to wait longer during peak seasons or when contributions from third parties are required. Engaging an EP application expert can also help to facilitate the process and ensure a smooth and successful application experience.
Related: How long does it take to process an Employment Pass (EP)?
---
Which Documents Will I Need to Secure My Passes?

Like any other country, gaining entry into the Singapore corporate industry requires your employees to have these particular documents:
An international passport with a summary of all their particulars on one page
The candidate's educational testimonials, diploma, undergraduate or postgraduate certificates. MOM may request additional documents such as corporate bank statements, contracts, etc
Remember, all documents must be in English. If not, they should be translated into English through a government-approved translation service
Other Than the EP, Which Other Work Passes Can I Apply for?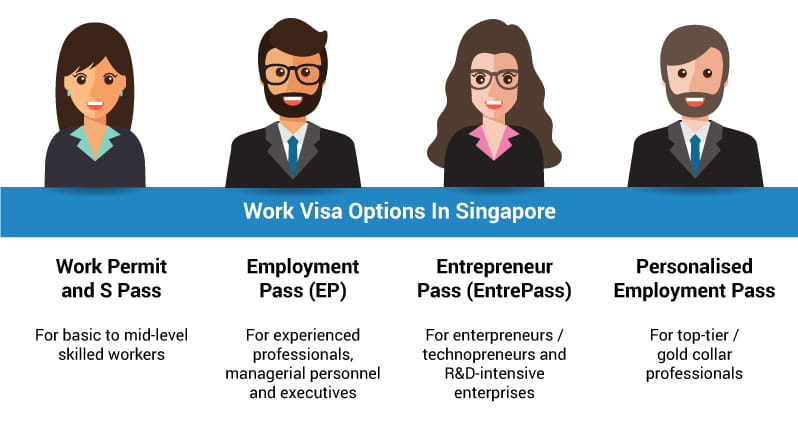 If your employees are not eligible for the Singapore Employment Pass work visa, there is no need to worry. You can still explore other forms of work passes available.
One of them includes the quota-based S Pass, which allows foreign talent to join the workforce after a specific number of locals have been absorbed into the system.
The current pass quota is capped at 10% of the firm's entire workforce in the services sector and 15% in the manufacturing, process, marine shipyard, and construction industries.
The S Pass calls for a minimum qualifying salary of S$3,000. Applicants must also offer details of educational qualifications and work experience. It is designed for foreigners who want to broaden their skills in related fields.
If you have employees involved in practical training, you can opt for the Training Employment Pass (TEP). In this category, you must earn not less than S$3,000 per month.
If your employees are eligible for the EP and wish to find out more about other options, they can also consider the Personalised Employment Pass (PEP) and EntrePass.
These passes are designed for employment pass holders or foreign professionals.
Related Read: Snapshot of Singapore Work Passes, Permits and Visas
---
What is the Connection Between EP, the Long Term Visit Pass, and Dependant's Pass?
For a long time, the EP has been used together with the Long Term Visit Pass (LTVP) and Dependant's Pass (DP).
Once your employee qualifies for the EP visa, you can apply for these two passes to allow their loved ones to visit them in Singapore, subject to prevailing conditions.
---
How Do I Qualify for the LTVP?
Applicants can qualify for an LTVP if they are either EP or S Pass holders. They must also earn a monthly earning of not less than S$6,000, and work under a company that is licensed by the Singapore government.
They can only apply for the pass on behalf of the following members of the family, such as:
Common-in-law spouses
Unmarried disabled children aged 21 years and above
Unmarried stepchildren aged 21 years and below
If their earnings are S$12,000 and above, they can still use the LTVP to invite their parents into the country.
If they have kids aged 12 years or below, they will need a Verification of Vaccination.
---
How Do I Qualify for a DP?
To qualify for Singapore Dependant's Pass, an applicant must be a valid EP, S Pass, Personalised Employment Pass, or an EntrePass holder.
It also demands that applicants should be earning not less than S$6,000 per month. The dependants may include their spouse and unmarried children (biological or step) who are below 21 years of age.
Verification of Vaccination requirements is needed for kids below 12 years and below.
If a work permit expires, then the DP automatically gets revoked.
---
Conclusion
Being a Singapore Employment Pass beneficiary allows applicants to live, work, and play in Singapore.
No matter the country of origin, applicants can be qualified candidates for specialist, managerial, and executive positions.
Before applying for any of the listed positions, you must ensure all your employees' documents are authentic. If you require your employees to present additional testimonials, they must present them manually. MOM will evaluate all their credentials to ascertain whether they qualify for the job.
If applicants plan to extend their stay, they can always apply for permanent residency (PR). Besides allowing them to access Singapore government services, they can also open bank accounts and own property.
---
FAQs About Employment Pass in Singapore
You can enlist the help of an experienced EP specialist to ensure a smoother experience getting EP passes for your employees.
There is no salary ceiling to apply for an EP, but applicants must have a monthly salary of at least S$5,000 to qualify, and S$5,500 for those in the financial services sector.
While there is no true answer to this, we recommend you to ask our expert immigration team that covers both services before you decide.
Get in-depth guidance from dedicated employment and immigration specialists
Liaise with a dedicated specialist when you engage us for Singapore immigration, recruitment and work visa services!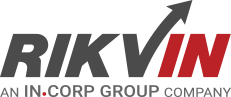 Rikvin's content team includes in-house and freelance writers across the globe who contribute informative and trending articles to guide aspiring entrepreneurs in taking their business to the next level in Asia.