Having international work experience is not only great for your portfolio, Chances are it will open doors for you years down the road. Based on the World Economic Forum's Global Competitiveness Report 2019, Singapore comes in at number 1 worldwide for the ethical behavior of companies as well as hiring and firing practices.In addition, Singapore Salary & Employment Insights Report by recruitment firm Hudson said that about 53% of the employers surveyed aim to peg salary increases at 3 – 5% for the coming year.
If this sounds good to you, you would want to make your way to Singapore. However, in order to legally work here, you must have a valid work visa. Other than the Personalized Employment Pass (PEP), all work visas in Singapore are tied to the employer. Hence, any change in your employment will require a change in work visa.
Your visa options depends on your profile and experience. In this article, we summarize the 3 most common ways for professionals to work in Singapore.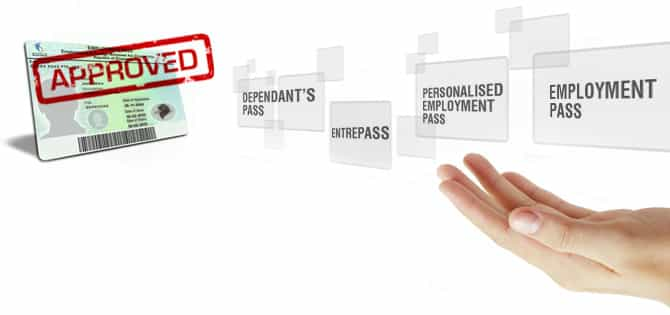 If you're a professional, manager or executive (PME)
Get employed first. Your work visa application can only be made by your employer and on your behalf. Depending on your experience and qualifications, you may be granted the Employment Pass (EP) or S Pass.
To qualify for the EP, you must earn at least a fixed monthly salary of $3,900 and have sound qualifications (good degree, specialist skills or professional qualifications). If you've accumulated more experience, the authorities expect you to command a higher salary which reflects the quality and expertise you're bringing to the firm.
To qualify for the S Pass, you need to command a salary of at least $2,400 per month and demonstrate good educational qualifications.
---
If you're a subject-matter expert or gold-collar professional
You would fare well by applying for the Personalised Employment Pass (PEP). The PEP is independent of any employer and allows you to pursue opportunities in Singapore without affecting the validity of the Pass. Once you hold a PEP, you may stay in Singapore for up to 6 months, in between jobs, to pursue a new employment opportunity. The catch is that the PEP is valid for only 3 years and is non-renewable.
To apply, you either have to be an existing EP holder or an overseas-based applicant who hasn't been unemployed for more than 6 months at the time of application. In addition, you must earn a fixed salary of S$144,000 per annum – this means at least S$12,000 for Singapore-based applicants and S$18,000 for those from overseas.
---
If you're a dependent of a Singapore work visa holder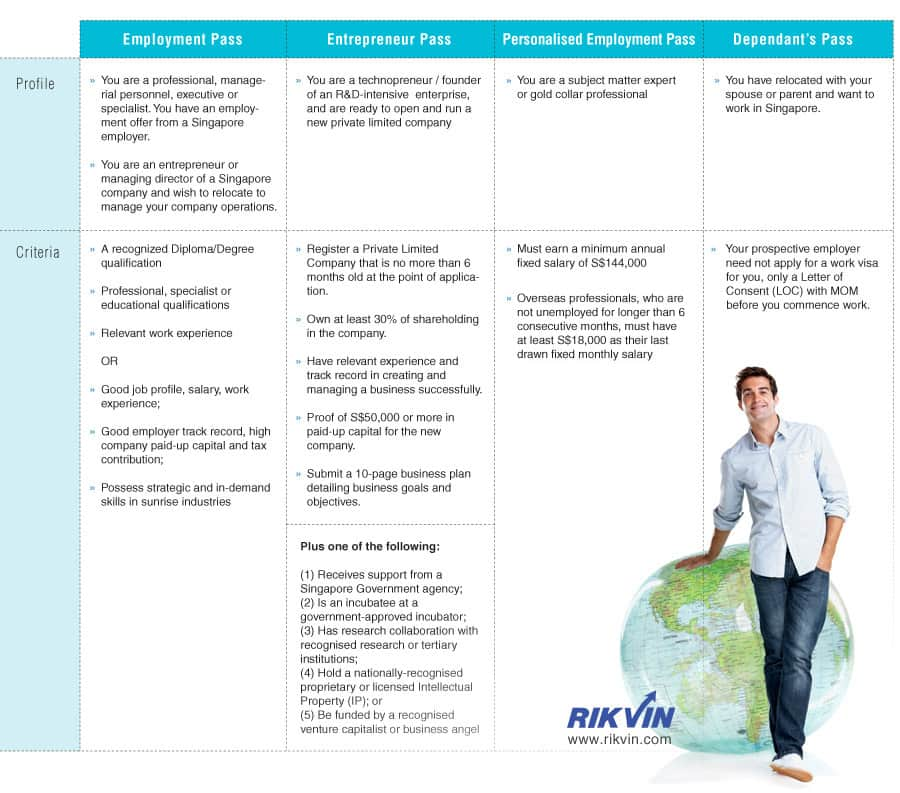 If you have relocated to Singapore with your spouse or parents i.e. EP or PEP holders, you are most likely holding a Dependant's Pass (DP). As a DP Holder, you are allowed to work in Singapore without a work visa. Instead, your employer must apply for a LOC (Letter of Consent) in order for you to work legally. The upside is that there is no fee for LOC application.
However, if you have relocated to Singapore via the Long-term Visit Pass (LTVP), your employer will have to apply for a work visa for you.
Profile
Criteria
Employment Pass
You are a professional, managerial personnel, executive or specialist. You have an employment offer from a Singapore employer.

You are an entrepreneur or managing director of a Singapore company and wish to relocate to mange your company operations.

A recognized Diploma/Degree qualification
Professional, specialist or educational qualifications
Relevant work experience

OR

Good job profile, salary, work experience;
Good employer track record, high company paid-up capital and tax contributions
Possess strategic and in-demand skills in surise industries

Entrepreneur Pass
You are a technopreneur/founder of an R&D-intensive enterprise, and are ready to open and run a new private limited company.

Register a Private Limited Company that is no more than 6 months old at the point of application.
Own at least 30% of shareholding in the company.
Have relevant experience and track record in creating and managing a business successfully.
Proof of $50,000 or more in paid-up capital for the new company.
Submit a 10-page business plan detailing business goals and objectives.

Personalised Employment Pass
You are a subject matter expert or gold collar professional

Must earn a minimum annual fixed salary of $144,000
Overseas professionals, who are not unemployed for longer than 6 consecutive months, must have at least $18,000 as their last drawn fixed monthly salary.

Dependant's Pass
You have relocated with your spouse or parent and want to work in Singapore.

Your prospective employer need not apply for a work visa for you, only a Letter of Consent (LOC) with MOM before you commence work.
Looking for Work Visa for Singapore?
Leverage our expertise today for the best results! Call us at +65 6320 1888 or contact us now for a free consultation.