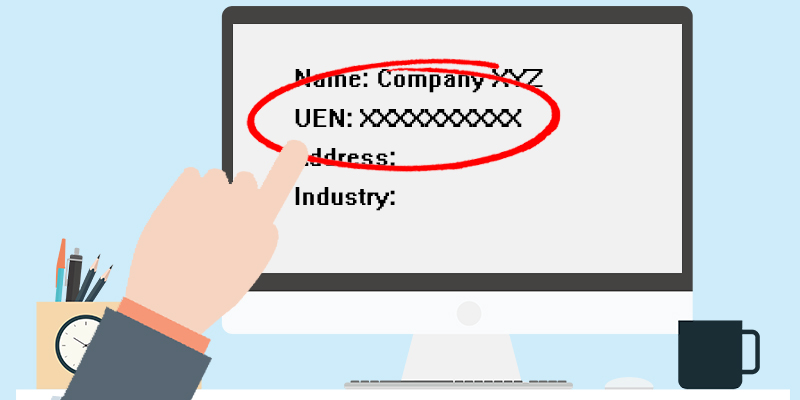 Similar to the identification number of individual persons, businesses and local companies are also given a unique alphanumeric upon registration with the Accounting and Corporate Regulatory Authority (ACRA). This is known as the business registration number.
However, in 2009, the Ministry of Finance (MoF) and the ACRA together launched an initiative to provide a unique identification number, UEN, to identify each registered entity so that they can conveniently interact with different government entities under this one identification number. Before the introduction of the UEN, business entities had to use various identification numbers when they interacted with different agencies.
What You Should Know About Your Unique Entity Number?
Standard Registration Numbers Bring Convenience to Business Entities
Hence after 1 January 2009, all entities that are registered in Singapore, such as businesses, local companies, limited liability partnerships (LLPs), societies, representative offices, healthcare institutions, and trade unions, have a UEN.
The registration number issued to businesses and local companies that were registered before the implementation of UEN was retained as the UEN to minimize the adaptation issues and costs. It must be noted that the UEN is a permanent and unique identity therefore neither will it change with any changes in the name of the entity nor will it be given to another entity, even if it is a subsidiary of the UEN entity.
Which Agency Issues the Registration Number for Local Companies and Businesses?
ACRA is the issuance agency for local companies, Limited Partnerships, Limited Liability Partnerships, and branches of foreign companies.
If you want to register with ACRA, you may start by doing an ACRA Search lookup for the business name that you want to register.
What is the Format for a Unique Entity Number?
The UEN is comprised of the following:
ISSUED TO
UEN FORMAT
DESCRIPTION
Businesses registered with ACRA before 1 January 2009
nnnnnnnnX 
(9 digits)
'n' = a number
'P'= an alphabetical letter
'Q' = an alpha-numeric digit
'PQ' = Entity-type 1
'Tyy' / 'Syy' / 'yyyy'= year of issuance 2
'X' = a check alphabetFor example, the UEN for a limited liability partnership (LLP) formed on 1 January 2009 could be 'T09LL0001B'.
Local companies registered with ACRA before 1 January 2009
yyyynnnnnX
(10 digits)
All entities which are issued new UEN
TyyPQnnnnX
(10 digits)
1E.g. 'LL'= 'Limited Liability Partnership'
2 'T' represents '20', 'S' represents '19' and 'R' represents '18'. E.g. T08 means year 2008, S99 means the year 1999 and R00 means the year 1800
When Should UEN Be Used?
The Unique Entity Number must be quoted:
When you are making any of the following transactions with ACRA:

Changing/ updating registered details including the name, registered address, details of director, company secretary, or partners in the case of LLP and financial year
Filing of annual accounts
Fling copies of a resolution
Issuing shares or performing other changes to the shareholding structure
Dissolving the company

When you are transacting with Singapore customs for import/export permits
When you file details and make payments to the Central Provident Fund (CPF) Board
When you are transacting with the Inland Revenue Authority of Singapore (IRAS) for GST or annual tax filing purposes
Besides these major transactions with government agencies, the UEN number will be required while transacting with private organizations as well; especially when opening a bank account, or subscribing to telephone lines or utilities as well as while entering into any forms of contracts and agreements.
We Recommend: How to stay compliant with your UEN »
Should the Entity Display the UEN?
The law requires a limited company or LLP to display its company registration number on a number of documents, including:
Letterheads
Faxes
Emails
Receipts
Invoices
Order forms
Brochures
Leaflets
Other types of printed marketing material
Websites and other online materials