Try Our Corporate Tax Calculator
In this page, you will learn about common tax reliefs for companies in Singapore, including full and partial tax exemptions for eligible startups, the Productivity and Innovation Credit Scheme, the corporate tax rebate, plus other applicable incentives.
Start-up Tax Exemption (SUTE) Scheme
The tax exemption scheme for new start-up companies was introduced to support entrepreneurship and to help our local enterprises grow.
Under this scheme, you can enjoy full tax exemption on your first $100,000 of chargeable income for your first 3 consecutive YAs.
To qualify, your company must:
Must not have more than 20 shareholders throughout the basis period for that YA where:
all the shareholders are individuals beneficially and directly holding the shares in their own names; or
at least one shareholder is an individual beneficially and directly holding at least 10% of the issued ordinary shares of the company.
Note: 

Property and investment holding companies are not eligible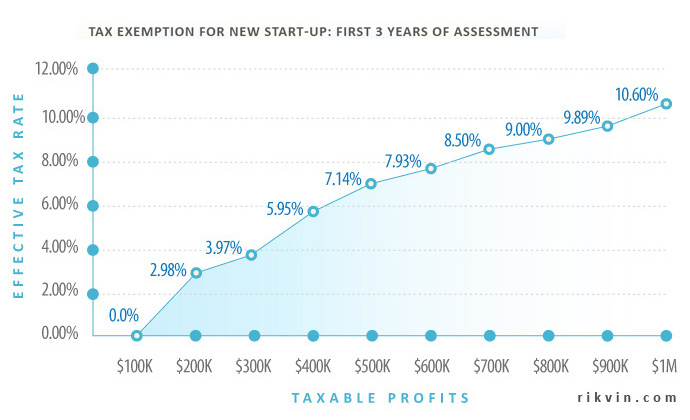 Partial Tax Exemption
Companies that do not meet the qualifying conditions for SUTE would still be eligible for partial tax exemption.
Partial tax exemption is given to all companies on chargeable income of up to $300,000 as follows: 75% tax exemption on your first $10,000 of chargeable income and a further 50% exemption on the next $290,000 of your chargeable income.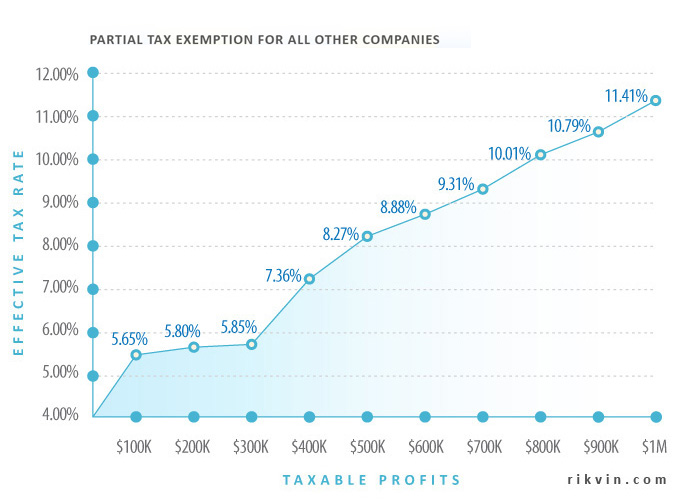 Corporate Tax Rebate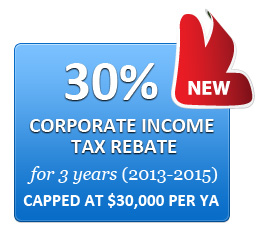 As announced in Budget 2013, companies will receive a 30% corporate tax rebate for 3 Years of Assessment (from YA 2013 to YA 2015), capped at $30,000 per YA.
Productivity and Innovation Credit (PIC)
For YA 2011 to YA 2015, you can enjoy 400% tax deduction on up to S$400,000 of your investment spending per year in each of these 6 activities:
Acquisition or Leasing of PIC Automation Equipment
Training of Employees
Acquisition of Intellectual Property Rights
Registration of Patents, Trademarks, Designs and Plant Varieties
Research and Development Activities
Approved Design Projects
Alternatively, you may apply to convert up to $100,000 of your investment spending per year into a non-taxable cash payout at a conversion rate of 60%. This translates into a cash payout of up to $60,000 each year for YA 2013 to YA 2015.
Do you know, that even if you make up to S$28 million, you need not pay any corporate taxes if you invest in every PIC activity? Please see the chart below for further illustration.
Pay Zero Tax Even if You Earn $28M
PIC Bonus
The Productivity and Innovation Credit (PIC) Bonus, announced in Budget 2013, gives Singapore companies a dollar-for-dollar matching cash bonus for 3 years (from Year of Assessment 2013 to YA 2015), subject to an overall cap of S$15,000 for all 3 YAs combined. The PIC bonus is given over and above the existing 400% tax deductions/allowances and/or 60% cash payout under the PIC scheme. To enjoy the PIC Bonus, businesses must have made a claim for the 400% tax deductions/allowances and/or the PIC cash payout.

Expenses Incurred Prior to Commencement of Business
Expenses incurred before your business commences operations are not tax-deductible as they are considered to be incurred prior to the production of income.
As a concession for enterprise development, revenue expenses incurred one year before the first day of the financial year in which you earn your first dollar of business receipt will be tax-deductible.
Capital Allowances (CA)
You can claim CA on fixed assets bought and used in your trade or business. CA is given in place of depreciation which is not tax-deductible.
Examples:
Office equipment
Electrical & electronic equipment
Furniture & fixtures
Renovation and Refurbishment (R&R) Expenses
You can claim deduction on qualifying expenses on your R&R works. Examples: door, window, fixed partition, general electrical installation and lighting, flooring and wall covering.
Deduction will be granted on a straight-line basis over 3 consecutive YAs and subject to an expenditure cap of $150,000 for every 3 consecutive basis periods. From YA 2013, the expenditure cap has been increased from S$150,000 to S$300,000.