Information below is for reference only. Kindly note that PIC Scheme has expired as at YA 2018.
The Productivity and Innovation Credit (PIC) Scheme was first announced in Budget 2010 with the aim of encouraging enterprises to upgrade their capabilities by investing in a wide range of productivity and innovation-related activities.
A tax deduction of 400% is claimable on the first S$400,000 spent for each of the 6 qualifying PIC activities. Alternatively, companies can opt for a cash payout instead. The amount covered is capped at S$100,000 per YA.
Changes in the PIC Cash Payout Scheme
From 1 Aug 2016, the following changes to PIC Cash Payout Scheme will take effect:
Reduction of cash payout rate for qualifying expenditure incurred on or after 1 Aug 2016 from 60% to 40% (the cash payout rate is not determined by the date of submission of the cash payout application); and
Compulsory e-Filing of cash payout applications. Hardcopy applications will not be accepted from 1 Aug 2016.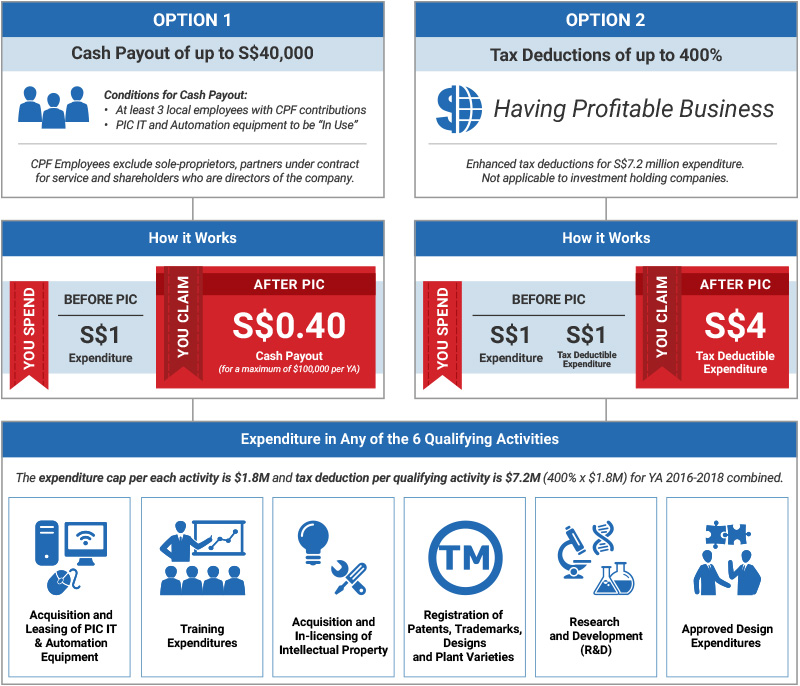 PIC+ Scheme (YA 2015 – 2018)
Per the 2014 Singapore Budget announcement, small to medium sized businesses (SMEs) that make extensive investments in PIC activities to transform their businesses will be eligible for benefits under the PIC+ Scheme.
Under this Scheme, SMEs which spend more than S$1,200,000 from YA 2013 – 2015 or YA 2016 – 2018 will enjoy 400% tax deduction on the first S$600,000 invested in every qualifying PIC activity.
PIC Bonus (YA 2013 – 2015)
To encourage businesses to undertake improvement in productivity and innovation, eligible businesses that spend a minimum of $5,000 in qualifying PIC investments from YA 2013 – 2015 will receive a dollar-for-dollar matching cash bonus (subject to an overall cap of S$15,000 for all 3 YAs).
The PIC Bonus is given in addition to existing PIC benefits of:
a) 400% PIC tax deductions up to $400,000 in expenditure for each PIC qualifying activity; or
b) Cash payout at 60% on up to $100,000 of the qualifying expenditure.
Liberalized Scope of Automation Equipment
With effect from YA 2013, more equipment will qualify for PIC benefits through the following changes:
a) Liberalized conditions for approving equipment that is not on the prescribed list:
i) The equipment automates or merchandises, whether in whole or in part, the work processes, whether core or non-core of the business; and
ii) The equipment enhances the productivity of the business.
An equipment that is a basic tool will be allowed if:
It increases productivity compared to the existing equipment used in the business; or
It has not been used in the business before.
b) The term "automation equipment" is changed to "IT and automation equipment" to reflect the fact that PIC already supports IT-related software besides automation equipment.
c) The prescribed equipment list has been expanded and will be updated regularly to take into account feedback from businesses.
Acquisition and in-Licensing of Intellectual Property (IP) Rights
The PIC scheme has been enhanced to allow IP in-licensing costs incurred from YA 2013 to YA 2015 to qualify for PIC benefits.
The current PIC qualifying activity of "Acquisition of Intellectual Property" will also be renamed to "Acquisition and In-Licensing of Intellectual Property" to reflect the change.
It pays to be productive in Singapore
[vimeo id="53054943″]
If companies plan their PIC strategies well, they stand to save up millions in taxes. This is possible as they can estimate their taxable income and make provisions for investments in qualifying activities at the time of annual budgeting. Companies can invest in any of the following 6 categories to take advantage of PIC.
Purchase / lease of PIC IT and Automation Equipment (Includes website and app development!)
Training of Employees
Acquisition and In-licensing of Intellectual Property Rights
Registration of Intellectual Property (Trademarks, Patents, Designs and Plant Varieties)
Research & Development Activities
Design Projects approved by DesignSingapore Council
---
Learn how you can tap on the Productivity and Innovation Credit (PIC) Scheme and save on your annual corporate taxes
Let Rikvin's team of experienced specialists assist you with the planning of your PIC strategies to optimise your benefits, investments and corporate tax rates.