Rate this
Rikvin Services
Company Formation
Relocation & Immigration
Corporate Services
Accounting & Taxation
Offshore Companies
Rikvin Services
Rikvin serves as a one stop corporate services consultancy that provides professional Singapore company incorporation, offshore companies formation, accounting, tax and immigration services. Rikvin has incorporated thousands of companies since 1998. We are happy to assist you with any of the following services:
Incorporation of a Singapore entity
Incorporation of offshore companies
Work visa assistance for foreign entrepreneurs and professionals, including family members
Accounting and Bookkeeping Services
GST Registration
Tax Consulting
Payroll services
Trademark Registration
Application of Business licenses
Website Design and Hosting
We look forward to a fruitful partnership with you by offering a suite of services that add value to your organization.
Company Formation Services
Rikvin is one of the leading providers of company formation and post incorporation business services in Singapore. Since our establishment in 1998, we have helped thousands of firms – ranging from small to medium sizes enterprises (SMEs) to well-esteemed multinational and award-winning firms – to sink their roots in Singapore.
Our clients have found our ready-made incorporation packages, which consist of a suite of  incorporation services, most suitable to their needs. We are also happy to offer services bespoke to your needs, upon request.
Whether in Singapore or overseas, our team of responsive incorporation consultants will carefully assess your application and offer you sound advice on your options and the forthcoming process.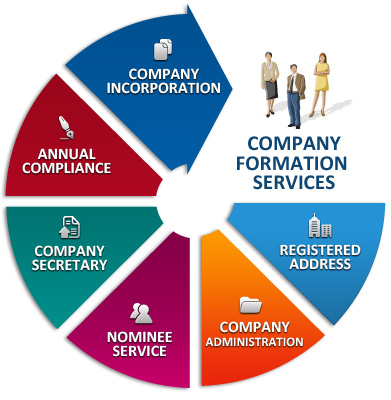 Upon incorporation, our compliance and business services units will support you and ensure that you fulfil your regulatory and fiduciary duties in a timely manner.
Let us help you safely navigate through Singapore's corporate regulatory landscape and avoid unnecessary compliance errors.
Our services are as follows:
Singapore Company Formation
Formation of Singapore companies
Formation of Singapore subsidiaries of foreign corporations
Registration of Singapore branch offices of overseas companies
Setup of Representative office
Advisory Services & Administration Services
Advice on appropriate business structure
Restructuring and Cessation of Companies
Advisory services and assistance with the striking-off and members' voluntary liquidation of companies
Company Formation Services
Hong Kong company formation and administration
BVI company formation and administration
Marshall island company formation and administration
Malaysian company formation and administration
TELL US YOUR NEEDS
If you are interested in our services, please select one of our company formation packages or contact us for a prompt reply.
Relocation and Immigration Services
Since 1998, Rikvin has established itself as one of Singapore's leading immigration services providers. We are a licensed employment agency (EA no: 11C3030) registered with Singapore's Ministry of Manpower (MOM) and offer a full spectrum of Singapore work pass services for  professionals and entrepreneurs who wish to relocate to Singapore
.
To date, we have earned the trust and patronage of thousands of entrepreneurs, professionals and firms by helping them fulfil their relocation dreams in Singapore.
Our dedicated work visa unit operates on a One Face to the Customer approach, so you need only liaise with one consultant for all your expatriate work pass needs. We carefully review your application from start to finish and equip you with a sound assessment of your candidacy and professional background, so that you are fully aware of your immigration options.
We then undertake all processes and paperwork, including renewals, so that you have peace of mind.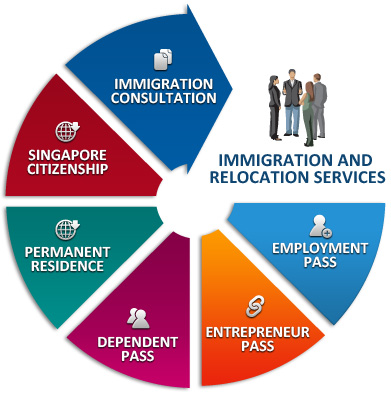 Join our network of satisfied clients and let us know how we can assist you with making  your relocation goals material.
Singapore work pass application, processing, renewal, and cancellation services:
Our services include:
Work pass consultation
Licensed employment agency for Work pass, Work permit, S Pass and E pass application
Assistance in securing single or multiple business visa
Work Visa applications  for individual's or corporate's for relocation to Singapore
Entrepreneur Pass Filing (EntrePass Processing)
Employment Pass Filing (E Pass Processing)
Dependant Pass (DP) Filing including application of Letter of Consent (LOC)
Family Pass Filing
Permanent Residence Filing (PR) under PTS scheme
Personalised Employment Pass Application (PEP)
PR Application for Capital Investors
Singapore Business and Advisory Services
Having a sound understanding of Singapore's regulatory landscape will not only save you time, but help you avoid unnecessary delays, penalties and losses.
We offer the following Business Advisory and Licensing  services to set your firm on a path to success.
Trademark Registration Service
Business License Service
Legal and Contractual Advisory Services
Trademark Registration Service
Trademarks are signs used by a business or trade to distinguish its goods or services from those of other players in the market.  Benefits include quality assurance, rights protections, branding and tax rebates. Trademark registration is one of the activities that qualify for PIC Scheme privileges as well as bonus.
Advice on acquisition of appropriate business licenses in Singapore
Certain business activities in Singapore are subject to further regulatory review by their respective national agencies.  Therefore, a company may be required to gain special approvals or licences before commencing business activities. Some examples include finance companies, insurance companies, travel agents, manpower agencies and educational institutions.
We can help you determine if you require permits or licenses before commencing any business activity. Our consultants will duly research and advise you properly before applying for the relevant license(s).
Advice on legal and contractual matters et al.
If you need legal advice on matters pertaining to lease or shareholder agreements or supplier contracts, please let us know. We are happy to connect you to our network of legal affiliates who can assist you with the understanding or drafting of legal documents.
Kindly email us at info@rikvin.com or call us at +65 6320 1888 and let us know how we may be of service to you.
Singapore Tax and Accounting Services
All companies are required maintain proper bookkeeping records and accounting documents as well as fulfil tax and payroll duties in a timely manner. To avoid costly errors and inadvertent infringements, partner with us and leave your taxation and accounting matters to the capable hands of our experienced teams.
Rikvin has been esteemed as one of the leading accounting and taxation services firms for SMEs in Singapore. We offer a full spectrum of cost-effective services that are designed to reduce your workload and overheads so you can focus squarely on growing your business.
Our team of dedicated accounting and tax professionals will ensure that you are kept abreast with the latest tax and accounting updates, and are duly informed of sound and timely advice. Above all, we make it our mission to listen to you and help you fulfil compliance requirements set by ACRA and IRAS, and without incurring unnecessary penalties.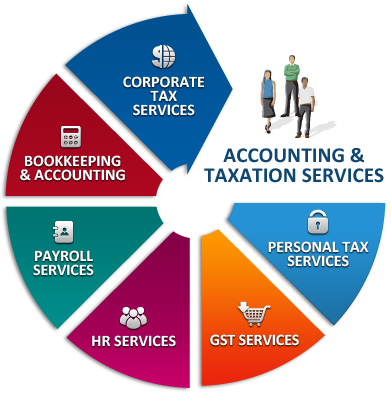 We also offer scalable solutions to suit your unique schedules and needs.
Please find below a list of our accounting and tax services:
Singapore Tax Compliance Services
Corporate tax filing
Partnership tax
Personal income tax filing
Singapore Tax Consulting Services
Effective shareholding structure
Effective tax structuring/restructuring and planning for local and cross-border transactions
Tax efficient employment packages
Singapore Industry Specific Tax Incentives Application Services
General tax consultancy
IRAS advance tax Ruling application
Global Trader Programme (GTP)
Corporate Accounting Services
Interim Accounting Management Solutions
Seconding staff for the short term to assist in accounting and payroll work
Forensic accounting
Reconstructing accounts
Clearing of back-log accounts
Resolving general accounting related problems
Consolidation of Group Accounts
Preparing consolidated group financial statements and head-office reporting packages
Bookkeeping and Statutory Accounting
Setting up the chart of accounts for new software installation
GST registration
Recording all accounting transactions
Compiling monthly management financial reports and quarterly GST returns
Preparing statutory financial statements which are in compliance with Financial Reporting Standards
Re-measuring accounts to functional currency
Preparing financial statements in XBRL format for ACRA filing
Accounts Payable Services
Paying vendor invoices and employee expense claims
Issuing payment vouchers, preparing cheques and fund transfers
Mailing signed cheques to payees, making payment electronically or remitting funds by telegraphic transfer
Arranging audits where required
Singapore Payroll and HR Services
Computing gross to net salary and CPF
Providing payroll reports and payroll journals
Disbursing net salary and CPF via our client trust account, and issuing confidential pay slips (hard copy or electronic)
Preparing year-end lR8Aforms and appendices (hard copy or electronic)
Preparing IR21, GML, NS MUP, CPF refund, government statistical forms, etc
Managing and administering employees' leave – Online/Offline
Human Resource Services (HR)
Hiring, New Employee and Exiting Employee Administration
Drafting of employment letters
Employee insurance
General HR consultancy services
Salary bench marking
Offshore Company Setup Services
An offshore company may offer several advantages to trading, investment, property owning, professional services, intellectual property and holding companies.
The main  benefit conferred is protection from publicity and preserving the right to privacy.
We believe that our expertise and experience in a number of offshore jurisdictions adds value to our relationship with our clients and their advisers.
If you wish to incorporate an offshore company in any of  the following jurisdictions, please contact us via info@rikvin.com.
Incorporation of offshore companies:
Marshall Islands Offshore IBC Company
British Virgin Islands Offshore IBC Company
Seychelles Offshore IBC Company
Hong Kong Company Registration
Malaysia Company Registration