Types of Business Entities in Singapore
This guide provides an insight into the different types of business entities in Singapore, as well as their distinctive features and benefits. Each of these entities is subject to annual regulatory compliances. Different tax rates are applicable based on their entity structure.
In the World Bank's annual survey aptly named Doing Business 2018, which bench-marked 190 economies against each other in terms of the basic requirements to set up and structure a company (such as accessing electricity, registering property, company structure options, paying taxes, trading across borders, and resolving insolvency, among other indicators), Singapore was ranked No.2.
Singapore's success and recognition as one of the easiest places to do business can be attributed mainly to its straightforward, comprehensive system of company structure and governance, which is easy for entrepreneurs or foreign investors to grasp and understand. However, there are certain advantages and disadvantages of each business entity and attendant company structure that are not immediately evident. This article provides a comparative analysis of the types of business entities and company structure and will be a useful guide to any entrepreneur or foreign investor who is interested in setting up business in Singapore.
Sole Proprietorship – Ideal for Small Businesses
A sole proprietorship, also known as the sole trader, a proprietorship, or a "one-man show" according to laymen, is a type of business entity that is owned and run by an individual, and in which there is no legal distinction between the individual and the business.
Given that it is wholly owned and controlled by the sole proprietor, the sole proprietor has unlimited liability and can be sued in his or her name, or the business name. A sole proprietorship is not considered as a separate legal entity.
Another distinct difference is that the profits of a sole proprietorship is taxed based on the personal income tax rate, hence a sole proprietorship will not benefit from the effective corporate tax rate of 0-17%, nor can it benefit from the multitude of tax incentives that are specifically meant for companies – the Inland Revenue Authority of Singapore ("IRAS") excludes sole proprietorships and partnerships in its definition of "companies".
In general, a sole proprietor must be at least 18 years of age, is ordinarily a resident in Singapore and is not labelled as an un-discharged bankrupt. However, a sole proprietor can also be a company; in which case, the company must appoint a natural person who fulfills these requirements to act as a manager.
Practically speaking then, it is not possible for investors who reside overseas to apply for a sole proprietorship as the sole proprietor needs to be ordinarily resident in Singapore.
Further details about sole proprietorship can be found in our Singapore sole proprietorship registration guide »
---
Partnership – An Alternative for Small Businesses with more than One Owner
Largely similar to a sole proprietorship in terms of structure, liability, and taxes, the most significant difference is that a partnership can comprise of two or more partners, subject to a maximum cap of twenty individual partners. Once a partnership exceeds this cap, it is required to incorporate as a company under the Companies Act.
As with all other business entities, a local manager must be appointed who is a natural person and at least 18 years of age, is ordinarily resident in Singapore and is not an un-discharged bankrupt. This business structure allows for foreign individuals or companies to be partners. Similar to a sole proprietorship, the tax rate imposed will be that of the partner, i.e. if the partner is an individual, the personal income tax rates will apply, if the partner is a company, corporate tax rates would apply.
The greatest risk associated with a partnership is the fact that it is not considered a separate legal entity and all partners are personally liable for the partnership's debts and losses, even if the debts and losses are incurred by other partners.
Related article: What to Remember Before Entering a Business Partnership »
---
Limited Partnership – An Option for Limited Liability
Given the risks associated with a partnership, a limited partnership provides the option of allowing a degree of limited liability. Similar to a partnership, there are at least two partners, but there is no maximum cap on the number of partners. Of the partners, at least one partner will be the general partner, who will have unlimited liability and will be personally liable for all debts and losses. The other partners may be limited partners, who are not personally liable for debts or obligations, save for that which is his or her agreed liability.
Both the general partner and limited partners can be either individual of at least 18 years old or a corporate entity. In addition, in the case where the general partner is not ordinarily resident, a local manager who is ordinarily resident will have to be appointed. Similar to that of a sole proprietorship and partnership, a limited partnership will not qualify for any tax incentives provided to companies and profits earned will be subject to each partner's personal tax rate. However, if the partner is a company, then corporate tax rates would apply.
Check out Singapore limited liability partnership registration »
---
Limited Liability Partnership
Despite the similarity in its name, a limited liability partnership ("LLP") is distinctly different from a partnership and limited partnership; and is more similar to a private limited company. The main similarity is that partners of an LLP are taxed at their personal income tax rate. As the name implies, in an LLP, each individual partner's liability is limited.
The key differences between an LLP and the other forms of partnership lie in its legal status – it is considered to be a separate legal entity from its partners; and can own property in the LLP's name, which is not possible for the other forms of partnership. In addition, while partners will be held personally liable for debts and losses, this is restricted to debts and losses resulting from their own wrongful actions, not that of other partners.
However, an LLP will need to submit an annual declaration of solvency to state whether the LLP has the ability to satisfy its debts during the normal course of its business. This requirement is not applicable to other forms of partnership.
Read more Comparison Chart: Incorporation Options for Singapore Residents? »
---
Which business entity type to choose?
Under the broad definition of a "company", there are two main categories of company structure; a "private" company and a "public" company. As the term suggests, a private company is one owned privately by several shareholders whereby the members of the public are generally unable to apply for its shares. In contrast, public companies are openly available for subscription. Such public company structures that are limited by shares can either be listed on the stock exchange (where its shares are readily purchased from the market by any individual who has the sufficient capital to do so) or alternatively, unlisted altogether (in which the company's business interests are in the public interest). Additionally, another notable difference between the two types of company structures is the absence of restrictions on the transfer of shares in a public company as compared to a private one.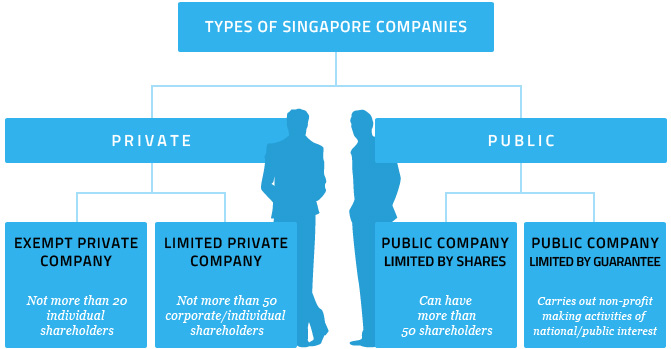 Private Limited Company – the Ideal Company Structure
A private limited company is the most common form of the company chosen by entrepreneurs and investors, mostly because of the tax incentives that can be applied for, as well as the fact that it is considered as a separate legal entity and is separate and distinct from its shareholders and directors.
The main benefit of this is that the members of a company will not be held personally liable for the debts or losses of a company.
Unlike all the other business entities, a private limited company can qualify for tax exemption schemes and is taxed at the effective corporate tax rate of 0-17%.
Given that the Singapore government has always been actively promoting the spirit of entrepreneurship and innovation, there are two key tax exemptions that have proven to be extremely beneficial for companies. For newly incorporated companies that meet the qualifying conditions, 75% tax exemption can be claimed on its first S$100,000 of chargeable income for each of its first three consecutive years of assessment. A further 50% exemption is given on the next S$100,000 of chargeable income for each of the first three consecutive years of assessment.
Notwithstanding the attractive tax incentives, it should be noted that there are more formalities and procedures for a private limited company to comply with. For example, it is required to appoint a company secretary within six months of incorporation and an auditor within three months of incorporation, unless the company is exempt from audit requirements. In addition, there is the requirement for annual returns to be filed annually with the Accounting and Corporate Regulatory Authority ("ACRA").
In a nutshell, each business entity has its unique advantages and disadvantages. However, unless one is a small business operating at low profits, with little expectation of expansion, a partnership is usually not the preferred choice. In contrast, while it may come with several more statutory obligations, a private limited company is a far better vehicle as it is easier to obtain loans from financial institutions and presents lower risks in terms of liability for its members.
Let us help you understand your business entity options
The business structure you choose influences everything from day-to-day operations, to taxes, to how much of your personal assets are at risk. You should choose a business structure that gives you the right balance of legal protections and benefits.