I Love Singapore – How Can I Stay?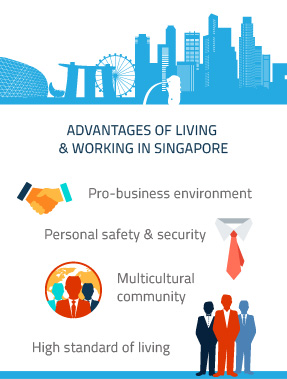 There are many reasons to love Singapore, as the country's favourable business environment, safety and security, harmonious multicultural community and high standard of living regularly attract foreign talent to the city-state.
As indicated in a recent survey jointly commissioned by the Ministry of Manpower and the Migrant Workers' Centre, nine out of 10 foreign workers expressed their overall satisfaction with living and working in Singapore, giving the country one of the highest rankings in the world.
As expected, this longstanding global interest in establishing residency in Singapore has resulted in an increasingly competitive application process, as the number of approved applications has fallen sharply from 79,000 in 2008 to approximately 30,000 each year since.
This stringent process requires attention to every detail in the application process, no matter how large or small.
Should I Apply for an Employment Pass or Permanent Residency?
Unlike the application for an Employment Pass, which is assessed at the discretion of the Ministry of Manpower, the application for permanent residency is assessed by the Immigration & Checkpoints Authority; commonly referred to as ICA.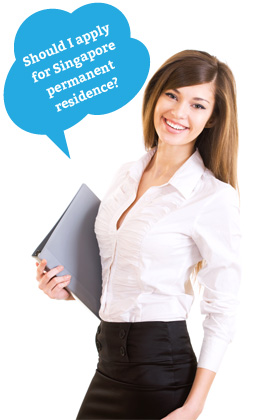 Therefore, the entire process and types of forms to be completed would also be different from applying for an employment or dependent pass.
This application is also understandably more stringently reviewed and is evaluated holistically based on the applicant's:
Family ties in Singapore
Economic contributions
Education qualifications
Age
Family profile
Ability to contribute and integrate into Singapore
Commitment to staying and living in Singapore
One of the key differences between an application for an Employment Pass and an application for permanent residency is that the latter can only be applied after you have worked in Singapore for at least six months under the PTS Scheme (Professionals / Technical Personnel and Skilled Workers Scheme).
The processing time for a permanent residency application is also much longer and can vary between a few weeks to a few months.
This emphasises the seriousness of the application and highlights how important it is to get everything right, ensuring that your application is not rejected due to a minor mistake.
Hence, it is crucial to obtain advice from a good consultant from an experienced employment agency that can assist you with the paperwork and ensure accuracy when making your application.
Who Can Become a Singapore Permanent Resident?
There are four groups of candidates who can apply to be Singapore Permanent Residents, namely:
Spouse and unmarried children (below 21 years of age) of a Singapore Citizen or Singapore Permanent Resident
Aged parents of a Singapore Citizen
Employment Pass, PEP, EntrePass, or S Pass Holder*
Investors**
*Employment Pass, PEP, EntrePass, or S Pass Holders will have to apply under the Professionals / Technical Personnel and Skilled Workers Scheme and must have a minimum of six months' working experience in Singapore prior to submitting their application.
** Investors are required to apply under the Global Investor Programme with the Economic Development Board and will be required to maintain a certain level of investment.
Depending on which category you fall under, there are different requirements and subsequent obligations required of you. For example, if you are an unmarried male child below 21 years of age, you may be required to register for National Service duty. All males ages 13 years and above who qualify for National Service duty are required to obtain an Exit Permit when they desire to travel overseas for three months or more.
Is There Any Shortcut to Obtaining My Permanent Residency?
Unfortunately, there are no shortcuts. Understanding the process is the best and easiest way to heighten your chances of being approved as a Permanent Resident. For example, did you know that there are 4 schemes you can use to make your Singapore PR application? These are: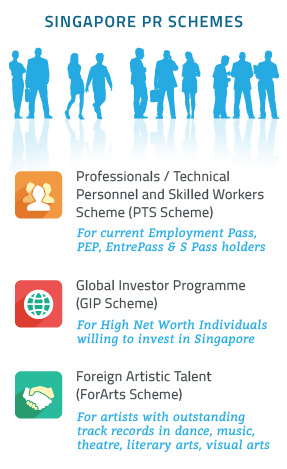 Foreign Artistic Talent Scheme
Depending on the scheme, the requirements and supporting documentation would naturally differ.
Of course, given that most of us work full time, setting aside time to review and thoroughly go through all the required procedures and requirements is time-consuming and exhausting.
Talk to our PR specialists to get a feel of what is required so that you can begin preparing these documents before making your application.
The last thing you need is to make an application only to be informed that it is rejected due to insufficient documentation, which you actually do have access to.
Getting an extra pair of eyes to review the documents that you have prepared and wish to submit is useful and saves you time as a rejection would mean another year's wait before you can reapply again.
Taking into consideration the fact that ICA receives a large number of applications annually, it is essential that your application is written legibly or typed. Ensure that all the key information is presented neatly and clearly in a well-written and well-presented executive summary so that the ICA officer can easily evaluate your application.
Being able to include details about your involvement with the community or highlighting significant achievements that can contribute to the nation may also be helpful in your application.
In terms of processing time, it takes approximately three to six months for a Permanent Residency application to be reviewed. A letter will be sent to your last known registered address by the ICA to inform you of the outcome.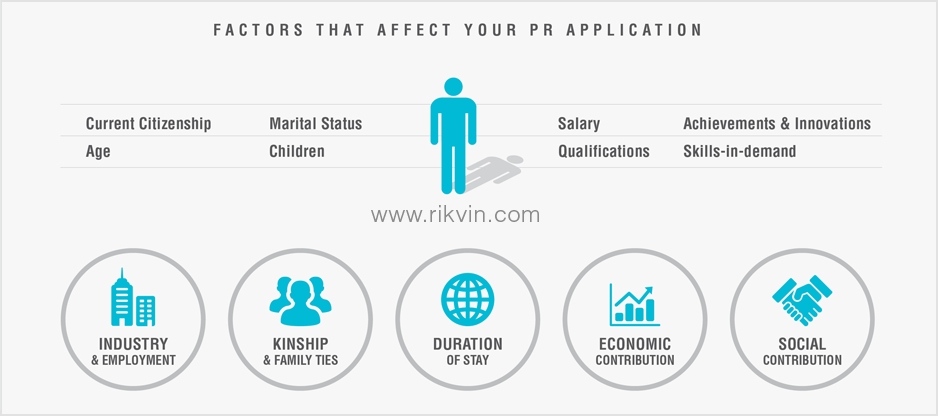 Do I Need to Translate Supporting Documents that are not in English?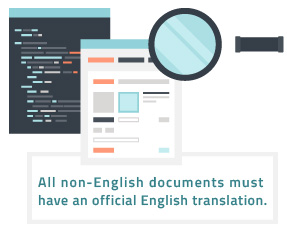 As the national language of Singapore is English, any documents that are not in English would need to be translated.
Similar to MOM, ICA specifically requires that the official English translation should be done by certified translation service providers, High Commission, Embassy of your native country or a notary public. In addition, a copy of the original document accompanied by its official translation should be submitted for ICA's retention.
Otherwise, an application may be rejected for having insufficient documentation. Given ICA's strict requirements, do reach out to a trusted professional employment agency that can assist you and ensure that your documents are properly translated.
Given that there are no exemptions to the requirement to submit the application in person in an interview with ICA, if English is not your native language and you lack confidence, do set time aside to practise.
---
What are the Benefits of Applying for Permanent Residency?
Unlike certain countries such as the U.K., where Permanent Residents have far fewer benefits than citizens, Permanent Residents in Singapore are entitled to almost all of the benefits that Singapore Citizens have, such as access to public housing, subsidies for education, etc.
Particularly in Singapore, where land is scarce and housing is expensive, being able to purchase your own home can be cost-saving in the long run. However, it should be noted that Permanent Residents in Singapore do not have the right to vote.
Becoming a Permanent Resident can also open the door to more employment opportunities. With the Ministry of Manpower's ("MOM") recent tightening of its foreign labour policy, wages and employment opportunities for Singapore Citizens and Permanent Residents have grown exponentially.
Moreover, MOM also implemented a "quota system" in certain industries, to ensure that there are more than sufficient jobs for Singapore Citizens and Permanent Residents. In fact, in June 2014, there were a record 63,900 job vacancies for Singapore Citizens and Permanent Residents, while the real median gross monthly income for the same group increased by 4.6 per cent in the previous year.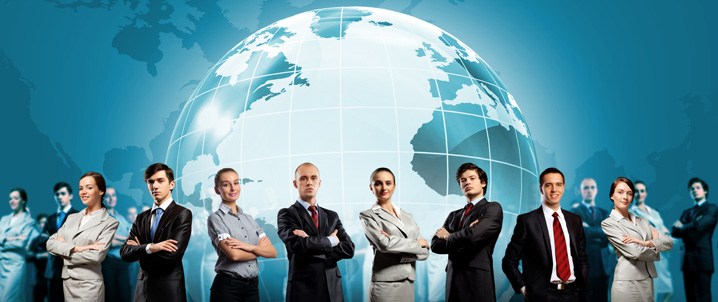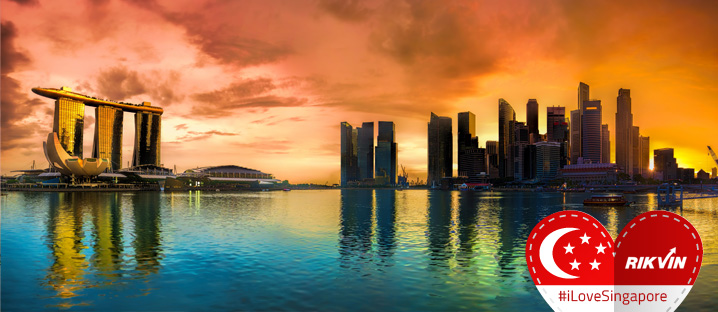 As a country with few natural resources, Singapore invests heavily in its human capital, with an annual education budget of S$10.6 billion set aside for education in 2012.
With a carefully thought out and planned education system, well-trained teachers and an established syllabus, Singapore students routinely come out on top of international examination rankings and the country is ranked third in global education rankings.
In fact, Singapore recently topped the Asia-Pacific region in the International Baccalaureate for the fourth consecutive year, with an average score of 36.53 points as compared to the global average of 29.95 points.
As Permanent Residents, your children can enjoy the benefits of a structured and well-thought-out education syllabus, taught by trained and highly educated teachers. Moreover, you can rest assured that the quality of education provided at local public schools is of a high standard, with specialisation courses offered to develop students' specific areas of interest in most schools. In addition, local public schools are significantly cheaper than international schools.
---
What are my Chances of Being Approved?
Given the many benefits of obtaining a PR status in Singapore and the increasing number of qualified applicants applying for Permanent Residency, the chances of approval for Permanent Residency have understandably diminished over the years.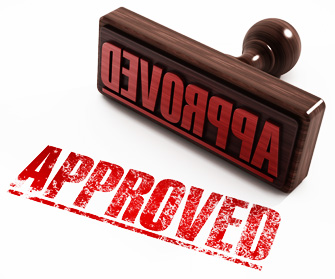 As a government body, ICA takes a holistic view and assesses candidates not only on their qualifications and job prospects, but also bases its assessment on the needs of the nation in terms of skilled manpower, balance between the age groups, as well as other factors.
Hence, older applicants may find it more difficult to obtain approval, as Singapore as a nation currently has an ageing population.
Likewise, an individual who has qualifications and managerial experience in the manufacturing industry (a saturated industry) may find it more difficult than another candidate who has supervisory experience in nursing (a profession in high demand), simply because one industry is more in need of skilled workers than the other.
So, while the process may be tedious, the benefits from obtaining Permanent Residency in Singapore are greatly beneficial.
We make moving to Singapore simple
Enjoy peace of mind with Rikvin's fast relocation and immigration services for both individuals and corporate entities.